INPA awards college, pro photographers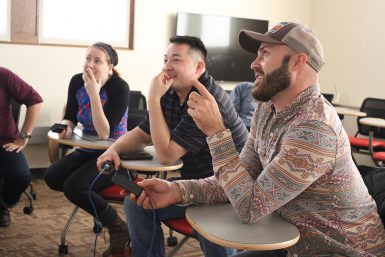 Denny Simmons, president of the Indiana News Photographers Association, watched live photography judging while he was a student at the University of Missouri, and he recalls how much that helped him learn what makes a great photo.
"Hearing judges talk about pictures and explaining why a picture is good or why a picture is great is an invaluable tool for an up and coming photojournalist," Simmons said.
That's one reason the INPA brings its pro and college photo contest judging to The Media School each year. Last weekend, judges Corey Perrine, a freelance photographer based in Philadelphia; Jessica Phelps, staff photographer at the Newark Advocate; and Dustin Alton Strupp, a staff photographer at the (Louisville, Ky.) Courier-Journal determined the winners for College Photographer of the Year, Photographer of the Year and other prizes in sessions at Franklin Hall.
Judges critiqued the entries on a screen, commenting aloud on what impressed them or what could have been done better. Some students whose work was being judged as well as those who just wanted to hear the judging drifted in and out during the session.
INPA contest chair James Brosher, BAJ'10, said that by seeing judges at work, students will have a better perspective on what makes a great photo.
"I hope they'll gain something from it, whether it be a contact to a judge or photographer or art organization. It's a great opportunity for students to network," said Brosher, himself a two-time INPA College Photographer of the Year.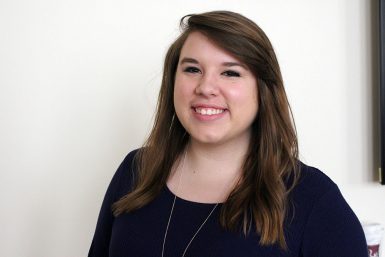 This year, that honor went to Breanna Daugherty, a senior photojournalism major at Ball State. In addition to CPOY, she won first, second and third place in the feature category as well as first in portrait/personality and honorable mention in all the other categories.
This is the first time since 2005 that a non-IU student won CPOY. However, IU students Noble Guyon and Yulin Yu won eight prizes between them, including several firsts. (See list below.)
Daugherty said she was learned a lot about how she can improve by listening to the judging.
"You can convey so many emotions, and you can make people feel so many things just by creating a great photo," Daugherty said.
After Friday's college awards, the judges showed their own work during an evening session, and talked about news photography.
One thing they look for, they said, are photographs that show emotion, particularly with the features and portraits. They also spoke of filling a frame with content that adds to the photograph.
"If there's something that's not adding to the frame, it's hurting the frame," Perrine said.
He urged students to take risks and try new things in their photography after showing his own underwater photography. He said he thinks learning how to self-edit is important because there will come a time when you will not be able to ask your mentors for help.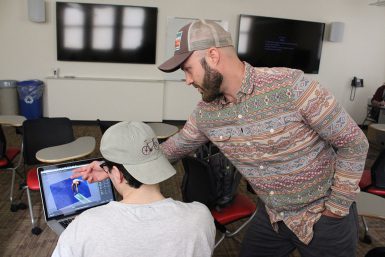 Strupp said he appreciates those who have nice detail shots because they are sometimes forgotten. During his presentation, he discussed trying to find his own vision and taking his pictures in the right direction. To do that, he said he has become a well-rounded photographer, shooting everything from sports to fashion.
The judges also said they think it is important to find hooks in your subjects to pull out a unique story.
"Focus on someone with a story you can capitalize on," said Phelps.
She said you don't have to go far to find this focus. After traveling for a while, she returned home to her hometown newspaper. She said she realized you do not have to be across the globe to get great photos. There are stories everywhere.
The day was filled with insights for student photographers and skills to work on in the next year.
"In a contest, you're competing against other images, but in actuality you're just competing against yourself. That's a good way to look at it," Simmons said. "This is a teaching tool."
Here are the college winners:
News
First: Noble Guyon, Indiana University
Second: Yulin Yu, Indiana University
Third: Yulin Yu, Indiana University
Honorable Mention: Breanna Daugherty, Ball State University
Honorable Mention: Breanna Daugherty, Ball State University
Portrait/Personality
First: Breanna Daugherty, Ball State University
Second: Noble Guyon, Indiana University
Feature
First: Breanna Daugherty, Ball State University
Second: Breanna Daugherty, Ball State University
Third: Breanna Daugherty, Ball State University
Honorable Mention: Noble Guyon, Indiana University
Sports
First: Noble Guyon, Indiana University
Second: Noble Guyon, Indiana University
Third: Noble Guyon, Indiana University
Honorable Mention: Breanna Daugherty, Ball State University
More: