Incoming freshman appears on 'Meet the Press: College Roundtable'
Incoming freshman David Bender helped Chuck Todd interview Pittsburgh mayor Bill Peduto on a recent episode of "Meet the Press: College Roundtable."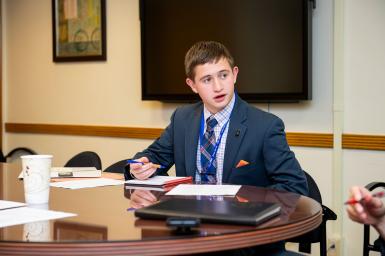 College journalism students join Todd for virtual panel discussions in the five-part series. The other students who participated in Bender's episode were Sarah Beth Guevara of the University of Oklahoma and Avalon Pernell of Washington and Lee University.
"It was definitely something that was a once-in-a-lifetime kind of thing," Bender said.
Bender, an Ernie Pyle Scholar from Carmel, Indiana, plans to major in journalism, political science and economics at IU in the fall, and he also plans to work for the Indiana Daily Student. He enjoys podcasting, and he hopes to continue that in college.
Bender was recommended for the show by a friend of his who was featured on the first episode of the series. After a short interview with an NBC producer, he learned he had been selected for one of the roundtables.
"It was a lot of fun, and I adore Chuck Todd, so being able to actually be on a panel moderated by him was a really big deal for me," he said.
The recording process took the entire day, Bender said, starting with a 9 a.m. conference call with Todd and the segment's producer.
"Chuck would go over our questions, and he talked a lot about, 'Make sure you have a follow-up ready, because I expect everyone to follow up on your questions,'" he said. "He's big on follow-ups."
At about 10 a.m., they had a discussion about how the roundtable would actually work and did a sound check. The roundtable was supposed to start at noon, but due to a delay in the mayor's office, it actually started at 3:30 p.m.
The conversation focused on two topics: the coronavirus pandemic and recent police brutality.
Bender's question was about whether the mayor supported diverting police funds into other programs, such as mental health services, drug prevention programs and gun control measures. The mayor responded by emphasizing how philanthropy could be part of his city's solution.
"Students have a unique perspective on a lot of these issues, and NBC was trying to really give students an outlet for that, to ask questions we really wanted answers to and questions that, in some cases, aren't being asked enough," Bender said. "So my main takeaway was that students need to have a voice in the news, students need to have a voice in journalism, and this kind of was an outlet for that."