IDS's Black Voices is 'scratching the surface' of institutional racism
Few of the students in Yasmin Elgoharry's Media, Race and Justice course had ever heard of the Black Press.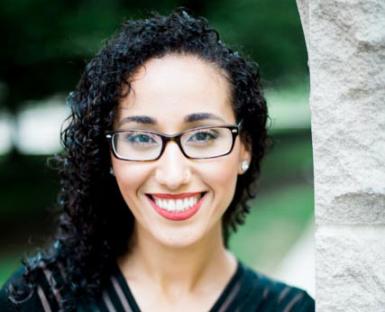 Black Americans began telling their own stories, in their own papers, on their own terms nearly 200 years ago. Often Black-owned, Black publications centered Black issues on a local, national and international scale and wrote specifically to a Black audience, though they weren't run exclusively by and for people of color.
"Too long others have spoken for us," wrote Rev. Samuel Cornish and John B. Russworm in the first issue of Freedom's Journal. "We wish to plead our own cause."
The movement still exists today in the form of a network of more than 200 Black newspapers called the National Newspaper Publishers Association. And it lives on in Black Voices, the new Indiana Daily Student section for Black writers on Black issues.
Black Stories Matter
The Media School introduced Elgoharry's course as part of its response to a nationwide reckoning with policing and the looming legacy of the USA's deeply racist past and present. Students in the class tackle ideas of intersectionality, identity and privilege. Much of the content in Elgoharry's course, like the Black Press, was new material to her students.
"For students who are juniors and seniors to not have heard of this, that's very problematic, especially if they're going to be in the media field," said Elgoharry, who in addition to being an instructor is a Media School career coach and advisor to IU's National Association of Black Journalists chapter. "It's something that I wish they were getting earlier on in their education rather than later. It impacts a lot of the conversations we have in the classroom."
While Elgoharry's students may not have known about the Black Press until this semester, a group of Media School students began work last fall on creating their own version of the Black Press.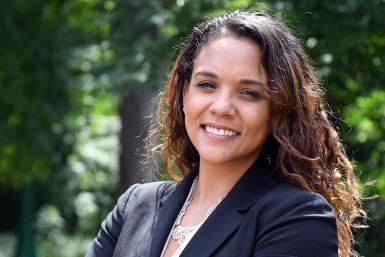 "There's a lot of worth in being able to produce journalism for people that look like you," said Danielle Kilgo, who served as NABJ's advisor from 2017 until this summer. "Mainstream journalism has a long history of not representing Black people appropriately, or misrepresenting Black people, or making Black people invisible."
Reputable alternative news sources, like Black presses, offer diversity of thought, Kilgo said. They offer new vantage points and new perspectives through which to view issues of all varieties, and in doing so foster empathy for those whose viewpoints they purport to represent.
That was the drive behind NABJ's efforts to create a Black news organization at IU. Originally conceived of as a standalone publication called Black Stories Matter, the publication would give Black students a space to write about issues and goings-on that matter to them, to offer their own perspective on those stories and to have those stories read and heard by the community at large.
And it could offer a safe space for Black creatives at IU, said Trinity White, a Media School senior who served as NABJ's 2019-20 president. More than just giving Black journalists a place to tell stories about the Bloomington community from a new perspective, Black Stories Matter could give a space for Black artists and media-makers of all varieties to share their work.
"With the press, we're hoping to involve all kinds of media students, not just journalism students," White said at the time. "If we have Black photographers, there's a space for them. There's a space for music people. There's a space for anyone."
The students worked on creating Black Stories Matter through fall 2019 and into spring 2020.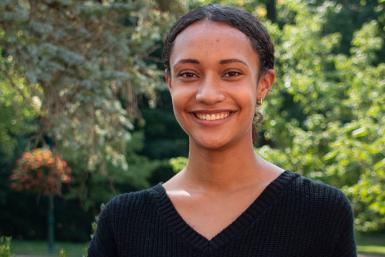 Senior Jaclyn Ferguson was one such student. A member of IU NABJ for most of college and now its president, she had written a couple stories for Black Stories Matter.
"I was trying to depict student experiences at IU and highlight students," she said.
For one piece, Ferguson interviewed Jawan Strader, Cert'95, one of the founders of IU's NABJ chapter. Another was about a Black IU student's work as a DJ and filmmaker. Other student reporters and creators worked on pieces about family and the student experience at IU. Kilgo said other students were tackling projects about their homes or that revisited protest movements where justice was not achieved, like Sandra Bland and Say Her Name.
The project stalled just before launch by the outbreak of the pandemic. Students had planned to finalize drafts of their work before creating a website to share it in April.
Feedback
As people all over the country protested police violence in the aftermath of George Floyd's death and called for the dismantling of systemic racism, senior Jaden Amos reached out to Media School faculty.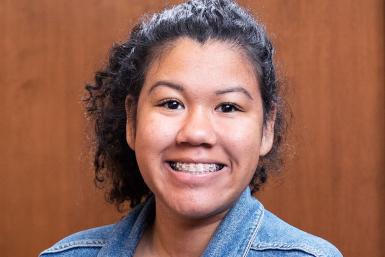 "I hope all is well with you. The world is still on fire, and I'm still pretty angry," she wrote in one email. "I've decided that I'm not going to leave you alone until some changes are made. I hope you can understand why I'm feeling this way."
Amos has found a slew of opportunities for herself at IU. She's an Ernie Pyle Scholar and heavily involved in the Indiana Daily Student. She's interned for media organizations across the country and even in London. At the same time, she said being a Black student in a primarily white school is often alienating and frustrating.
"Racism in higher education does not just exist at IU. Everyone knows that," she said. "I sat with it and realized, 'This is how it goes.'"
But this summer, she realized she was no longer afraid — of being ignored, of nothing changing, of anything. There was nothing stopping her from being critical of the broken systems around her and demanding change.
So she shared her thoughts.
"Over the summer I emailed (the dean) like once a week," Amos said.
She advocated for greater diversity among faculty and in her honors program. She pushed for the incorporation of the study of ethics and of race in the media earlier in students' course of study. She asked for tangible change.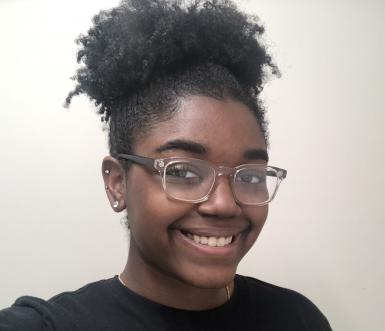 Aniya Lyons, a freshman studio arts major and Black Voices contributor, said she feels a similarly overwhelming whiteness in her program.
"I don't see myself, either within the faculty or within like, the exit exhibitions that they're putting out," Lyons said. "So there definitely is an overwhelming whiteness, but I think that it's something that can change if we bring light to it, if we talk about it and make people aware of it."
Despite the jarring experience of realizing what wasn't being said, Elgoharry said she found that having a (virtual) classroom as a way to facilitate conversations about race and help her students deepen their understandings of identity was immensely productive.
"I think that there's so much work to be done," Elgoharry said. "This is all just scratching the surface."
A change
In July, the IDS announced the creation of a new section: Black Voices.
In the midst of a long-awaited, long-suppressed nationwide reckoning with the racism so deeply ingrained in the nation's history and all its institutions, the IDS and The Media School felt it was time for a change.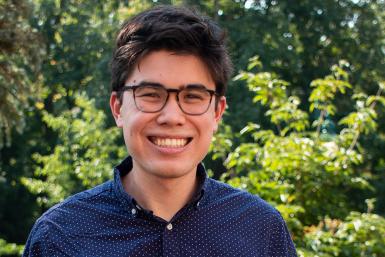 It started with a question, said IDS editor-in-chief Jacob DeCastro: "How can we be a better, safer place for underrepresented students?"
The answer came from Elgoharry. Over the summer, she met with director of student media Jim Rodenbush and Media School faculty members to discuss a mechanism for uplifting Black students' voices during nationwide protests for racial justice.
The initial idea was for The Media School to fund a pair of Black reporters at the IDS, just as it funded a pair of city reporters earlier in the year. But then, Elgoharry proposed an IDS section be created specifically for Black students to tell their own stories and publish their own art.
Her inspiration was Black Stories Matter. And the section, to be funded by The Media School, was Black Voices.
"It could be a vehicle to support those whose voices often go unheard," Elgoharry said.
Elgoharry said the IDS can't claim to fairly represent the entire campus without reflecting and covering the diversity of the Bloomington community. She wanted the section to be able to reflect the interests and passions of Black students — both in the issues and people covered in features and hard news stories, and in a variety of other content: poetry, illustrations, visual art, video work, opinion columns and personal essays.
More than just a forum for Black students to shine a light on their experiences, be heard and start conversations, Elgoharry said it's important for Black Voices to be viewed as encouraging solidarity — a way for people who've been socialized to view each other as others to realize the sameness of their experiences and find unity and understanding in each others' experiences with racism, bigotry, misogyny, marginalization and more.
Black Voices
Ferguson spent three semesters writing opinion columns for the IDS. Often, she took on issues about Black struggles and marginalization. She's written about hair discrimination, Black students' mental health and the country's failure to protect Black people during the pandemic.
So when it came time over the summer to find an editor for the new Black Voices section, Ferguson seemed like the perfect fit.
"I think Jaclyn is a phenomenal person and writer," Elgoharry said. "If I had had to pick, I couldn't have picked anyone but Jaclyn."
DeCastro said Ferguson's previous work for the IDS, as well as her role with NABJ, made her the perfect candidate to guide the new section through its inaugural semester.
Going into the semester, Ferguson was worried that she'd have to lead the desk by herself with content from occasional contributors. But she's amassed a staff of about 10 dedicated reporters and content producers.
As editor of Black Voices and president of NABJ, Ferguson encourages NABJ students to contribute three pieces of content per semester to Black Voices. But she's hesitant to publish work made for Black Stories matter through the IDS; she wants the original vision for that project to eventually come to fruition as its own entity.
Among Ferguson's favorite work to come out of the section are a series of intimately personal poems; an ongoing series of profiles that includes Ky's Voice, Salina's Voice and Justin's Voice; and a response to the Zoombombing of Black student organizations.
"We're Black students. It's our peers and our friends in these meetings being targeted because of their race," Ferguson said. "It added another layer of personalized touch."
Ferguson said it's essential for the section to publish more content than just hard news and opinion columns, as Black Stories Matter did before it.
"From the beginning one of my main things was having it be a space of expression," Ferguson said. "That's definitely followed through, which really is thanks to the poets and the artists and the designers who were willing to take this risk on something new."
Lyons works for the IDS as both an illustrator for the publication at large and as a Black Voices contributor. When she's working on an illustration for someone else's work, Lyons is trying to put the essence of what they've written into an image. But for her own work — colorful and often playful illustrations accompanied by a bit of poetry — she's trying to raise awareness about what matters to her.
Since starting work at the IDS at the beginning of the semester, Lyons has published a tribute to Black IU; a call for her peers to vote: "For my family. For my future family. For the Earth"; a painting in memory of Breonna Taylor; and a reminder for students to tend to their mental health during these difficult months. Lyons has also provided graphics for other Black Voices writers' content, like a column about the importance of Black banks.
The beauty of having a section like Black Voices is, to Lyons, that it gives Black students an established space for their thoughts and passions, for them to have opportunities to create and be heard, for other community members to turn to to hear them. It gave Lyons a space to feel comfortable in her creativity and to know that the art she was putting out was being seen.
And for Amos, the section offered a space to share something deeply personal she'd written over the summer. Amos wrote "What do you wear to a funeral in the summer when the world is on fire?" on the morning of her brother's funeral, channeling all of the anxiety and pain and uncertainty of something so painful in a year already overflowing with hurt into something she thought she'd never share. Until she found it saved on her Google Drive and realized that Black Voices was exactly the sort of place where such a personal reflection could be shared.
"It gave me a space to publish something that I would never have been able to publish literally anywhere else for any reason," Amos said. "Which is the beauty of the Black Voices section — to be able to tell stories that couldn't be told anywhere else."
Ferguson's biggest hope for the section is that it gives writers and content creators an accommodating space to learn and share. And then when they've honed their craft, they can take it with them elsewhere in the newsroom to bring their perspectives to news, sports, art, opinion and editing.
"I think it will break barriers because we want our voices to be heard," Lyons said. "And that's what we're doing."
The surface is scratched
The day the IDS announced the launch of Black Voices, entrepreneur Mark Cuban, BS'81, owner of the Dallas Mavericks, made a $250,000 donation to support it. The gift ensures that Black Voices as a section can continue to operate for years, regardless of financial pressures.
"We are incredibly grateful to Mark Cuban for his donation, but also for really validating that this work matters," DeCastro said.
Ferguson said she and others at the IDS are in the early stages of planning to launch a scholarship funded by Cuban's donation.
"The goal is to kind of fund internships for underrepresented students," she said.
The thing about Black Voices is that everyone involved knows it's the first of many steps toward a fairer future.
"We just have to keep moving on to other things," Amos said. "It's just a constant moving forward."
But the surface is scratched.