IDS wins 2 Pacemakers
The Indiana Daily Student, Arbutus yearbook and IU Student Television won dozens of awards this weekend at the virtual Associated Collegiate Press/College Media Association Fall National College Media Convention.
The IDS won the 2020 Pacemaker award — ACP's preeminent national award recognizing overall excellence — in the online and newspaper categories. This is the second time the IDS has received Pacemakers for both print and online in the same year. The first time was 2010.
Associated Collegiate Press individual awards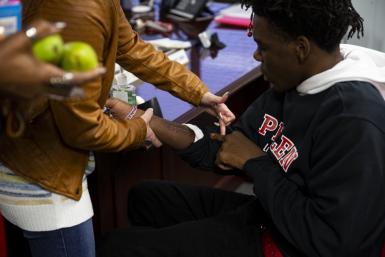 Caroline Anders, IDS: first place, Ernie Pyle human interest profile (sponsored by the Ernie Pyle Legacy Foundation), "Live and learn"
Mel Fronczek, Emily Isaacman and Karli VanCleave, IDS: second place, multimedia feature story, "Softening stigma"
Christine Fernando and staff, IDS: second place, online: COVID-19 news or feature story, "Grieving spring: Bloomington grapples with a surreal new normal"
Annie Aguiar, Jacob deCastro and Colin Kulpa, IDS: third place, informational graphic, "What's Tom Allen worth?"
Ty Vinson, IDS: fourth place, reporter of the year, "On tainted soil," "Martinsville waitress voices concerns over unemployment benefits," "From memory"
Annie Aguiar, IDS: fifth place, diversity story, "A little less than kind"
Matt Rasnic, Arbutus: fifth place, yearbook cover
Jacob deCastro and Vivek Rao, IDS: honorable mention, interactive graphic, "How IU does its laundry"
Sarah Keesling, Arbutus: honorable mention, print advertisement
Madelyn Powers, IDS: honorable mention, editorial cartoon
ACP/CMA Convention Best of Show
The IDS placed fourth in both the newspaper and website categories, and the Arbutus placed third in the yearbook category.
Individual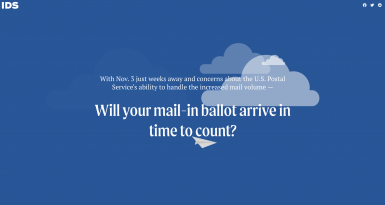 Vivek Rao and Kaitlyn Radde, IDS: first place, social justice reporting, "Activists want to defund police departments. What could that look like in Bloomington?"
Staff, IDS: first place, newspaper special section/advertising, Orienter 2020.
Jacob deCastro and Haley Klezmer, IDS: fourth place, multimedia news or feature presentation, "Will your mail-in ballot arrive in time to count?"
Staff, IU Student Media: fourth place, rate card
Matt Cohen, IDS: seventh place, COVID-19 reporting, "Quarantined with dozens of sorority members, here's what life was like for IU's live-in house directors"
Carson TerBush, IDS: 10th place, print design
College Media Association Pinnacle Awards
The IDS placed second in the best diversity coverage of the year category.
Individual