IDS initiative provides platform for Black stories
A new Indiana Daily Student section called Black Voices, launched with Media School funding, will provide a platform for Black students to share their stories.
Following the police killing of George Floyd and the subsequent protests around the country, The Media School and the IDS were among many institutions grappling with how to be more intentional about increasing representation and ensuring everyone can have their voices heard.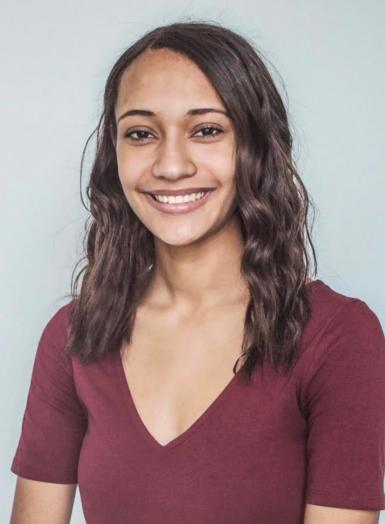 "Having this designated section will give Black students a space to really say what they have to say and to be heard," said senior Jaclyn Ferguson, founding editor of Black Voices.
Ferguson, who has written for the IDS opinion desk for three semesters, said she often wrote about race issues before because she felt like no one else was really writing about them, and she said one of her goals for this section is to change that. She said she wants Black Voices to be a place where Black students can hold the university accountable.
"I think that having this section and increasing the amount of Black students and students of color writing will make people more encouraged and they'll see like, 'OK, I have this voice, I can be heard in this paper,'" she said.
Entrepreneur Mark Cuban, BS'81, owner of the Dallas Mavericks, has pledged a $250,000 gift to support the new initiative.
The idea for Black Voices came from career coach Yasmin Elgoharry, advisor for IU's chapter of the National Association for Black Journalists.
Last year, NABJ was working on a project called Black Stories Matter. The coronavirus pandemic interrupted the project, but Elgoharry said the idea for Black Voices came out of that initiative.
"To me, it was something that was really important to have a place for people of color, particularly Black students, to have the platform to speak for themselves and not have to have someone speak on their behalf," she said.
Elgoharry noted that the IDS staff is not very diverse and said she hopes this project will be a bridge for more students of color to get involved in all aspects of the student publication.
"I think sometimes students kind of shy away from these kinds of opportunities, especially when they don't see people who look like them, so I'm hoping that having Jaclyn be the leading force kind of paves the way for other people to follow her," she said.
Ferguson and senior Jacob deCastro, fall editor-in-chief of the IDS, both said they hope people who contribute to Black Voices might then get involved in other parts of the IDS as well.
"I hope that through this initiative, we're able to bring students who wouldn't have otherwise been part of the IDS into the fold to share their stories," deCastro said. "Because they have things to say, and I want to make sure they have the platform to say those things."
Jim Rodenbush, director of student media, said he hopes the creation of this section will help eliminate some of the barriers preventing students of color from having their voices heard.
This new section is only a first step to increasing Black students' representation within the IDS staff and through its coverage, Rodenbush said, and more work is still needed.
"I'm hopeful and encouraged that we have something here that is not just lip service to an issue but will be a structural change," he said. "You're hopeful that you put in the work, you're hopeful that you earn people's trust, and at the end of the day, you show that this is a place that wants you and wants to hear your story and wants to provide the platform for you to tell your story."