ICR offers weekly meetings, experiment facilities, networking
Each week, researchers at the school report on their work, drawing ideas and assistance from others assembled for the meeting in a small room on a lower level of Franklin Hall.
They discuss tools and techniques for conducting experiments on topics such as physiological responses to watching videos or crunching numbers gleaned from huge online surveys.
The Institute for Communication Research's weekly meeting series is just one way the institute supports media research at the school. Some current projects range from assistant professor Nicholas Browning's 2016 election survey to associate professor Lauren Smith's study on the impact of Twitter on enjoyment and sports viewing.
The facility offers lab space for conducting experiments, some using human subjects, to gauge responses to various media. Graduate students and others new to this type of research also may tap into the seasoned researchers' advice and suggestions, said associate professor Rob Potter, who directs the ICR.
The ICR started in the 1974 when Dolf Zillmann, a professor of radio and television and psychology, wanted to establish a group doing experimental-based research on media effects, especially in media violence and pornography. The ICR faded with Zillmann's move to the University of Alabama, until distinguished professor Annie Lang resurrected the program in 1994, according to Potter, who was a grad student at the time.
"We had a little room set up," he said of the old location on Park Street. "The kitchen was the experimenter lab, and the dining room was where the participants sat, and we built a wall in between. I'm obviously not a carpenter, and we built a terrible wall between where the experimenter sat and where the subject sat."
The ICR has come a long way since then, taking on previous homes at the Radio-Television Building, then Eigenmann Hall, then new digs at Franklin Hall.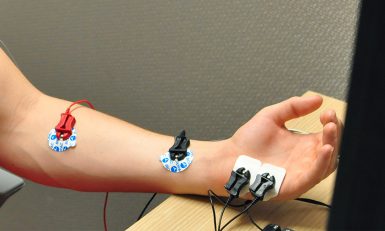 "It's given it a very different, exciting feel," Potter said of the new lower-level suite of labs, offices and classrooms in Franklin Hall. "When we were over in Eigenmann, we were in old dorm rooms. And it kind of had this feel of, like 'We're going to make this work no matter what.' It was a scrappy group of researchers. And now we're here, and we're 'official.'"
The ICR's lab meetings used to function as a way of keeping researchers on track. As the program has grown, the meetings have changed, too, to accommodate a wider range of attendees. The meetings are consistently on Fridays with volunteers taking the lead to tell others about their work, data or papers.
Those engaged in the ICR and its meetings share common interests in social science research. Sharon Mayell, the assistant director and research associate for the ICR, said the ICR can accommodate other types of media studies, but this type of work is the main pull for the group.
"There's a lot of crossover, I think. We do actually have facilities for people who just want to conduct interviews or focus groups," she said. "The term 'research' involves a broad range of what academics do, and all of it is not necessarily empirical. Some of the work we do here is quite empirically based, experimental kind of research."
Responsibilities for those involved can also encompass a wide range of work. Although Mayell has worked in studies and co-written articles as part of the ICR, she's also played a role in making research happen in the first place.
"The range here is so vast. It's unbelievable," she said. "Some of the stuff that I do is simply facilitating—getting people from the subject pool so that they have people to run in the studies, helping them push their studies through the IRB (institutional review board)."
Mayell also sends a recap email after Friday meetings to alert people to where research stands, who needs help, callouts for subjects and whose work is complete, with publication in sight.
The ICR is open to new collaboration and work from students and faculty at IU. Potter highlighted the community aspect of engaging in these weekly research meetings.
"It's just kind of a neat way of having a community," Potter said, "forming a community of people who think about research once a week. I like to tell people that are brand-new to research, who don't quite know what they're doing, who feel like they're not doing anything, 'You can make this your research time every week.'"
More: