High schoolers master new journalism skills at 73rd annual HSJI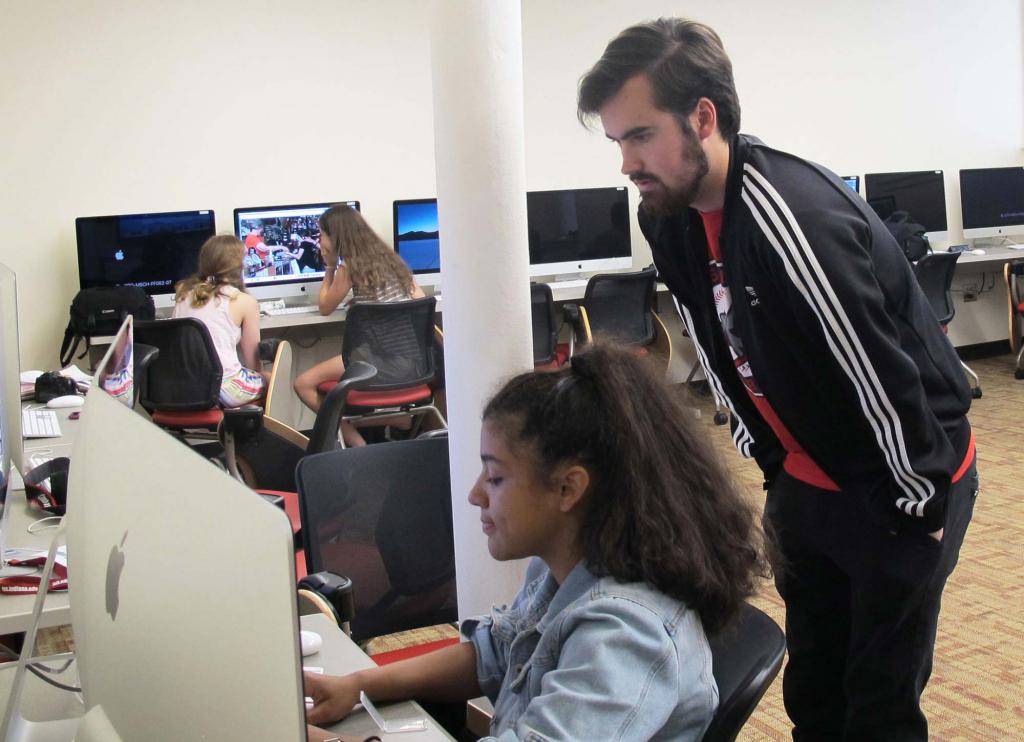 When Zionsville High School student Rachel Schultz took her first High School Journalism Institute workshop in 2018 — Introduction to Photography — she struggled to grasp the different settings of the camera and adjust for different kinds of lighting.
Back for year two, she was ready to master new skills last week in the Photojournalism session.
"That was kind of harder last year because I had just learned about it, but now I've been practicing it for about a year and it's gotten much easier," she said.
High schoolers from around the country came to IU this month for the 73rd annual HSJI to learn about reporting, editing, photography, storytelling and design from Media School faculty and instructors.
HSJI, which was founded in 1946, is an intensive program that allows students to explore their areas of interest in journalism. Using Media School facilities and resources, students complete projects that are then featured on the HSJI website.
The two-week institute offered 13 workshops, including Documentary Filmmaking, Multimedia Storytelling, Sportscasting and Design. Students had the option to register for one or both of the weeklong sessions, and/or a weekend mini-session.
First-time camper Robert Young attended both weeks of HSJI in the Leadership Academy and Photojournalism sessions. Young said he came to IU to better prepare himself for his roles as head photographer and chief graphics editor for the Munster High School Crier in Munster, Indiana.
"Ever since joining as a photographer for my school's publication, I've been increasingly devoted to journalism and photography as a whole," he said. "It's become my passion, and I wanted to come here to improve upon those skills."
Young, who hopes to attend IU to study journalism, registered for HSJI at the suggestion of his school's publications advisor, who thought he might like to combine those interests. He said the Photojournalism session was comfortable for students who knew a lot about photography as well as for those who didn't.
"We started off with people who had never used cameras before learning the basics of using a camera," he explained.
The students then participated in photo scavenger hunts near Franklin Hall and began work on their final projects: conducting interviews and taking photographs at a local business and creating a mock webpage based on their work. Young created a photo essay about bar/barbershop The Foxhole.
Schultz is her publication's print editor, and she said she attended HSJI to explore skills outside of writing and editing.
"I want to kind of expand my skills, so I've been trying to learn more about photography and design because I want to be more well-rounded going into college," said Schultz, whose final project was a photo essay about the record and IU merchandise store Tracks.
During HSJI, students stayed in dormitories on campus. Young and Schultz commented on the beauty of the campus as one of the defining factors of their experience. Young said he also enjoyed spending time with fellow campers.
"I made a lot of new friends – didn't think I would – but I had a great time that way," he said. "It's a great school, beautiful location. I love it."
In addition to the workshops for students, HSJI also offers professional development workshops for secondary school teachers, with some of the workshops providing graduate credit.