High schoolers build scripts, friendships at Cinema Academy screenwriting camp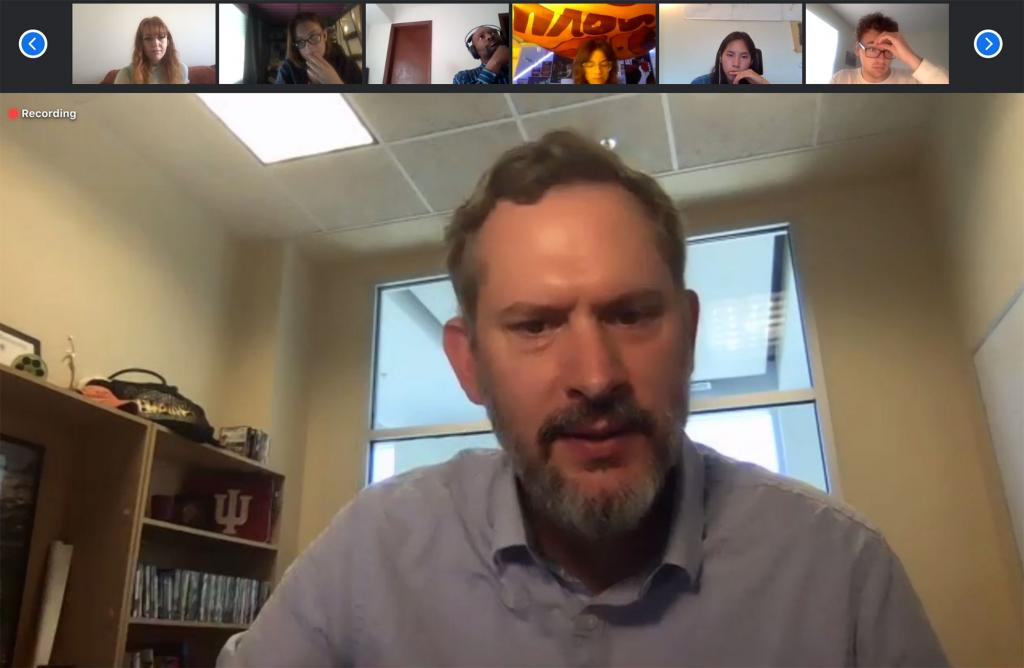 Forty high school students across 14 states took part in The Media School's first summer screenwriting boot camp, discussing film, hearing from experts and writing their own screenplays.
The Cinema Academy's weeklong camp explored characterization, plot, structure, film literacy and a host of other topics virtually June 14-18.
Guest speakers included:
Michael Uslan, BA'73, MS'75, JD'76, Media School professor of practice and executive producer of the Batman movie franchise
Angelo Pizzo, BA'71, screenwriter of iconic sports films "Hoosiers" and "Rudy"
Dave Neustadter, BA'02, executive vice president at New Line Cinema and executive producer of "The Disaster Artist"
Tommy O'Haver, BA'90, film director and screenwriter with titles including "The Most Hated Woman in America" and "An American Crime"
They offered insights into the industry and advice to students, ranging from an instruction to write from the gut from Pizzo to a mandate to stay persistent from O'Haver.
"We just tried to bring in as many different voices as possible," said senior lecturer Craig Erpelding.
Erpelding, accompanied by doctoral student Andre Seewood and four recent Media School alumni, led lectures during the camp, supplemented by alumni experts for guest appearances.
"We did not put it together as a high school screenwriting camp," Erpelding said. "We put it together as if  we were doing an industry-standard screenwriting seminar. And we didn't treat them as high schoolers, we treated them as filmmakers and screenwriters."
He was impressed with the sophistication of the students' writing and engagement with the material, he said, noting that the students treated the opportunity as a professional endeavor, networking and asking questions throughout the camp.
"Ultimately, that's what helped make it a success, just having so many different aspects," he said.
Each student created a five- to eight-page script, as well as a log line synopsis and treatment for a bigger screenplay.
"Good luck, and don't give up," O'Haver said before he left the Zoom meeting Thursday. "Keep writing."
The students were exposed to the professional world of screenwriting, asking questions of the experts and receiving their honest answers in the alumni sessions.
The minimum number of drafts O'Haver has created for any of his projects, he said, is about 30.
"Writing can be very lonely," O'Haver said in response to a question about balancing the pros and cons of the business.
Erpelding said he was originally worried the virtual setting would present challenges to the students' ability to bond with one another, but that concern was unfounded.
On the last day of the camp as the group was saying goodbye, a few students jumped in and asked if they could share something. When Erpelding agreed, they shared their screens, which featured mock-up movie posters of each of the campers. All 40 students had sent photographs around, and they were cast as a character in the type of film they were interested in, Erpelding said.
"Even in a virtual environment, they found a way to build friendships and camaraderie," he said.