Herber Japan installation focuses on impermanence, collaboration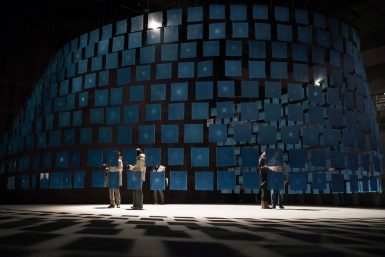 Over the course of five months in 2017 and 2018, more than 450 pieces of indigo-dyed cloth sat in wooden boxes in homes, offices and other spaces across 10 countries, including the United States and Japan. Some were kept in bedrooms, some under car windshields. The handkerchief-sized pieces then emerged in varying shades, proof of fading from small amounts of light that trickled into the boxes. They were meant to reflect that impermanence of color shows use and adoration rather than something negative.
The pieces of cloth were then arranged as part of Ai no Keshiki, or Indigo Views, and was shown Jan. 20-28 at the Bunka no Mori art and performance center in Tokushima, Japan, accompanied by music to mimic the fading. Media School senior lecturer and the project's sound artist Norbert Herber and School of Art, Architecture + Design textiles area coordinator Rowland Ricketts were asked by the culture promotion division of Tokushima to develop an installation around the idea of fading indigo.
"The title Indigo Views has to do with the view that's coming from this little portal into the cloth and then the way that that view changes over time," Herber said. Keshiki has a dual meaning in Japanese and also is a nod to the patina of an object with a sense of love and adoration.
Ricketts apprenticed in Tokushima when he was young, and that's where his interest in indigo sprouted. Indigo is grown and processed on a large scale in Japan, and the country has a long history of being associated with various shades of blue, all coming from indigo.
"There's this cycle of indigo. You plant seeds which are grown and harvested and processed into the dye and things are dyed with it, and through use the color fades and because it fades and because it's consumed and disappears the cycle continues," Ricketts said. "If you dyed something once and it stayed that way forever, you'd never need more, and if you didn't use it you'd never need more, so there's this sort of cycle. The project itself reflects this cycle."
To view the artwork, visitors entered through a lobby to access a dimly lit, 100-square-foot dance hall. Ricketts and Herber spent two days arranging the pieces of cloth into a bell shape with the lightest pieces on the ends and the darkest at the apex. The low lighting in the room allowed the cloths to glow and make the varied shades of indigo stand out.
The artwork hung at one end of the room while 48 speakers lined the other side at eye level, all playing Herber's music. Those speakers diffused only part of the sound; there were another four speakers above the installation. The size of the room allowed Herber to distribute sound across the room, giving a strong sense of physical space.
Herber and Ricketts realized they had similar interests nearly eight years ago and began working together; they have done multiple collaborative projects in Japan and the United States since.
"I'm incredibly grateful to have found a collaborative relationship where you have the space and time to explore things on your own, but yet at the same time the work that they're doing is pushing you to do it differently or better, to uncover new ground you might not get to on your own," Herber said.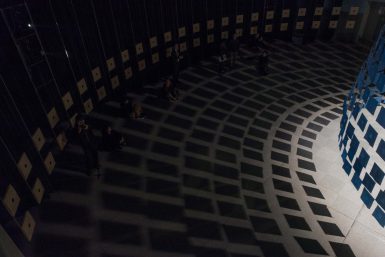 Collaboration was a central message of Indigo Views. Hundreds of people collaborated to get the cloths, and Herber and Ricketts worked together to make it happen. Ricketts and Herber used social media to find participants for the installation. Ricketts then coordinated the dyeing and distribution of the cloths to participants.
Another theme that has been important to the pair in their work over the years is the idea of impermanence: Something that exists comes from a place, and there are a number of processes that go into making it, and it presents itself to whoever sees it.
"I would like to think that in those moments of peace people have while they're in the installation they can reflect on connections they have in their lives about things that started before they arrive and at the event that will tie into things after the event," Herber said.
The cloths will eventually be returned to the participants, the color faded even more from their travels.
More: