Hawkins hosts Q&A with experimental filmmaker Ken Jacobs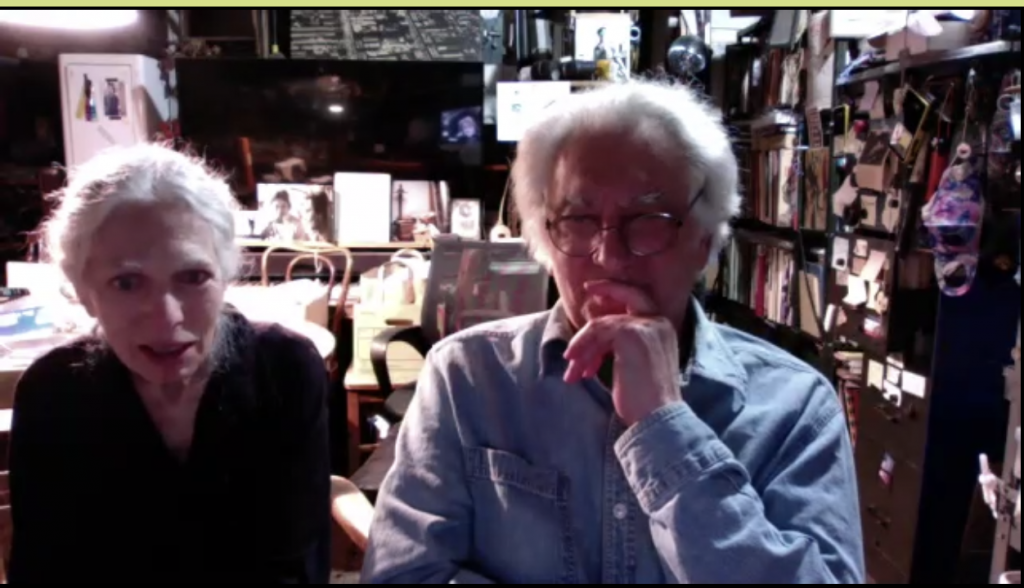 For its final Jorgensen Guest Filmmaker event of the semester, the IU Cinema brought one of American cinema's most prolific experimental artists — Ken Jacobs — to its virtual stage Friday for a conversation with Media School associate professor Joan Hawkins.
The evening began with an excerpt from "Razzle Dazzle: The Lost World," Jacobs' 2006 experimental film that stretches a minute of footage from one of Thomas Edison's "actualities" (a name he gave to his early short documentaries because they depicted actual events) into 92 minutes of pure abstraction. Black and white rain begins to fall in front of a dark screen, the sounds of thunder and pitter-patter cutting through the silence of the initially blank screen. An image of a spinning carnival ride emerges, abstracted by blotches of color that shift throughout the clip — first red, occasionally sharp and unnatural black and white to simulate flashes of lightning, bits of blue on top of the red that lend the images the quality of old 3D glasses. Sometimes, the images are simply their original black and white, sans editing and sans abstraction. Each image of the clip lingers for much longer than the original film ever ran.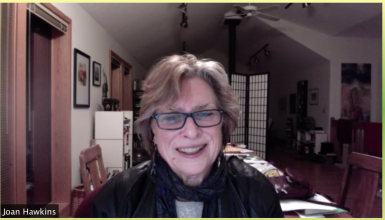 "He's interested in the relationships from words to stories to images, or perhaps the reverse: images to stories to words," Hawkins said.
She called him one of the great filmmakers of the American postwar era. Much of Jacobs' work experiments with found footage, like his 402-minute "Star Spangled to Death" (available on his Vimeo, for patient and curious watchers). In the '60s, Jacobs and Stan Brakhage redefined how film scholarship thinks about documentary and home movies. In the 2000s, Jacobs' fascination with found footage has manifested in works like "Razzle Dazzle," which reconfigure silent films as contemporary abstractions through the use of computer effects.
"Magic is beyond the magician," Jacobs said of the clip.
He works based on impulse and feeling, often motivated by the potential of new technologies to create images that could never have existed before. Some of his work has utilized dual projections coordinated to be ever so slightly out of sync with one another; other projects have incorporated 3D computer graphics.
The computer, to Jacobs, is like "a brain waiting for a human — a human with dreams, with anticipations," he said. "A screwed-up human."
Much of Jacobs' recent work comprises a decades-long series of abstractions called "Eternalisms." He has no idea how they're sorted — "When I learn myself, I'll tell you," he said — but they all share a similar conceit: the stretching of a few frames to his eternity.
Many of them are available on his Vimeo page. Titled simply and matter-of-factly ("Spiky," "Transparent Apartments," "Storefront," "Clouds and Trees," "Whirlpool," "Hubble,"), they're hallucinatory 30-second clips that appear to be in perpetual motion.
"It's just two frames," Jacobs said. "It's always beginning."
The Cinema showed a couple of Jacobs' Eternalisms: an image of a man in a coat and hat holding a sign that says "Let them Stay!", an image of puffy white clouds. In both, the images appear at once still and in motion, parts or all of them flashing in different colors rapidly. In the image of the man, his body and sign are inverted one after the other after the other, ad infinitum; the clouds alternate rapidly between rich white and blue to an inverted amber color so rapidly that it becomes unclear which is their natural state.
The principle on display, Jacobs says, is the Pulfrich effect, "where lateral motion of an object in the field of view is interpreted by the visual cortex as having a depth component, due to a relative difference in signal timings between the two eyes."
He learned about it in a book given to him by Jonas Mekas, the Lithuanian-American filmmaker often heralded as the godfather of American avant-garde filmmaking.
"I never stop looking for an arresting image," he said. "The impossible is also very, very attractive to me."
Like the "Let them Stay!" Eternalism, much of Jacobs' work is in turns abstract, arresting, impossible and tinged with the political. It's clear from his titles alone: "Star Spangled to Death," "Capitalism: Child Labor," "Capitalism: Slavery."
Some images just lend themselves to a political comment of some sort, he said.
When asked if there's anything he wanted to be asked, Jacobs said only that he wanted Hawkins to ask his wife, Florence Jacobs (who was also in attendance), why she was attracted to him.
Together, Florence and Ken told the story of how they met:
He was drying black and white paintings on a beach. She was headed there with a friend to enjoy the sun. It was before the tourist season started, and he saw the two women scratching at the sidewalk with a stick. They made their way down the beach toward him, and Florence recalls being amazed by the paintings.
Even though very few of Jacobs' films are narrative-driven, Jacobs himself is a self-avowed cinephile. He watches a lot of the Turner Classic Movies channel, he said. His attachment to it — and to classic cinema as a whole — is in part in the memory of his mother, who died young. Jacobs said he watches old movies to understand the things that she saw and that shaped her mind.
"I'm drawn to films sentimentally. I see them for what they are, but I'm trying to learn my mother's mind," he said. "She was a painter, an intellectual, a writer — she wrote novels that were never published."