Guins' first non-academic book explores his identity as Leeds United fan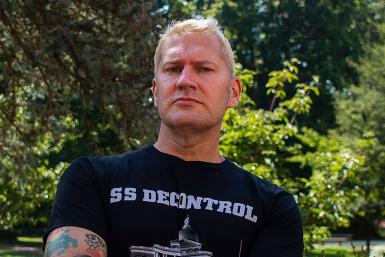 In addition to his recent academic publication, Raiford Guins, professor and director of cinema and media studies, also just published his first non-academic book.
The book, "Feeling Leeds: Notes on Loving a Football Club from Afar," explores Guins' experiences as a dedicated Leeds United fan living in the United States. 
Guins' devotion to the club is evident from the first line of the book, which says that he spent $90,000 on Leeds United. The $90,000 was his student loan to attend the University of Leeds. 
"Going there was to have season tickets," he said. "I'm honest about that. I went and pursued my graduate work just to watch Leeds United."
Guins spent nearly a decade living in the United Kingdom, including Leeds, Bristol and London, but his first match was not until he was 21 or 22 years old. Since then, he has lost track of how many matches he has attended.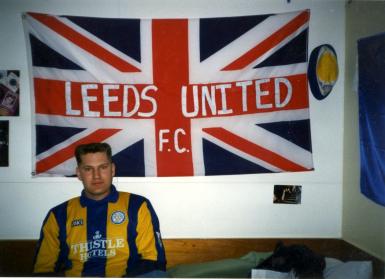 When asked how he became a Leeds fan, Guins responded simply: "I got a scarf in 1975." The scarf was a present from his aunt who knew he loved soccer and brought him the gift as a souvenir from a game. 
At first, the scarf was not especially meaningful because Guins was not yet a Leeds fan, but he said he rediscovered it when his interest in the sport was blowing up in '86. It made him decide to become a Leeds fan. 
"That scarf — I still have it — has been sort of a lifelong marker of identity for me," he said.   
Objects, including this scarf, are a main focus of the book. Another major theme is the concept of a "dislocated supporter," which Guins said "accounts for all of us who follow religiously, who are passionate about a club, but we don't have the local identity, we don't have the accent, we're not born in proximity to our grounds."
"'Feeling Leeds' is my attempt to document my own sort of practices and relationships with objects over a 40-year period and how I've tried to maintain an emotional connection and a sense of belonging to the club that I follow," he said. 
Although "Feeling Leeds" is different from writing Guins has done before, he said he still wanted to write a smart book but in a different way. Guins said part of his motivation for writing this book was a desire to step outside of academic writing.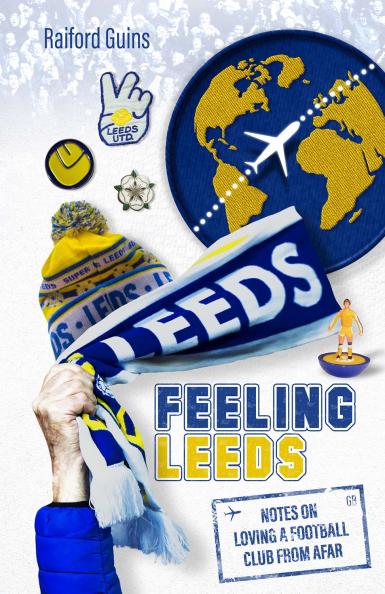 "I wanted to think of a project that's still intellectual in my mind but doesn't look academic," he said. 
An academic book typically takes Guins about six years to write, and he said he just doesn't have the stamina for that type of work anymore. His research for academic books also usually consists of traveling to interview people and going to archives, both of which have been made more difficult by COVID-19 restrictions. 
"I wanted to look elsewhere, so I looked inside," he said. "I thought, 'I want to use this time to reflect and to question my own sense of being a supporter.'"
As part of his process for writing this book, Guins said he spent six months reading a lot of books about how to write. 
"You're not told or taught that as a scholar; you're just expected to know how to do it," he said. "I wanted to write for a broader audience, and I wanted to push myself to learn to write well. I wanted to write in a way that I hope people will find moving, and I hope they can kind of see their own practices in the examples I use regardless of what club they support."
In the book, Guins tells various stories about what it is like to support Leeds from afar. For example, he talks about using his heel to write "Leeds United" in the sand at various beaches to illustrate the concept of leaving traces. 
Many of his stories are from the pre-Internet days. He talks about going to pubs in Florida to watch matches on satellite feeds and having to work out league results with a pen and paper. 
He tells another story about traveling to the U.K. to buy T-shirts and another about what it was like in the '80s and '90s to look at a catalog and fill in the blanks of what you're ordering, have to get an international money order, put a check in the mail and wait for the merchandise to come. 
As for current-day themes, one of Guins' major focuses in the book is his 11-year-old son Deckard "Deck." Deck was born into Leeds United fandom, and he went to his first match when he was 6.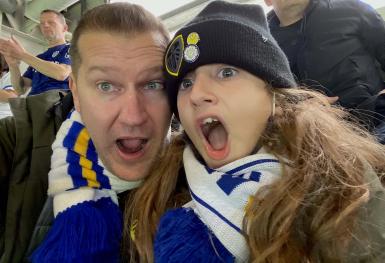 "When he developed an interest — it was kind of forced on him — but when he expressed an interest in wanting to go, I think that revitalized the need for place in me, revitalized a desire to be at the ground," Guins said. 
Since 2017, Guins and Deck have tried to go to as many matches as they could. Next month, they will travel to attend Deck's 10th match. 
"I think he's very much been the impetus, to let him have an experience that was so meaningful to me when he's young because I never got to have that," Guins said. 
Guins dedicated the book to Deck because "he's really been kind of a catalyst for this project because I wanted to be able to put into words my feelings and … a lot of that is based on how I observe him and the kind of time we've spent together."
Guins has a deep sense of excitement about "Feeling Leeds," and he said he hopes this type of project is not a one-off for him. 
"The moment I'm looking forward to is just to walk into a bookshop in Leeds and to see your book there," he said. "That's the meaning for me, just that someone sees you as a Leeds supporter and that your work is read in that context. That would be huge for me."