Gruszczynski, Geiger collaborate to study political speech on climate change
Assistant professor Mike Gruszczynski is an expert on political communication, and assistant professor Nathan Geiger is an expert on climate communication. A study on political speech surrounding climate change was a natural fit for a collaboration.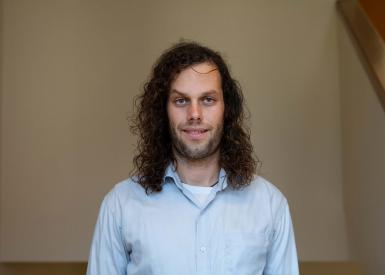 The pair talked about their project Friday at a research colloquium presentation, "Climate Conversations and Collaborations."
Geiger and Gruszczynski said collaboration can be beneficial in a variety of situations, particularly when people have complementary research interests or skillsets.
"Having the right people around, they can sometimes catch things you might miss," Geiger said. "Most of the work I've done has been collaborative to some extent."
Their ongoing study focuses on congressional communication about climate change, particularly using emails and the Congressional Record, as well as looking at individual characteristics, such as committee involvement and level of polarization.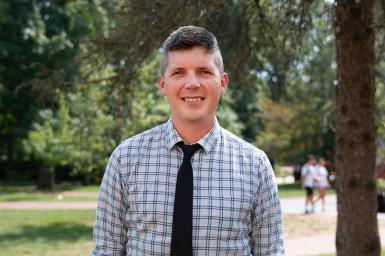 Geiger and Gruszczynski showed a graph measuring the frequency of particular phrases used in climate discussions, such as "climate change," "global warming," "global cooling," "cap and trade" and "Green New Deal." Each phrase was then broken down by political party to identify any potential differences in the way politicians discussed the issue.
They're also studying variations in public discourse based on the weather and climate trends of particular regions. To illustrate this, they used a United States map showing the average summer temperatures across the country overlaid with congressional districts.
"One of the things we're looking at right now is if there's an effect based on the climate of areas or if partisanship trumps that," Gruszczynski said.
To establish public opinion, they're using data from a Yale climate change survey, which includes questions such as, "How much do you think climate change affects you?"
"There's all these interesting data sets that can be combined in unique ways to answer relevant questions," Geiger said.
This combination of data, expertise and research approaches was a focus of Geiger and Gruszczynski's collaboration and presentation.
"Everybody sees the world differently," Gruszczynski said. "I don't really study climate change typically, so if I have an idea and I go tell Nathan, he's like 'yeah, that's already been done,' and the same goes with him as well, so the collaboration really can be beneficial."