Grabe named Provost Professor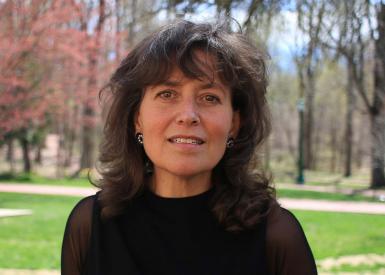 Media School professor Betsi Grabe has been named an IU Provost Professor.
The award is given annually by the Office of the Provost and the Office of the Vice Provost for Faculty and Academic Affairs. It honors faculty with the careerlong distinction, a $2,500 award for each of the first three years and a $5,000 grant to be used on a project of their choice.
"I see this as a way of shining some sunshine on our school and our discipline," Grabe said. "I am deeply honored, but it's really bringing something home to the school."
Media research and teaching is a relatively new discipline, Grabe said, so she is happy the field is garnering the recognition it deserves.
Most of Grabe's career has been spent trying to understand how we as citizens become informed and can fulfill our civic duties. More recently, she has pivoted her research focus to trying to understand disinformation.
Prolific mis- and dis-information can endanger the longevity and health of a democracy, Grabe said. 
She hopes to use the accompanying grant toward furthering this vein of research. She is interested in combating disinformation using media literacy and other initiatives to build resilience against disinformation, she said.
Grabe is a principal investigator at the Observatory on Social Media, a collaboration of The Media School, the Luddy School for Informatics, Computing and Engineering and the Network Science Institute.
"The recognition comes from many years, many students, colleagues and staff members who support and enable The Media School as a collective," Grabe said.