Gilbert describes the writing life
By Greg Ruhland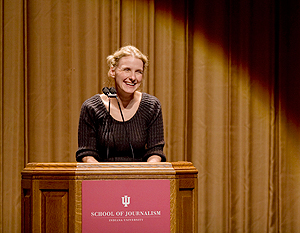 In a speech that stirred an audience of both area residents and IU students, award-winning author and magazine journalist Elizabeth Gilbert dispensed her advice on writing and creativity Monday night in the IU auditorium.
Free and open to the public, the speech was the first in this semester's School of Journalism Speaker Series that also brings broadcaster Nina Totenberg and longtime newspaper journalist Len Downie to campus.
Gilbert's best-selling memoir, Eat, Pray, Love, chronicles the year she spent in Italy and South Asia searching for personal fulfillment after a divorce. Sharing insights about creativity from former conversations with schoolteachers, colleagues and poets, Gilbert dodged questions about the book's inspiration, the challenging emotional phase of her life. She said that writers and artists who choose a creative life aren't necessarily choosing a path of suffering.
"There's something outside of you that's helping you get this work done," Gilbert said of the writing process. "There comes a moment in your making where something comes through that you didn't do. You're a participant, and you set the stage with your discipline, but you didn't do it."
While some writers experience the highs and lows of the writing process, Gilbert has never known anything more "wonderful" than the craft.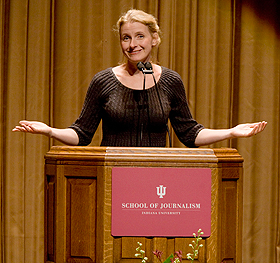 "Once you learn how to stay calm, receptive, diligent and go on about your business, you are prepared to take inspiration when it comes, prepared to let it go when there's an opportune moment and prepared to get up the next day and do it again — then you're at the beginning of being a sane, disciplined, responsible artist," Gilbert said.
Sophomore journalism major Caitlin Van Kooten appreciated Gilbert's talk more than the author's latest book.
"In the book, I had trouble connecting with the really spiritual things," Van Kooten said, though she now wants to read it again. "Hearing her speak, she was sharp and witty, and it takes on a different tone. She was phenomenal."
"I could relate to [the speech] very well," said Lindsay Pollack, a journalism student who had read Gilbert's book on a trip abroad.
"We had a lot of requests for her," noted School of Journalism Dean Brad Hamm, who said speakers like Gilbert, aged 40 and under, were ideal targets for the Speaker Series in an area with a population of so many young adults.
Perhaps 10 percent of those in the audience were men, including journalism major Sam Mooney of Avon who waited with his father while his mother stood in line for a book signing after Gilbert's talk.
"She gave some great advice on being a writer, which is what I want to be," he said. He has been to Italy once before and calls Gilbert "enlightening."
Gilbert would probably shrug off such praise, at one point describing herself as lazy and admitting she excelled in writing despite herself.
"I'm a first-obstacle quitter from way back," she said. "In spite of all that, my great gift has been to know from a very young age that there is something that's actually worth attending to, and it's the work of writing."
To students, she said, "We need you. When your work doesn't get done, it's lost and it's missed."
Gilbert's book, The Last American Man, was nominated for the National Book Award and the National Book Critics Circle Award. She has written for GQ (her first article provided the basis for the 2000 movie Coyote Ugly) as well as for Spin, Harpers Bazaar and The New York Times Magazine.
National Public Radio Broadcaster Nina Totenberg arrives Sept. 16 to speak at 7:30 p.m. in the IU Auditorium. Newspaper editor Leonard Downie speaks Oct. 28 at the Buskirk-Chumley Theater.