Gantzes create study abroad scholarship to pay forward rewards of lifelong learning
When Jane Gantz retired from her job at the IU Office of Admissions 10 years ago, she knew she wanted to pursue her dream of becoming fluent in Spanish.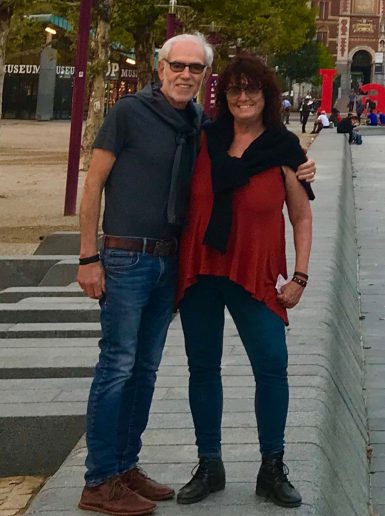 She decided to take a class at IU, HISP-S 105: First Year Spanish. She's taken a class almost every semester since and has traveled to more Spanish-speaking countries than she can name, including Costa Rica, Peru, Spain and Mexico.
After seeing how much learning Spanish changed Jane's life, her husband, Media School professor Walter Gantz, decided to create a scholarship in Jane's honor so students can have similar experiences.
The Jane Gantz Overseas Study Scholarship will offer an annual scholarship to an undergraduate Media School student double majoring in media and Spanish. It can be used toward a study abroad program in Spanish in a Spanish-speaking country.
Since Jane started studying the language and traveling, Walter said he's never seen her happier.
"She's learned so much from class and overseas experience," Walter said. "Why not help other people who want to do the same?"
Jane has done language learning programs in countries across the world. In each place, she's studied the language and the culture and made lifelong friends that she still keeps in contact with.
Travel has changed the couple's life, Walter said, and he wants to help give students the same opportunity. While the scholarship may not pay for the whole program, Walter said it could help defray the cost, whether it's used for books or transportation or housing.
The No. 1 wish the couple has for the scholarship recipient is that he or she keeps an open mind.
"Don't be afraid of trying something new," Jane said.
She encourages people who study abroad to completely immerse themselves in the culture with a "no English rule." She also said it's better to live with a host family instead of in a dorm with friends.
She encourages students to hang out with Spanish-speaking students and take advantage of events in the city they're living in, such as concerts or movies. Any extra practice with the language could help their experience.
Walter said he hopes scholarship recipients gain respect and a lifelong interest for the diversity of other countries. He also hopes people gain lifelong friendships.
"I want students to gain a love of learning language and exploring other countries," Walter said.
Students can apply for spring 2019 funding using the general Study Abroad Scholarship Application, due Nov. 15. The application matches students with different awards, including the Gantz scholarship. Only one Gantz award will be given out each year.
"The university's been good to us," Walter said. "We had the opportunity to give back, and this was the way we felt it was good."
More: