Game Development Camp finds sweet spot in hybrid format
The Media School's Game Development Camp hosted students in person this summer for the first time since 2019, but it hasn't completely abandoned the COVID-driven virtual format.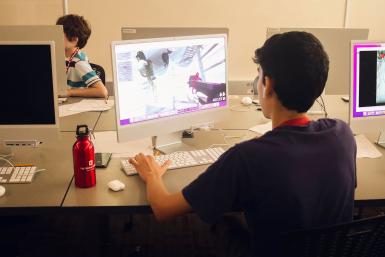 The precollege program adopted a hybrid approach this year, offering both in-person and virtual options. The virtual program made it easier for middle and high school students outside the Midwest to participate, while the in-person program offered access to Franklin Hall's technology, the college experience and human connections.
Campers spent the week learning game development techniques and constructing their own games, which were showcased at the end of the camp Friday. The first and last sessions of the camp offered 2D and 3D classes, which were held in person in Franklin Hall, while the middle session was a virtual 2D class.
2D game development consists of flat animation, and the 2D campers used the game engine Construct to build their games, which uses chunk-based coding. The 3D campers used the program Unreal Engine to develop their games, which gave them the ability to construct more realistic-looking games.
Rush Swope, lead instructor for Game Development Camp, said the 3D class was only taught in person because students needed Media School computers and software to best learn 3D development.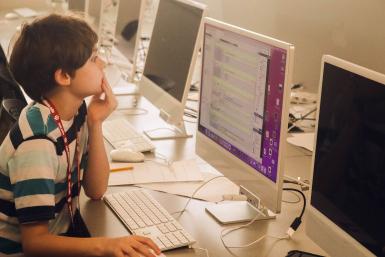 Aeris Meadows, the 2D session instructor, said she focuses on teaching students design skills and programming logic to give them the tools they need to build their games. The camp assumes all students come into the sessions as beginners.
"We constantly try to give them new things to think about and puzzles to solve so they can challenge themselves if they want to and learn new things," Meadows said.
The students are allowed to pursue their own ideas in the game they make throughout the week. Swope said the campers come up with a wide variety of ideas and have interesting perspectives.
"They are unencumbered by the entrenchment of adulthood, so they make really crazy stuff," Swope said.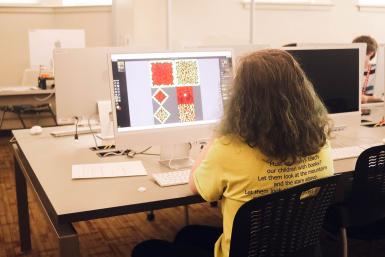 The games the campers worked on ranged from a 2D card strategy game to a riddle-based puzzle game to a game where you have to outlast your enemies.
Edyn Campbell, a rising sophomore from Bloomington, said he enjoyed how open the camp was because it gave him the freedom to pursue his ideas.
"It's surprising how much you can learn in just two to three days, and how much there is to learn," Campbell said. "It's something you can do for years and still have stuff to learn."