Game design students compete for development go-ahead
As the new oracle to the war-torn temple of the nature goddess Aurelia, it's up to you to supply weary travelers with potions that give them strength to solve their problems.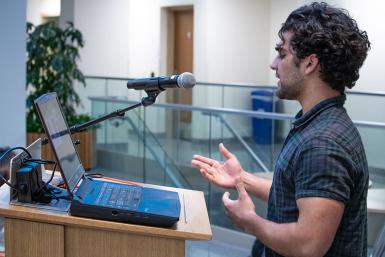 One seeks to avenge the death of a family member. Another worries there will be an assassination attempt on his husband, a senator in one of the two feuding cities.
Divine Brew is one of seven game concepts presented at Friday's annual "Shark Tank" game design pitch event. Student teams from the Production II and Design II classes shared their ideas with a public audience and a panel of industry experts who, with faculty, will determine which projects continue into the development stage.
Successful projects will be produced in the game design program's three-semester workshop capstone. About half the concepts will be greenlighted, said professor of practice Mike Sellers, director of the game design program. Students whose games are not selected will join the remaining teams.
"All the students have an opportunity to be on a full game project and experience the reality of moving from project to project as projects come and go," Sellers said. "These projects will be, across the next three semesters, developed, launched and released as full commercial games where the students own and have their own company."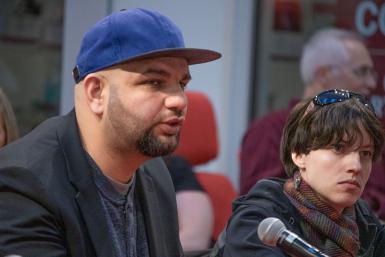 Judges Chelsea Howe, creative director of Owlchemy Labs; Osama Dorias, senior game designer at Warner Brothers Montreal and co-founder of indie video game studio Magic Pants; and Nathan Fouts, founder of Mommy's Best Games, judged the presentations, asked questions and offered feedback on how to improve the games.
"Public speaking isn't something I enjoy doing, so it was pretty nerve-wracking. All the teams met with the judges and showed them our games beforehand, and they all were enthusiastic about what they saw with Divine Brew, which helped a little," said junior Stephanie Davidson. "But it felt good to finally give the presentation that we had been working on nearly all semester, and to have the judges acknowledge our work."
The concepts presented were:
High Above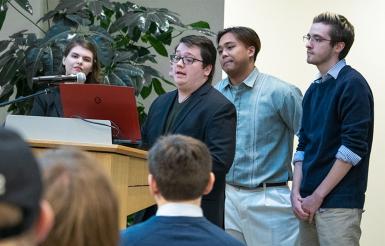 Riz Baguisa, Tara Dangerfield, Matt Taylor, Mallory Warner and Eliot Westcott
Explore bugs, mushrooms and other life as a vine growing up a tree in High Above. The concept is a 3D immersive exploration game that emphasizes a relaxed experience. As the player progresses, the vines blossom, creating a sense of serenity.
Subject 63
Noah Kankanala, Eric Togashi, Vershawn Burns, Kenton Ellson, Kaelan Roush and Nik Stewart
In Subject 63, you're a scientist in an underground testing facility where an experiment has gone wrong, and you must use mutation serums to escape monsters you've created. Ultimately, the player must choose between becoming a scientist and avoiding the facility.
INTERNal Conflict
Mark Birmingham, Oliver Byrd, Jordan Hannon, Megan Nadolski and Drew Steichen
In INTERNal Conflict, you're a secret agent disguised as an intern at the city's smallest paper company. Your mission: Take down the company from within. Gather information from coworkers and sabotage the office while keeping your identity secret — a task that becomes increasingly difficult as the game progresses.
Dark Tides
Sydney Bischoff, Joshua Meyer, Zack Nitiss, Jacob Ringer and Jon Roehr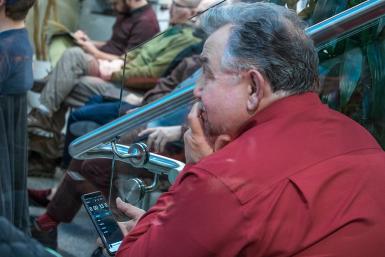 A team of colonists is stranded in the alien-filled waters of Europa, and you must lead it through deep waters to escape. Dark Tides is a sci-fi/horror strategy game that requires a player to master the skills of a diver while at the same time providing a sense of exploration. The player's objective is to recover the warp drive that has fallen to the bottom of a trench guarded by a creature. An added challenge is killing off dangerous creatures without making too much noise and attracting more creatures.
OddestSea
Peter Francis, Gaby Benninghoff, Emilie Holtz, Dakota Erickson, Grayson Edwards and Matt Olry
Also set in the water, OddestSea tasks a player with sailing through an ominous sea to save drowned souls and repair lighthouses to ward away monsters. The player will find mirrors scattered throughout, which are key to restoring light to the lighthouses and world. The player must beat the game to restore light to the dark sea.
Divine Brew
Andy Beer, Stephanie Davidson, Justin Hatfield, Jonah Clark, Dominic Lettsome
Divine Brew is a narrative-driven game that requires the player, an oracle to the war-torn temple of the nature goddess Aurelia, to choose which potions to brew and supply to customers with a variety of problems. The player's choices influence the game's narrative. Different potions impact different character statistics: body, spirit, intellect and charisma, which in turn impact narrative outcomes. The game's target audience is casual gamers and fans of choice-based narratives that feature a large, diverse group of characters.
This is Not a Drill
Jesse Riggins, Evan De St. Jeor, Bradley McNeil and Nick Wright
Outrun rising lava by climbing the tower of blocks being built around you, and drill through falling rocks to avoid being crushed. This is Not a Drill is an endless runner game that allows the player to dynamically choose to make the game more difficult for more significant results by collecting points. The game also give players daily challenges with new game modes depending on the day of the week. 
Level Up scholarship winners announced
Halfway through the presentations, Sellers announced the winners of The Media School's Level Up scholarship, which awards $1,500 to nine students to attend the Game Developers Conference in San Francisco in March.
The winners are:
Alex Bowling
Kaleb Eberhart
Arianna Eiler
Nathaniel Ferguson
Peter Francis
Ryan Reske
Rajin Shankar
Jorge Vazquez
Eliot Westcott
More: