Friedman: 'Energy technology' could solve sustainability issues
Jessica Birthisel | Nov. 5 2010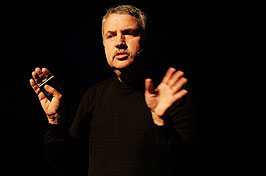 Three-time Pulitzer Prize winner and New York Times columnist Thomas Friedman began his talk Thursday night by showing a photo of a South African billboard.
"German engineering, Swiss innovation and American nothing," read the ad for Daimler's Smart ForFour car.
"That billboard pisses me off," Friedman told the audience in the nearly-full IU Auditorium.
He's channeled his irritation into examinations of unsustainable practices around the globe, particularly where population, environment and government merge. Author of several books, Friedman was on campus as a guest of the College of Arts and Sciences' Themester program, which explores one topic per semester across many disciplines. This fall, the topic is "Sustain-ability: Thriving on a Small Planet." The School of Journalism's Speaker Series also sponsored his appearance.
The author drew on his recent book, Hot, Flat and Crowded: Why We Need a Green Revolution and How it Can Renew America, to share his concern about where the United States is headed today. These three traits — hot, flat and crowded — are the result of unsustainable practices around the globe, he said.
"Hot" refers to the rising of the earth's temperatures. Even a seemingly small temperature change of one degree can have dramatic effects. "Flat" refers to increased numbers of countries aspiring to and recreating a Western model of modernity and consumption.
"The good Lord did not design this planet to have this many Americans in terms of consumption," said Friedman.
Finally, "crowded" refers to population increases around the planet. Friedman says these three flames came together in 2000 to ignite a series of global challenges, the first of which is energy and natural resource supply and demand.
In his international travels from Doha, Qatar, to Dalian, China, Friedman saw replica "Manhattans" appearing in countries around the globe, the "flat" world where countries are building, acquiring and consuming to keep up with one another.
The second challenge is what Friedman calls "petrodictatorship."
"As the price of oil goes down, the price of freedom goes up," he said. The more a government can rely on the high price of oil for power, the less inclined it will be to meet the needs of the people.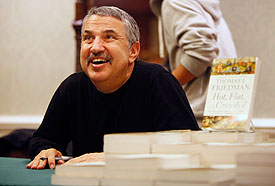 The third challenge is climate change, and he likens "global warming" to a four-letter word. It sounds too fuzzy, he said, and "global weirding" better describes the erratic and unpredictable weather phenomena that accompany global climate change.
The fourth global challenge is energy poverty. Approximately 1.6 billion people have no on/off switch in their lives, said Friedman, and this lack of access to electricity, technology and information will result in those people falling behind "at an exponential rate." He showed a photograph from Guinea of students gathered at an airport parking lot late at night to study because it was the only place with lights.
"That's the face of energy poverty," said Friedman.
Finally, biodiversity is a challenge facing the developed world. He cited studies that estimate the world is losing one species every 20 minutes and predicted his generation will be the first that will have to "think like Noah" and have a strategy for "saving the last two" of each species.
"In a hot, flat and crowded world," said Friedman, "later is going to be too late. So whatever you're going to save, save now."
Despite this grim future, Friedman said he considers himself an optimist. All five problems have the same solution, he said: abundant, cheap, clean, reliable electrons to ease energy constraints and natural resource supply issues. He sees the answer coming from a new industry, one he calls energy technology, or ET. The country that can pioneer the energy technology movement will be a global leader in national security, environmental sustainability, innovation, global respect and moral leadership.
In Friedman's eyes, that leader has to be the United States.
"Green is the new red, white and blue, and don't let anyone tell you otherwise," he said.
The country won't see a green revolution until companies face failure if they don't change their practices, Friedman said. Instead of building "green" buildings or "green" cars, companies will have to produce materials that meet demanding specifications for environmental sustainability.
This will be the biggest project to face the world since constructing the Tower of Babel, Friedman conceded. Though some believe the answer to these challenges lies in increased regulation and worldwide agreements on carbon dioxide emissions, Friedman sees the solution in another arena: innovation. Governments must support green innovators to create the next "green" Google or "green" Apple, said Friedman, drawing parallels to the information technology revolution.
But energy technology has to be cognizant of another factor.
"In the green revolution, price matters," he explained. Information technology remains successful because new advances create whole new functions in people's lives. With energy technology, innovation means a more sustainable version of something people already have come to expect, such as electricity.
Friedman finished his talk by reading an excerpt from his book based on the eulogy of Dana Meadows, an environmental from Dartmouth, which reflected a sober optimism about global environmental problems. Friedman echoed that eulogy in the final words of his talk: "We have exactly enough time—starting now."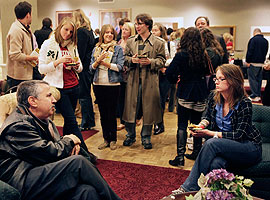 Nathan Bower-Bir, a senior in physics who helped start IU's Student Sustainability Council, said he was excited by this semester's Themester topic and thought Friedman's talk was a nice compliment to the initiative.
"He brought together important issues of sustainability in many different ways," said Bower-Bir. "That helps bring different people into the movement by piquing their particular interests."
His main concern with the talk was with the make-up of the audience.
"I fear he was preaching to the choir," said Bower-Bir, who wishes that Friedman could give the same talk to other individuals or even to Congress.
His brother, Jacob, a doctoral student in political science and the logistics chair of the SSC, said Friedman provided a great synopsis of the topics, taking ideas people have had and putting them together in new ways.
"That's the role a journalist should play," he said.
Other sponsors of Friedman's talk were Union Board, School of Environmental and Public Affairs, Office of the Provost, Center for the Study of Global Change and the Harvey C. Burke MBA Business Ethics Workshop.