Frenches' memoir gaining national attention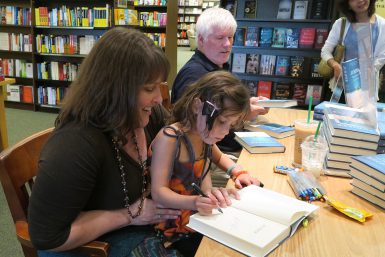 A book by Media School professors of practice Thomas French and Kelley Benham French is receiving national attention and acclaim, putting the two veteran journalists on the other side of the notebook as they field interview requests from a variety of news organizations.
Juniper: The Girl Who Was Born Too Soon, was published two weeks ago by Little Brown. The memoir details the struggles, triumphs and ethics surrounding the birth of their daughter, Juniper, born four months prematurely.
The book has been featured in People magazine, Good Housekeeping, Amazon and Publishers Weekly, and is set to be reviewed by Oprah magazine, Parents magazine and Psychology Today. Tom French said New York magazine and the New York Post are writing stories about the book, and the couple has been interviewed by NPR's All Things Considered and The Diane Rehm Show.
Reviewers said the Frenches' journalism backgrounds led to a book that is unvarnished. Both worked at the Tampa Bay Times before joining The Media School.
"Because they were journalists before they were parents to what many would call a 'miracle baby,' the Frenches bring an unflinching, exceedingly painful clarity to a story of already excruciating anxiety," wrote Laura June of New York Magazine.
Sharon Peters of USA Today described the impact of the Frenches' alternate, first-person chapters as "raw, rough and wrenchingly tender."
Kelley French said that raw quality was integral to the credibility of the story.
"It is uncomfortable to have such a personal story out there, but my comfort is not the most important thing here," she said. "Tom and I could have smoothed the rough edges off the story, but we're journalists, so we don't do that. All of our vulnerabilities are very much on display, because that's what gives the story its authenticity."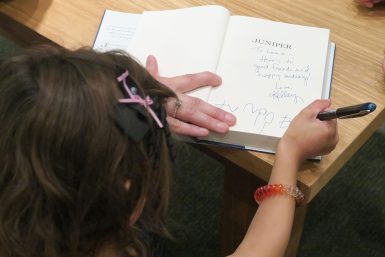 Kelley French first shared Juniper's story in 2013 in a series for the Tampa Bay Times. The series was selected as a finalist for the Pulitzer Prize. She has since received thanks from parents going through similar struggles who reacted to the candor of the story.
"People write me, and they say that's how they knew it was real," she said. "But it's not just for those parents of preemies. It's for doctors, therapists and nurse practitioners, and anybody who's ever been a parent. I think it appeals to a mass audience, but it also has a special niche audience. Everyone will take something different from it."
Tom French said working with his wife, who he said is recognized as one of the most talented writers of her generation, was intimidating.
"I knew that Kelley's parts of the book would generate acclaim, because she had already written so powerfully about Juniper in her original series," he said. "I honestly had no idea how coherent my contributions would be, because it's so hard to achieve any kind of critical distance on such a raw and emotional chapter of your own life."
Tom French, a 1998 Pulitzer Prize-winner for his Tampa Bay Times series "Angels and Demons," said the recognition Juniper is receiving has surpassed that of his three previous books.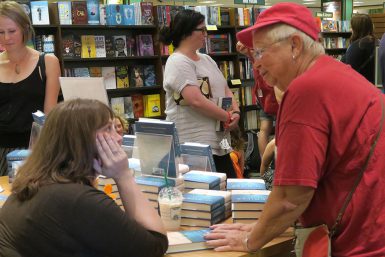 "Juniper is my fourth book, and although the previous books did well, this has received the most intense response I've experienced," he said. "I suspect that's because the subject matter is so elemental and universal. On the surface, this is a story about a micro preemie at the edge of human viability. But on a deeper level it's really about two parents fighting for the life of a child born into darkness."
The book and the family's story has generated local attention, too. The Frenches, including Juniper, now 5, were part of a reading and book signing event Sept. 25 at Barnes and Noble in Bloomington. The couple also has talked to reporters from the (Bloomington, Indiana) Herald-Times and the Indiana Daily Student about the book.
Information about future readings is on the book's website.
More: