Francis, BFC/A featured in film restoration festival
The Media School's Black Film Center/Archive was spotlighted in this year's Cinema Revival, The Ohio State University's Wexner Center for the Arts' annual film restoration festival.
BFC/A director Terri Francis participated in a livestream interview with David Filipi, Wexner Arts Center director of film and video. The festival also included a conversation between BFC/A director Terri Francis and filmmaker Ja'Tovia Gary.

BFC/A spotlight
As the BFC/A celebrates its 40th anniversary, its faculty and staff have been reflecting on its past, present and future, Francis said in the interview.
"Just like a person, with an institution going into mid-life, you start thinking 'What's our purpose, our significance? Where have we been? What have we been really doing here?'" Francis said.
Their conversation spotlighted the center's rich archive of media collections and surveyed its history.
Terri Francis and Ja'Tovia Gary conversation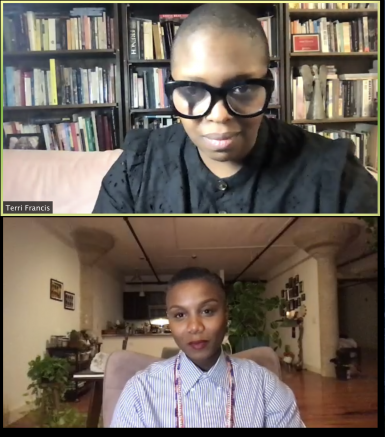 Thursday evening, artist and filmmaker Ja'Tovia Gary joined Francis for a conversation on film preservation and the canon, as well as Gary's work and Kathleen Collins' monumental 1982 film "Losing Ground."
A virtual screening of "Losing Ground," paired with Gary's short film "An Ecstatic Experience" was available to stream through the Wexner Center's website along with the conversation and Q&A.