Fox Sports' Buck talks on lifelong love of sportscasting
By Sarah Hutchins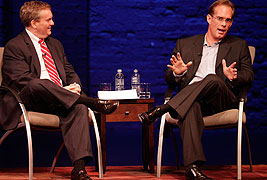 Fresh from calling last week's World Series, Fox Sports' Joe Buck shed light on breaking into sportscasting and growing up the son of broadcasting legend Jack Buck during his talk at the Buskirk-Chumley Theater Tuesday night.
In an onstage conversation led by Tim Franklin, director of IU's National Sports Journalism Center at IUPUI, Buck spoke to a crowd of area residents and students as the last of the School of Journalism's fall Speaker Series guests.
Franklin introduced Buck as "one of the best sportscasters of his generation or any other generation" before a video of sportscaster Bob Costas highlighted some of Buck's major achievements, such as his six Emmy Awards and his play-by-play duties for Fox Sports' coverage of Major League Baseball and the National Football League. In 1994, he was the youngest announcer to call a full slate of NFL games on network television.
Buck's broadcasting career began in 1989 while he still was a telecommunications undergraduate at IU. That year, he called play-by-play for the Louisville Redbirds of the American Association, a minor league affiliate of the Cardinals, and was a reporter for ESPN's coverage of the Triple-A All-Star Game.
Buck never graduated from IU, but he said his time on campus helped solidify his love of sportscasting and provided a break from living in the public eye in St. Louis. Growing up, he attended a small private school in a city where everyone knew his father and, as a result, watched the younger Buck's every move.
"It's great being a kid who was from St. Louis and to come here and to be a social security number," he said. "Your name is irrelevant and that was great."
Buck never regretted growing up the son of a famous sportscaster. He was close to his father, often tagging along on with him on team busses and planes. He tried to stay out of trouble and use the family spotlight in a good way.
"I can honestly say I never wanted to disappoint (my dad)," Buck said. "I was deathly afraid of doing that and it kept me out of trouble."
At a young age, Buck realized what—or who—he wanted to be when he grew up.
"I wanted to be Jack Buck," he said.
He started paying attention to how his dad worked. When he tagged along at baseball games, he found an empty booth to record his own broadcast into a tape recorder. On the way home, Joe would pop the tape in and Jack would critique it.
But Buck knew that at some point he needed to get real world experience. Summers after his sophomore and junior years at IU, Buck bolted off campus to broadcast in Louisville.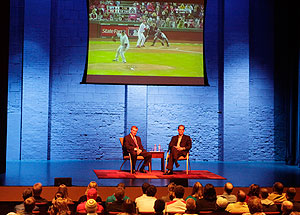 "I bluffed my way through it," he said. "That's when my dad knew I was serious."
Buck left IU to be a radio and television announcer for the St. Louis Cardinals, working in St. Louis from 1991 to 2007. In 1996, he was the youngest person to broadcast the World Series, for an audience of 13 million.
"If there were three million or just three it wouldn't have mattered," he said. "I was scared out of my wits."
It took Buck years to get comfortable enough with the job that he could relax a little and enjoy it all.
"I look back on Bob Costas and I think, that's one of the greats," he said. "When you're a kid, you feel like you don't deserve this."
Growing up with his father as an example, Buck has tried to strike a balance between work and family. While travel is part of the job, he tries to find time to go to his kids' games, to pick them up from school and help them with homework.
Buck also talked about dealing with comments from critics.
"If you want to see how much you suck, Google your name," he said.
Every sportscaster is criticized, he said. His father constantly was labeled as someone who anticipated plays. Now, it seems, Buck is critiqued for injecting humor into his work.
"Most of the criticism is during the regular season," he said. "If you can't have fun and talk about a goofy hat or a funny play, then I don't want to be in this business."
Buck, who doesn't consider himself a journalist, said he isn't sure where the future of sports journalism is headed. Newspapers are sending fewer reporters to cover the World Series and even Buck's current employer, Fox, is cutting costs.
But as Buck's contract with Fox comes to an end, where will his future be?
One student suggested he return to campus to broadcast the Little 500, an IU tradition Buck admitted he's never seen.
"Keep a spot open in the sports journalism program," he said. "I might need a job."
Alexandra Novak, a graduate student in the sports administration program at the School of Health and Physical Education, attended Buck's talk because she wanted to hear what a professional sportscaster had to say about the career.
"I liked to he hear how he relates himself to his dad," Novak said. "I can really relate because my dad worked in the industry and I'm trying to follow in his footsteps."
In addition to addressing the packed house, Buck met with students in the School of Journalism library Tuesday afternoon and attended a fundraiser for the Bloomington Press Club's scholarship fund at Nick's English Hut.
Bailey Smith, a freshman business communications major, attended the fundraiser and speech. An aspiring sportscaster, she said she came to the event with a list of questions for Buck.
"It was just a great chance to find out what I would have to do to get started," Smith said. "I tape recorded the whole thing so I can take it home and take everything he said into consideration."