Fleming: Media plays role in white supremacy
News media organizations play both an active and complicit role in white supremacy by minimizing people of color's voices in news coverage and taking a "both sides" approach to racists, said Crystal Marie Fleming in a lecture at the IU Cinema to more than 250 people Tuesday.
Fleming is a sociologist at Stony Brook University. She teaches courses on critical race theory and manages a social media presence that has garnered more than 9.2 million Twitter impressions.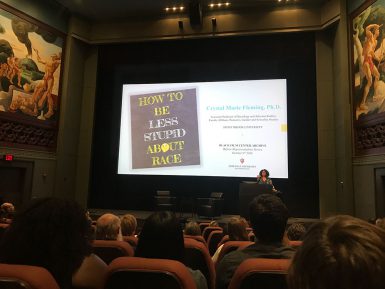 She uses Twitter to flesh out ideas for her books and create educational threads. That's exactly where Terri Francis, director of The Media School's Black Film Center/Archive, first came across Fleming's work.
"I was just impressed by her because there's just so few people who can explain white supremacy without waffling, without apologizing," she said in her introduction of the second speaker in the BFC/A's three-part series, "Before Representation."
The series asks the question, "What comes before representation?" and investigates the technological realities and the invisible decisions that must be made before representation of minorities can grace the screen.
Fleming discussed white supremacy and its manifestations in media and public perception, and read excerpts from her new book, How to be Less Stupid about Race. She focused on key terms such as white supremacy and systemic racism, which she defined as a collective practice of domination, more than individual prejudice.
"White supremacy is not just some extremist movement," Fleming said. "White supremacy is among the foundational principles of our country."
Fleming defined white supremacy as "the social, political and economic dominance of people socially defined as white." She said race as a social construct truly began only 400 years ago in the wake of colonialism.
In her new book, she expands on the idea of "racial stupidity," which she defines as the "nonsensical, illogical, ahistorical and inaccurate claims about race and racism."
Growing up in a foundationally racist society, she said, exposes everyone to racial stupidity, either in the form of directly racist beliefs, denial or minimizing the perception of racial oppression, or superficial views on race such as the ideology commonly expressed as "I don't see color." Coupled with the fact that many educational institutions don't require critical race courses, Fleming says continuing racial stupidity helps reinforce racism.
But she is hopeful, because she's seeing more people than ever making connections to the way systems of power work and influence media depictions.
"I see more people who are ready to understand what white supremacy really is and not just say(ing), 'It's those extremists over there,'" Fleming said. "But (people) who are ready to acknowledge how it distorts our institutions, our educational system, what we see in our media, what we read or don't read, who gets resources and who doesn't."
In her reading of the chapter "Fake Racial News" from her book, she ties these overarching systems of power to the news cycle. The continued coverage of radical racists, she said, has disseminated and popularized white supremacist dogma.
Having a few minority writers and anchors to show news institutions as non-racist supposedly counteracts this normalization, but she said that does not undermine the neglect of minority voices in coverage and the over-coverage of problems blamed on minorities.
"But as with individual people, white-dominated institutions have been more interested in appearing non-racist than in admitting their complicity in racism," she said.
Moving past this systemic racial bias in mass media, she said, relies on a thorough power analysis and historical awareness. That conscientious effort requires an honest evaluation of the role the media have played in continuing systems of oppression.
"Coddling and normalizing bigots is as American as apple pie, and the media, it too has a very long history of aiding and abetting white supremacy," Fleming said.
The "Before Representation" series continues Nov. 13 with Melanie Chambliss, a postdoctoral fellow in the Department of African American Studies at Northwestern University. Her talk, "Saving the Race: Black Archives, Black Liberation, and the Shaping of African American History" is at 1 p.m. in Hodge Hall 2083.
The series is presented in partnership with The Media School; the Center for Research on Race and Ethnicity in Society; the IU Office of the Bicentennial; the Office of the Vice President of Diversity, Equity, and Multicultural Affairs; the IU School of Art, Architecture and Design; the Asian Cultural Center; and the IU Eskenazi Museum of Art.
More: