Filmmaker Kevin Everson's art prioritizes processes, textures
Artist and filmmaker Kevin Jerome Everson is no stranger to having his art misunderstood.
When he screened a film in the Projections section of the New York Film Festival, a friend congratulated him on receiving a "great" review in the paper. But the review, he was dismayed to find, discussed all three of the films presented, but only addressed race in discussing his.
"I was violently, deeply insulted," Everson said.
As a black filmmaker, Everson's works are more susceptible to being appraised through the lens of race, even when that's not his intent, Everson said.
"When people are responding to images of black folk, they act like it's a window to reality," he said. "To me it's not a window. It's a surface."
Everson took listeners on a leisurely stroll through his oeuvre during a public conversation with Terri Francis, Media School associate professor and director of the Black Film Center/Archive, on Friday. The talk was part of the Rough and Unequal Symposium, hosted by the Grunwald Gallery of Art and the BFC/A, and it also included a roundtable discussion with university faculty, a reception and a screening of selections from Everson's filmography. The Grunwald Gallery is also exhibiting his latest project, "Rough and Unequal," through the end of this week.
Shot on 16mm film from the McCormick Observatory at Everson's home institution, the University of Virginia, the experimental film looks outward and upward, documenting a pair of viewpoints of the surface of the moon.
Occupying an entire room of the gallery, the exhibit invites viewers into a completely dark space. A pair of pedestal-mounted film projectors display the film segments on opposite walls on a never-ending loop. As viewers' eyes adjust to the darkness, the room begins to glow with the soft light of these dual representations of the moon.
Throughout the extent of Everson's massive filmography, which includes experimental films of both feature and short length, he says he's always been more fascinated by processes and textures than narrative.
"I like the idea of making the invisible visible," Everson said during the conversation.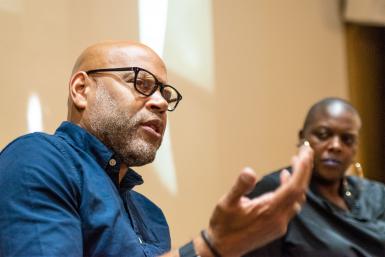 With his latest project, that's the rough, textured surface of the moon. Previously, it's been a great many other things. In "Three Quarters," he made a spectacle of the tricks of magicians. In another film, he documented hours of behind-the-scenes work at a factory. In another still, he focused on the black people working tirelessly behind the scenes at a polling place.
"When you go vote, you never think about those people who are keeping democracy alive," he said.
Routines and processes are often a subject of Everson's work. In "Rough and Unequal," he presented a tiny snapshot of the moon's rotation, where viewers watch light and shadow shift on its surface across the duration of the film. In another film, he documented the opening of a floodgate for one long, unbroken, several-minute shot.
Unbroken takes are another of Everson's fascinations. He's enamored by the way film works, by the textures and sensations he can capture with it. That's something he picked up from his earlier artistic work as a sculptor, painter and printmaker.
"I'm all about what the materials can do," Everson said.
That's why he often shoots on film — the grainier the better — to immortalize whatever he's documenting, and to imbue it with the textural richness of grainy film stock. One of his cameras, which he mentions is a favorite to shoot with, is broken such that it leaves a vertical scratch mark on every frame it shoots. More obvious when shooting in low light than in the day and about a quarter of the frame from the left edge, it's one of his favorite textural facets in the work he produces.
Other times, he's engaging with film history by implementing or evoking bits of old filmmaking. In one film he showed the audience, he recreated the 1898 film "Something Good — Negro Kiss," the first onscreen portrayal of black performers kissing. In another film he discussed, he sampled scenes from black heterosexual porn to complement the focal point of the brothel he saw that inspired the film.
Everson said he went into teaching in part because he liked the lifestyle, and in part because didn't think an art career was sustainable.
"I always thought I would never make a living off the objects I made," he said.
But teaching enabled him to continue growing as an artist, and to continue making his signature brand of avant garde film.
Everson's feelings on the art-making process often come across as charmingly informal. There's little pretentiousness or self-importance when he talks about the work, just a calm warmth.
That informality extends to his conversation with Francis, which carried the cadence of a cheerful reunion between a pair of sarcastic friends. At one point, neither of the two could remember the exact number of films Everson has made.
"Who's keeping track?" Everson quipped, and the two chuckled. To him, it seems, there's less significance in any one film or any career-defining achievement so much as that he continues to work and continues to grow.
"I made this film based on 'The Wizard of Oz,'" Everson said of one of the many films discussed during the conversation. "I don't know why. I like that joint though."