Filmmaker Kelly Reichardt explains independent philosophy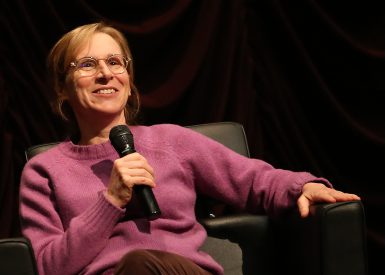 Accomplished independent filmmaker Kelly Reichardt sat down with assistant professor Ryan Powell Friday at IU Cinema for an extended onstage discussion about her process and projects.
"This is like being at my own funeral," Reichardt said with a laugh as she walked on the stage after being introduced as "one of the most fascinating film makers," by Katherine Johnson, and IU Ph.D. student.
Reichardt was on campus as one of IU Cinema's Jorgensen Lecturers, talking and screening several of her films, including River of Grass, Certain Women and Meek's Cutoff, over several days last week.
Reichardt said she always knew she wanted to make movies, even at an age when she didn't quite know what that meant. She left her home in Florida to set out for Boston and then New York, spending a decade working on films. But as much as she wanted to leave her Florida, she returned in 1994 to make her first film, River of Grass, which was nominated for a Sundance Film Festival award and four Independent Spirit Awards.
"I feel a kinship to the Keys," said Reichardt of the locale in the film.
Since then, Reichardt has made several more films and has received dozens of nominations and awards. Three of those films — Certain Women (2016), Meek's Cutoff (2010) and Wendy and Lucy (2008) — where the main topic of conversation at the IU Cinema.
Reichardt said her work, often descripted as visually and stylistically unique, reflects both an artistic choice and a practical choice. Not much money goes into making a Reichardt film.
"Even though the budgets are small, her movies are great," said Scott Pryson, an IU alumnus who came to hear the talk. "Her movies show that you can still make a great movie on a small budget."
Reichardt said a common theme in her work is the movies are about people who are stuck. They don't have a plan or grand scheme but they are in constant motion. She intentionally picks places that are out of the way and sparse.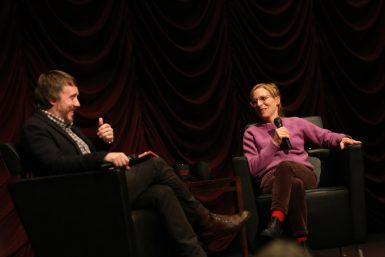 "I like being off the grid," said Reichardt. "That way I have the full attention of the cast and crew."
When asked if she would ever film in a place like New York, the state she has called home for decades, Reichardt said no.
"I enjoy making films about a world you don't know about, so you can explore it," she said. "I already know enough about my own life; I want to discover a new space."
As a result, Reichardt said location scouting is one of the most important and lengthy processes in the making of one of her films. She recalled a time when she traveled around the country and scouted dozens of Walmart parking lots in order to find the right one for a scene, but in the end found that all of them looked exactly the same.
"Yeah, I used to go really bananas," Reichardt recalled with a laugh. "But every place that's not the right place tells you something about your movie."
Another characteristic of a Reichardt film is the "people doing" moments, as Powell referred to them.
"I do love to film a chore," Reichardt said. "I like to film a process and the small details of that labor."
Several scenes in Reichardt's films don't have any dialogue; they simply show the characters in action doing the little things to keep their day together.
"Dialogue is the most dispensable part of a film," she said. "Actors need to respond and react to things actually happening around them."
Not only is the content of a Reichardt film unique, but the overall look of the film is one that is often not scene in movies made today. This is because most of Reichardt's movies are made with film, not digitally.
"I love super-16," said Reichardt, referring to the type of film which measures 16 millimeters wide. "It's the only place where you can find any grain. I like the grain and the softness of it."
Most of Reichardt's films have that "grainy" quality. They look like they were made in a different time, and this captures the misty allure of the characters and the story that is playing out.
The only movie Reichardt shot digitally was Night Moves, and she said she would choose film over that any day.
"Digital doesn't have the magic of film," she said. "But HD is winning. All of our eyes are getting used to flat, hyper-realist things."
As far as new projects, Reichardt remained tightlipped about anything in the works. When she is not making films, she is teaching at Bard College, a liberal arts school in upstate New York. She says she will spend her time working there until there is a new project to be made.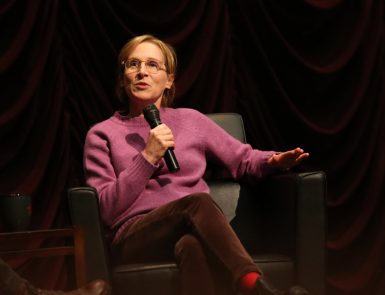 "Teaching has changed the way I work," she said. "But then, making films affects the way I teach, too."
And as she watches a new generation of filmmakers come up in her college and others like it around the world, Reichardt said she sees the scene changing since she started making films all those years ago.
"It is so much more diverse, in every way, now than when I started," she said.
With the scene changing, does Reichardt think she wants to move away from independent films and start working on bigger productions?
"I like B-movies because B-movies are about people on the fringes," she explained. "Someone told me once that I can't be an underdog forever, and I take that as a challenge."