Filmmaker Balog illustrates inextricable link between humankind, climate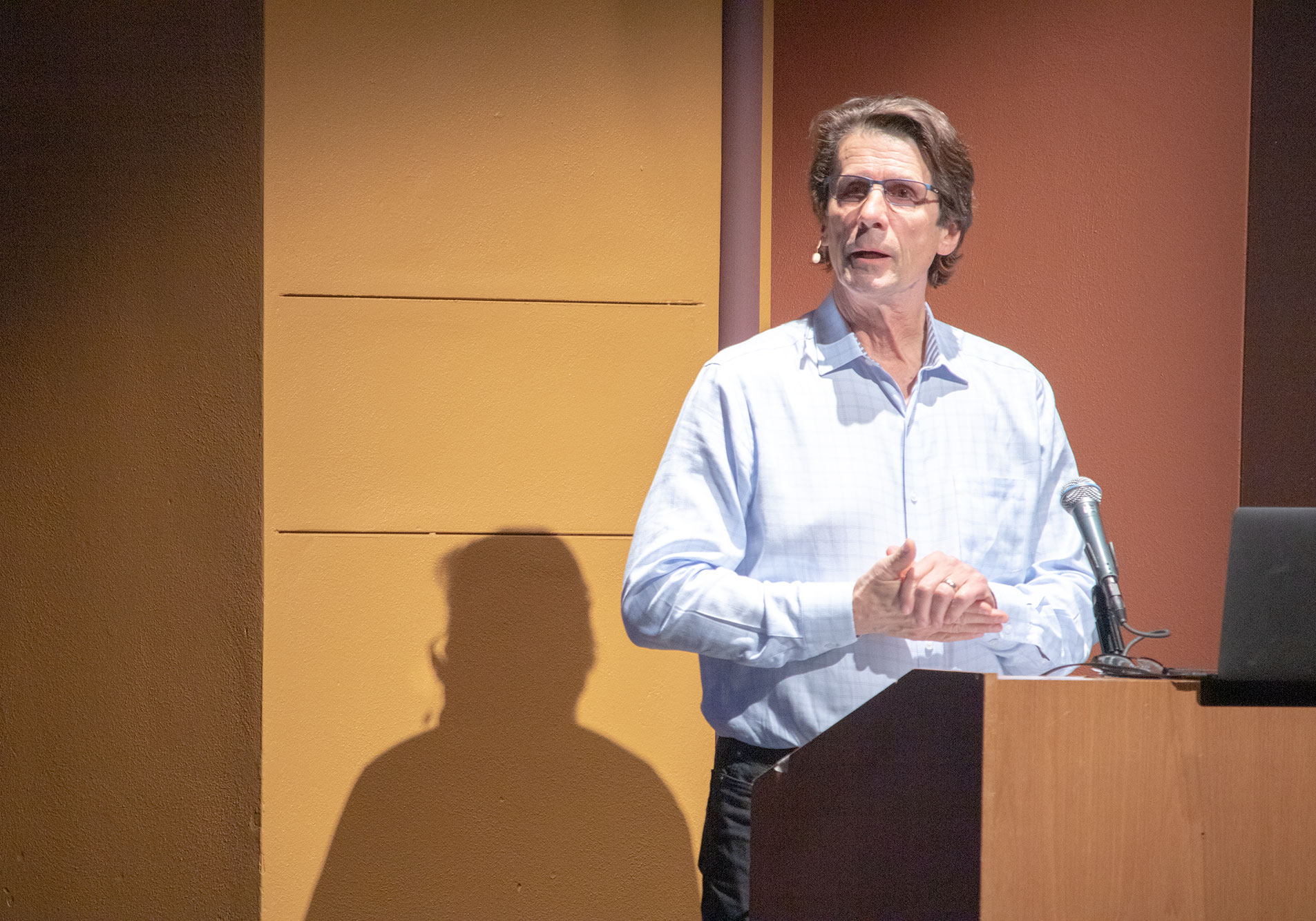 Shifting tectonic plates have shaped the Earth's crust for billions of years.
Modern Earth is also the product of another force: human tectonics, said environmental filmmaker and photographer James Balog. It's the effect of humankind's survival needs, growing use of technology and increased appetite for affluence.
"People are a force of nature, for better or worse," he said.
Balog spoke Tuesday at the Buskirk-Chumley Theater as the final lecturer in The Media School's spring Speaker Series. The filmmaker positioned human impact as a fifth planetary element, alongside the four established elements: earth, air, fire and water. It's the topic of his latest film, "The Human Element," which he screened after the talk.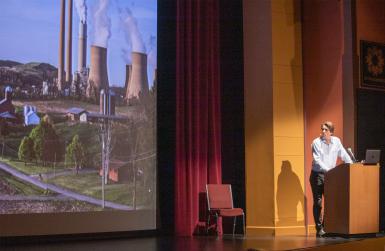 Balog is a scientist by training with decades of photography experience. The author of eight books of photography, his work has been published in major magazines and exhibited at museums and galleries around the world. He's the founder of the Extreme Ice Survey, a long-term photography project that documents the changing ecosystems on 24 glaciers, and the Earth Vision Institute, which creates visual stories and rich media to educate people about the impact of environmental change.
In his work, Balog said he seeks to show that the massive changes the Earth is undergoing far away are not without consequences at home. When temperatures rise from human emissions, masses of land ice melt, and the ocean rises. When hurricanes strike American shores, there is more water in the sea waiting to be rammed into land as a result. Homes and lives are lost.
Balog displayed a photograph he took from a camera attached to a weather balloon 99,700 feet — nearly 19 miles — in the air. His camera traveled that distance in about a half hour.
He said this is how he realized just how thin the air is.
"What we put into the air, we put into ourselves," Balog said.
When wildfires ravage California, that air travels around the world, and even in Indiana, we breathe it in, he said.
Because of the human element, wildfires rage at a rate never seen before. Balog cited a study that found that 10 million acres of land have burned due to human causes, more than naturally occurring wildfires.
Balog and his team spent three seasons recording these wildfires. To do this, the team had to first undergo firefighter training to protect themselves and others.
Balog displayed photos of massive flames and described how intensely terrifying and painful firefighting is, noting the ground temperature of 135 degrees Fahrenheit and the heat retention of the fire-retardant suits.
"Very few of us would be willing to put ourselves in those circumstances," he said.
Despite scientific evidence of the human element's impact on climate change, skeptics still assert their presence. Balog said it's often portrayed as an issue for the distant future or one that won't affect those who have the financial resources to protect themselves.
Balog said this "blueprint for propaganda" is nothing new. For comparison, he displayed a vintage Chesterfield cigarette advertisement featuring Ronald Reagan from before he was president. In the ad, Reagan autographs Christmas-themed cartons of cigarettes, proclaiming that he's sending them to all his friends.
Balog said the tactic intentionally confuses and distracts the public from the pressing danger. In "The Human Element," Balog said he sought to depict climate change's impact on people rather than talk about it in an abstract sense of protection.
"Climate protection equals people protection," Balog said.
Balog won an Emmy for visually capturing the effects of climate change in his 2012 documentary "Chasing Ice," which used time-lapse photography in 30-minute increments to document melting glaciers over the course of seven years.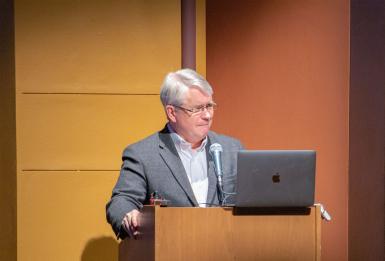 He continues to document glacial melting using time-lapse photography. The Extreme Ice Survey, which began installing Nikons in 2007, is still actively recording in its 13th season. As Balog displayed several time-lapse series of ice masses melting over a 10-year period, the audience gasped.
"James Balog's work made the ice really alive," said IU senior Catherine Xu in a welcome address before the start of the talk. "And in doing so made climate change visual and visceral."
Balog closed his presentation with a call to action: to do what you can to contribute to an environmentally sound economy. He advised the audience to make careful decisions about which cars to buy based on emission rates, what food to eat, what clothes to wear, what to demand of politicians and which policies to support.
In an introduction before the talk, Bloomington mayor John Hamilton named some of the city's recent steps toward environmental reform: 6,500 solar panels installed in city facilities, new green infrastructure, increased sourcing of local foods and Bloomington's designation as an EPA Green Power Partner.
"This is not a time to pat ourselves on the back," Hamilton said. "But it is a time to see that we can make real progress together, and a time to redouble our efforts here in Bloomington, in our country, and across this planet."
The city of Bloomington co-sponsored Balog's visit, in addition to The Media School, the College Arts and Humanities Institute, Concerned Scientists @ IU, the IU Department of Earth and Atmospheric Sciences, the Environmental Resilience Institute, the Department of Geography, IU Cinema, the Office of First Year Experience Programs, the Integrated Program in the Environment, the Residence Halls Association, the O'Neill School of Public and Environmental Affairs and Sustain IU.
Balog's most important call to action, he said, was to vote.
"You want to do one thing to affect change?" Balog asked. "November of 2020: There's a certain somebody who has to be voted out of office."