Environmental filmmaker seeks to inspire students to use their voice
James Balog, a nature photographer whose four decades of work explore humankind's impact on the environment, wants to bring new awareness to climate change and environmental policy issues.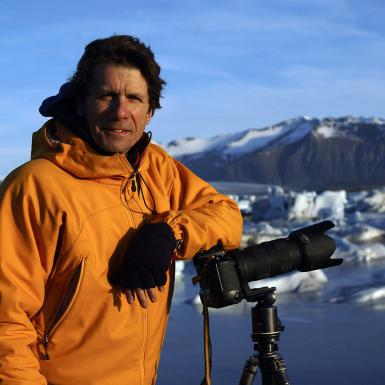 "My job is not to prescribe engineering or policy solutions. I hope that I'm cracking open people's minds and encouraging them primarily to seek those engineering, policies, activism solutions," he said. "I can speak to those points, but that's not my fundamental purpose."
Balog will conclude the spring Media School Speaker Series with a lecture at 5:30 p.m. Tuesday, April 9, at the Buskirk-Chumley Theater. A screening of his 2018 documentary, "The Human Element," will follow at 7:30 p.m.
"The film, 'The Human Element,' is about how humans are a force of nature, and as we change other elements – like earth, air, fire and water – those elements push back and change us," Balog said.
The idea of a human element is a notion that grew from Balog's extensive work documenting climate change.
"The idea comes from a whole lifetime of seeing the world. It comes from 40 years' worth of photography," he said.
Balog will also screen his documentary "Chasing Ice" at 5:30 p.m. Wednesday, April 10, in the Franklin Hall commons, followed by a Q&A with IU Cinema director Jon Vickers. The Emmy Award-winning documentary, which released in 2012, chronicles part of the Extreme Ice Survey, a project founded by Balog that has documented epic environmental change across the world through time-lapse photography.
"What we're doing is making an hour-by-hour account of how the landscape is changing as a consequence of climate change," Balog said. "The archive right now collected by those cameras is about 1.4 million frames, so it's actual tangible evidence of the epic changes sweeping our world today, and when people see that evidence they get a big splash of cold water in their faces to realize that climate change is real, and those consequences are real."
The project documents retreating glaciers in polar regions, with cameras in Greenland, Iceland, Alaska, Nepal, Antarctica and more.
Balog said he wants to open attendees' eyes to the realities of climate change. He also wants to create an understanding that forces people to reckon with their place in the nexus of issues he's discussing.
"I acknowledge the fact that my own family heritage comes from the coal mines of Pennsylvania, and telling that story in the film that leads to the basic point: that we are all pieces of this system of systemic environmental change," Balog said. "Nobody stands outside it and can act as if they're pure and righteous and holy."
It's important for everyone to understand and acknowledge their contribution to global climate change, as well as to understand that the inadequate tools of the past don't have to be the tools of the future, Balog said. He said he doesn't believe it's his job to recommend specific policy changes so much as to ensure that people understand the realities and embrace the truth.
"It's vitally important that the truth be understood in our world today," Balog said. "There actually is a true physical reality. Not everything on this planet is a postmodern projection of power struggles. There is physical truth and physical reality that's happening."
He wants to inspire budding journalists and environmental policy students to seek, understand, speak and be guided by the truth.
But most importantly, Balog wants people to use their voices.
"Use your voice to reshape the world around you," he said. "Your voice is the story that you tell yourself and the story that you tell your friends and neighbors and family. Your voice is also how you spend money, your voice is what you expect of your workplace and university."
Balog's visit is co-sponsored by the City of Bloomington, the College Arts and Humanities Institute, Concerned Scientists @ IU, the IU Department of Earth and Atmospheric Sciences, the Environmental Resilience Institute, the Department of Geography, IU Cinema, the Office of First Year Experience Programs, the Integrated Program in the Environment, the Residence Halls Association, the O'Neill School of Public and Environmental Affairs and Sustain IU.