Emmy winner Hinojosa talks on her role in journalism, truth-telling
By Jessica Williams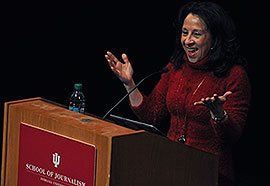 Braving a winter storm to get to Bloomington, Maria Hinojosa of NPR and PBS spoke Tuesday night about her role in today's journalism during a talk at the Buskirk-Chumley Theater downtown.
The second guest of the school's spring Speaker Series, Hinojosa said her flight from Chicago to Indianapolis earlier in the day was cancelled, so she had to get a car to make it to Bloomington.
Undaunted, she talked about her Latino background, and how it contributes to the kinds of stories she reports and produces for programs such as NPR's Latino USA and One on One, and for PBS' Need to Know and Frontline.
"I'm proud to be a journalist in the United States of America," said Hinojosa, whose family immigrated from Mexico when she was young. The family settled in Hyde Park in Chicago, where Hinojosa said she experienced an "immigrant reality" that was different from what the media portrayed.
"My American reality was invisible," she said. "I never thought I could be a journalist. There was no one who looked like me and telling stories of my greater reality."
But then she realized it was her responsibility to speak up, that her voice did matter, and she became the first Latina to land an internship at the NPR's headquarters in Washington, D.C.
"It was a little bit of a shock," she said of the experience.
The Barnard college graduate was not a journalism major but quickly learned radio reporting skills and the art of storytelling. She worked at NPR, then CNN, before coming back to public radio and TV a decade later.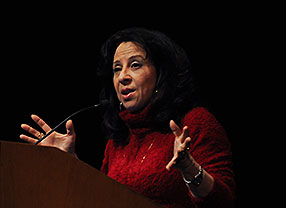 She has reported on immigrant work camps in New Orleans after Katrina, the plight of wounded veterans, child brides and the poor in Alabama. She was a correspondent for "Lost in Detention,"Frontline's examination of immigration abuse in detention camps holding undocumented immigrants.
Hinojosa has won four Emmys as well as prizes for reporting that exposes social injustice or community issues, such as the John Chancellor Award for Excellence in Journalism, the Robert F. Kennedy Award for Reporting on the Disadvantaged, the Studs Terkel Community Media Award and the Edward R. Murrow Award.
After more than 25 years in news, Hinojosa said she sees her role in American journalism as dealing with the good and the bad – and the controversy – by asking honest questions with humility.
Some of those questions provoke discomfort or even outrage. But they are questions that must be asked, Hinojosa said.
"It doesn't get easier," she told aspiring journalists in the crowd of tackling tough subjects.
Sometimes, those topics linger. While one of Hinojosa's Emmys was for her coverage of 9/11, the experience also left her with post traumatic stress disorder, she said.
Her detractors charge that she has an agenda in her reporting, Hinojosa said, because of the way she uses data in her stories and because she often reports on immigration.
"No," she said. "Actually, I want to tell the truth."
Hinojosa started her own production company, Futuro Group, in 2010, and has in the works a new program, America By the Numbers, which will develop stories based on data. She showed a clip from a story about Clarkston, Ga., the most diverse area in the U.S., according to statistics. Hinojosa wants to examine what's behind those numbers, she said.
The broadcaster took questions from the audience near the end of her talk, when she fielded questions about sequestration, immigration and Homeland Security.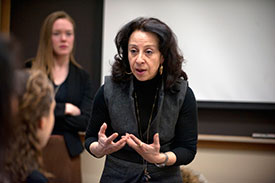 Araceli Gomez, a journalism senior who welcomed the crowd Tuesday, said bringing a Latino who focuses on community issues was "a great fit for Bloomington."
Though she arrived in Bloomington later than planned, Hinojosa had time to record a radio interview show at WFIU, and meet with journalism and telecommunications students and staff during a short reception at the Radio-TV building.
The school's Speaker Series continues March 28 with The New York Times' Washington correspondent David Sanger, who also is author ofConfront and Conceal: Obama's Secret Wars and Surprising Use of American Power, an account of the current administration's use of technological weapons. Investigative journalist Seymour Hersh visited in February.