Diane Foley advocates for freelance conflict journalists in son's memory
After her son was captured and murdered in Syria, Diane Foley said the U.S. government's response to hostages wasn't good enough.
As Americans, she said, she believed we could do better.
"I felt initially angry at our government," she said. "I was rather appalled at how I was treated and how Jim's case was."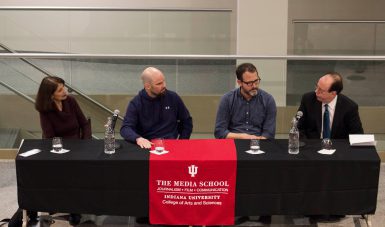 Diane Foley decided to start a foundation in memory of her son, Jim Foley, a freelance war correspondent who was taken captive in Syria and executed on video. The James W. Foley Legacy Foundation works to provide training and resources for conflict reporters.
Diane Foley was joined by two friends of her son: Thomas Durkin, the foundation's director of programs, and Jon Racek, senior lecturer at IU's School of Art, Architecture and Design, for a panel discussion Wednesday in the Media School commons. Anthony Fargo, Media School associate professor and director of the Center for International Media Law and Policy Studies, moderated the panel, which took place after a screening of the documentary, Jim: The James Foley Story.
The event was sponsored by the Barbara Restle Press Law Project and CIMLAPS.
The panelists discussed Jim Foley's life, their experiences working with the U.S. government as he was held hostage and the foundation they created in his name.
Racek called Jim Foley incredibly courageous and committed.
"I'm not sure if there's anything in the documentary that didn't show the kind of person that Jim was," Racek said. "Jim was just courageous, and I knew that before all of this."
In 2011, Jim Foley traveled to Libya to cover the uprising against Muammar Gaddafi. He was captured and held hostage for 45 days. During that time, his friends successfully worked together to bring him home by using their resources to find out where he was and who was holding him, and by getting his story into the media.
About a year after he returned home, however, he left for Syria. For almost two years, he was held hostage by ISIS. In August 2014, ISIS released a video showing Jim Foley's beheading.
"Sometimes it feels like yesterday, sometimes it feels like a hundred years ago. But it always hurts," Durkin said.
While Jim Foley was being held hostage, his family tried to work with the U.S. government to get him back. The government advised them to stay silent, Diane Foley said.
Being a freelance journalist, Jim Foley did not have a large media corporation behind him pushing to bring him back. Diane Foley said the number of freelance journalists covering dangerous parts of the world is increasing.
That's where Diane Foley's foundation comes in.
"I had no idea how risky it was to be a freelance conflict journalist," Diane Foley said. "We need to protect our young people going in the world."
The inherent danger, however, doesn't take away from how important it is, Diane Foley said. Without freelance journalists, there would be so many black holes of information. We wouldn't know what's happening in the world.
But journalists do not have to go across the world to tell important, dangerous stories, Durkin said. There are so many stories that happen domestically that need to be told.
"The front lines start the minute you step outside your door," Durkin said. "You don't need to go to Syria to find out the dangers of the world."
Since Jim Foley's death, Diane Foley said the U.S. has improved its process for dealing with hostages. The Obama administration conducted a hostage review the year after Jim Foley died. The government now has an inter-agent fusion cell that works specifically on hostage situations. Many nongovernmental organizations work with families to support them if they are going through a similar situation.
Still, Diane Foley said, there's work to do.
With the foundation, Diane Foley said she is trying to continue Jim Foley's work. He was passionate and believed there was good out in the world, she said.
"It's Jim who challenges me really and did from the very beginning," she said.
More: