Demkovich named Indiana collegiate journalist of the year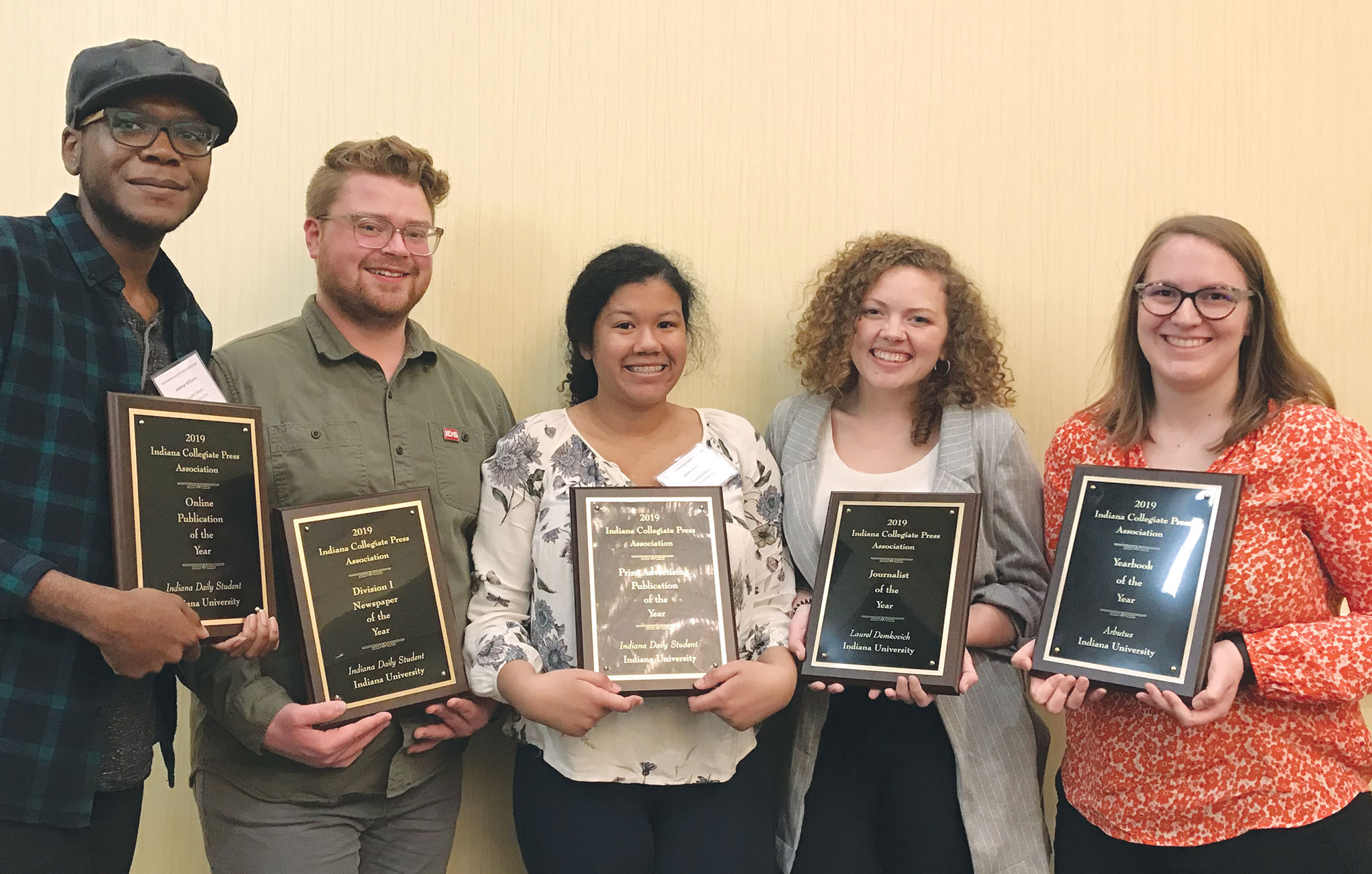 Media School senior Laurel Demkovich was recognized as the top collegiate journalist in the state, and the Indiana Daily Student and Arbutus yearbook took top honors in the Indiana Collegiate Press Association's annual competition this weekend.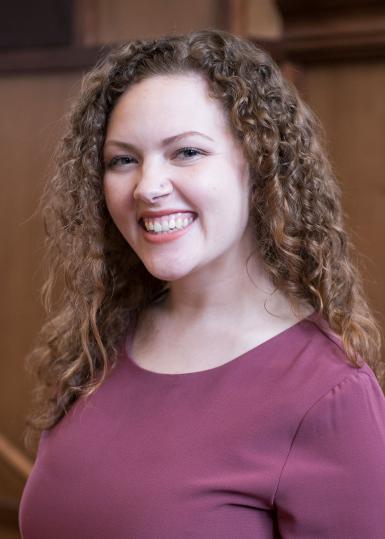 The IDS was named Division I Newspaper of the Year, Advertising Publication of the Year and Online Publication of the Year. The Arbutus was named Yearbook of the Year.
Demkovich is the 11th IU student to be honored with the Brook Baker Student Journalist of the Year Award since its inception in 1999. Among the stories entered with Demkovich's nomination were two longform pieces published in the IDS: "Eminent domain" and "The pride of Paoli."
"(Demkovich's) curiosity about the lives of others is apparent; her deep interviews make each of her stories memorable," wrote judge Lynne Perri, journalist-in-residence at the School of Communication at American University and editor of the Investigative Reporting Workshop. "It's clear to the reader that she spent time with people, and that she really listened to what they had to say."
The IDS and Arbutus took home 88 individual awards for excellence. The top organization of the year awards are given for the highest accumulated point totals from the first, second and third place individual awards in each category.
Online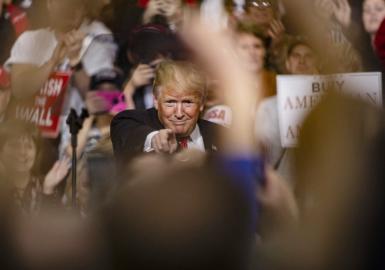 Newspaper Division I
The Nov. 1, 2018, edition of the Indiana Daily Student won first place for Best Front Page. (Indiana Daily Student)

Best Breaking News Reporting, first place: IDS staff, "2018 Midterm elections"

Best Breaking News Reporting, second place: Jack Evans, "Father dies after rescuing daughter from sinking car"
Best Editorial Cartoon, third and second place: Madelyn Powers, "Oprah for President?" and "#HimToo?"
Best Entertainment Column, second and first place: Christine Fernando, "Why art critics are an endangered species worth saving" and "Should we be showing children anti-feminist Disney classics?"
Best Feature Page, second place: "The game of IU"
Best Feature Photo, first place: Noble Guyon, "The Man in Black"
Best Feature Story, third place: Liz Meuser, "Answering the call"
Best Front Page, second place: "Champions"
Best Front Page, first place: "24 Hours of Shootings in America"
Best Illustration, third place: Madelyn Powers, "Wrapping paper"
Best Illustration, first place: Anne Anderson, "Handle animals ethically"
Best In-Depth Story, third place: Lydia Gerike, "E-scooters captivated IU students. But more than 75 have been hurt so far."
Best Info Graphic, first place: "Voter Guide"
Best Info Graphic, second place: "Space"
Best News or Feature Story, third place: Sydney Tomlinson "Judge profiles"
Best Non-deadline News Story, first place: Peter Talbot, "Confronting truth: Marion, Indiana struggles to face history of 1930 lynching"
Best Non-deadline News Story, second place: Zoe Spilker, "Temporary Home"
Best Opinion Column, third place: Carson Henley, "Do not ignore Nike's exploitative past"
Best Overall Design, first place: March 29, 2018 issue

The Orienter won first place for Best Special Issue. (Indiana Daily Student)

Best Photo Essay/Picture Story, first place: IDS staff, "2018 Midterms"

Best Photo Essay/Picture Story, second place: IDS staff, "2018 Little 500"
Best Pull-Out/Wrap Section, first place: 2018 Little 500 Guide
Best Pull-Out/Wrap Section, second place: 2018 Basketball Guide
Best Single Issue, second place: Dec. 10, 2018
Best Single Issue, third place: April 2, 2018
Best Special Issue, first place: Orienter
Best Special Issue, second place: Source
Best Special Section Cover, third place: Source
Best Special Section Cover, second place: 2018 Little 500 Guide
Best Sports Column, second place: Cameron Drummond, "It's time for IU
to seize the day"
Best Sports Feature Story, first place: Jordan Guskey, "A new hope"
Best Sports Page Design, first place: Emily Abshire, "Hoosiers fall to Buckeyes"
Best Sports Photo, first place: Ty Vinson "Champions"
Best Staff Editorial, third place: "Indiana is overdue for hate crime legislation"
Best Themed Issue, second place: Homecoming
Best Themed Issue, first place: Freshman Edition
Yearbook
Noble Guyon won first place for Best Sports Photography in the Yearbook competition for this photo from the 2017 NCAA College Cup final. (Noble Guyon | The Media School)

Best Academics Spread, first place: Marlie Bruns, "Out of this world"

Best Album/Portrait Section, first place: Arbutus staff, "Portraits"
Best Cover, second place: Molly Cunningham, "Arbutus"
Best Feature Photography, first place: Katie Franke, "Marching Band"
Best Feature Photography: second place, Xiaoan Guan, "Jill Behrman Color Run"
Best News Photography, first place: Emily Ecklebarger, "Hope and harmony"
Best Overall Design, first place: Arbutus staff
Best Special Section, first place: Andrew Williams, Katie Franke and Xiaoan Guan, "Welcome Home"
Best Sports Photography, first place: Noble Guyon, "Soccer Championship"
Best Sports Spread, second place: Andrew Williams, "Down with Duke"
Best Student Life Spread, first place: Sarah Gardner and Emma Knutson, "Dreamers deferred"
Best Student Life Spread, second place: Zoe Spilker, Kayleigh Dance and Emily Miles, "Unrecognized"
Advertising
Cara Yoder and Audrey Roth won first place for Best B&W Display Ad. (Indiana Daily Student)

Best Ad Design in a Special Section or Supplement, first place: Carly Graham, Cassie Chryssovergis and Audrey Roth, "IDS Messenger Bot"

Best Ad Design in a Special Section or Supplement, second place: IDS staff, "Aloha Housing Fair"
Best Ad Layout, second place: Cassie Chryssovergis and Carly Graham, "IDS Messenger Bot: Breaking News"
Best B&W Display Ad, first place: Cara Yoder and Audrey Roth, "Evil by The Needle"
Best B&W Display Ad, second place: IDS staff, "IU Parking Operations"
Best B&W House Ad, first place: Carly Graham, Cassie Chryssovergis and Audrey Roth, "IDS Messenger Bot"
Best B&W House Ad, second place: Cara Yoder and Lauren Koultorides, "Halloween Housing Fair"
Best Display Ad, first place: Cara Yoder and Audrey Roth, "Evil by The Needle"
Best Display Ad, second place: IDS staff, "IU Parking Operations"
Best Display Campaign (Three or More Pieces), first place: IDS staff, "Papa John's"
Best Electronic Display Ad, first place: IDS staff, "Mother Bears: Valentine's Day"
Best Electronic Display Ad, second place: IDS staff, "Mother Bears: Thirsty Thursdays"
Best Electronic House Ad, first place: Carly Graham, Cassie Chryssovergis and Audrey Roth, "IDS Messenger Bot"
Best Electronic House Ad, second place: Lauren Koultorides and Cara Yoder, "Halloween Housing Fair"
Best Full Color Display Ad, third place: Cara Yoder and Audrey Roth; IDS, "Evil by The Needle"
Best Full Color House Ad, first place: IDS staff, "Aloha Housing Fair"
Best Full Color House Ad, second place: Carly Graham, Cassie Chryssovergis and Audrey Roth, "IDS Messenger Bot"
Best House Ad, first place: Cara Yoder and Lauren Koultorides, "Halloween Housing Fair"
Best House Ad, second place: IDS staff, "Aloha Housing Fair"
Best General Media Kit/Marketing Package, first place: Audrey Roth, "IDS Sales Flyers"
Best Rate Card, first place: Audrey Roth, "IDS Rate Card"
Best Self-Promotional Campaign (Three or More Pieces), first place: Mercer Suppiger and Lauren Koultorides, "IDS Sales: It's not magic, just great advertising."
Best Self-Promotional Campaign (Three or More Pieces), second place: Cara Yoder and Lauren Koultorides, "Halloween Housing Fair"
Best Use of Photography or Graphic Art, first place: Carly Graham, Cassie Chryssovergis and Audrey Roth, "IDS Messenger Bot"
Best Use of Photography or Graphic Art, second place: Cara Yoder and Lauren Koultorides, "Halloween Housing Fair"
Most Creative Use of Ad Copy, first place: Mercer Suppiger and Lauren Koultorides, "Ad Sales: It's not magic, just great advertising."
Most Creative Use of Ad Copy, second place: Cara Yoder and Lauren Koultorides, "Halloween Housing Fair"