Deggans talk will provide practical lessons on discussing, reporting on race
NPR TV critic, author and IU alumnus Eric Deggans says news media coverage of racial issues, stereotypes and prejudices needs to improve. And that begins by examining the past.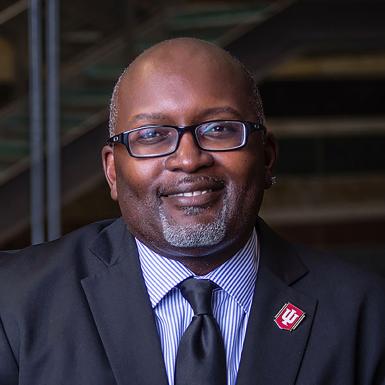 "Unfortunately, the impulse to see Black people as inherently criminal has been passed down through generations, and we're still kind of contending with that today," said Deggans, BA'90, author of "Race Baiter: How the Media Wields Dangerous Words to Divide a Nation."
Deggans returns to The Media School's Speaker Series at 7 p.m. Monday, Oct. 26. His talk, "Building Bridges, Not Walls: Decoding Media's Confusing Coverage of Race, Gender and Society," is free, virtual and open to the public. He was also a Speaker Series guest in 2015.
He'll examine how people should talk about racial issues, how racism and prejudice surface in media and in life, and how journalists can be better at recognizing and reporting on these issues so as not to distort their coverage.
Deggans will discuss four types of racism and will focus on their histories, how people can recognize them today and how journalists can avoid including them in their work.
One of those types of racism is strategic racism, which is employed to achieve a specific goal.
Strategic racism appears in a way "not necessarily that the people who are employing it are walking around and living as if their race is superior to others," Deggans said. "But they are buying into certain strategies in order to achieve a particular goal."
With racial injustice still very much prevalent today, Deggans says our past should be teaching us about our future.
"I try to connect these struggles that we're having now, about Black criminality or about prejudice and stereotyping people of color, and connect them to things that happened many years ago that have kind of been passed down," Deggans said. "Often, we forget why we started thinking that way about people. It can have a very important and long-lasting effect on how people are treated."
How people are treated and how storylines are constructed feed into Deggans' next topic: reality television and its inability to resemble reality.
"If reality TV was honest about how it manipulates things, then it would just be a documentary series," Deggans said.
He'll discuss how these shows affect viewers in ways they aren't willing to admit and how they often don't notice.
Deggans says that when people tune into reality television shows each week, their actions allow them to buy into the characters' journeys and create drama.
"It really affects who we think should survive in society and who we think should fail. And who's considered disruptive and who's considered a fierce competitor. Who's considered an all-American type of figure and who's considered a villain," Deggans said. "All of these shows train our stereotypes to construct those narratives."
Deggans hopes attendees of his talk will walk away with a new set of tools to use in order to decode all forms of media they're encountering every day.
"So, when they encounter a new, unscripted TV show, they can see all of the different ways it's trying to manipulate them based on some tips I've given them on how to deconstruct what they're watching," Deggans said.
He also hopes student reporters within The Media School will learn the right questions to ask their interviewees in order to avoid mistakes in their reporting.
"I'm hoping after a talk like mine, they will see media differently, create media differently, ask different questions and ask better questions," Deggans said. "I hope they'll just do a deeper and fair job at covering whatever project they go out there to tell stories about."