Deggans describes how media shapes conversation about race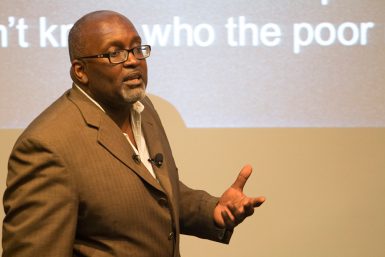 Americans don't want to talk about race directly, but they are forced to do so when crises occur. Then, they are at the mercy of media setting the tone for the national discussion, burying the real conversation with stereotypes and latent racism.
That's how NPR critic and author Eric Deggans explained the situation in his talk, "Decoding the Race Baiting of Modern Media," Monday in the IU Maurer School of Law Moot Court Room. Deggans, BA'90, is the television critic for NPR and author of  Race-Baiter: How the Media Wields Dangerous Words to Divide a Nation. His talk was the third of the school's spring Speaker Series.
Using slides and examples, Deggans spoke to a packed room about his observances of race and media, often challenging the audience with quizzes and questions. The former Tampa Bay Times writer took his fellow journalists to task for being part of the problem.
"Diversity is a journalistic virtue," he said of the need for reporters to consider how different people are affected by issues. "It's the way our stories are accurate. When people's trust in journalism is degraded, everybody suffers."
Deggans argued that the media both reflects what's going on in the country and also sets the tone of conversations about race relations. He used media clips to illustrate the point that, often, journalists don't fulfill their duty in seeking the whole truth and reporting it. Instead, journalists sometimes rely on stereotypes and latent racism to tell their stories.
This exacerbates racial tensions, he said, leading to a cycle of media outlets blaming their competitors rather than working to find the underlying issues behind racial tension. Deggans said that trend has been especially visible with the media coverage on the deaths of Trayvon Martin in 2012 and Michael Brown last year.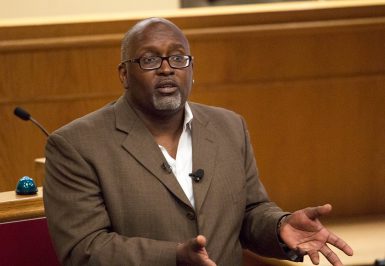 This implicit racism comes from white Americans not understanding race in the same way people of color experience it every day, he explained.
"White privileges are the social benefits extended to white people because they are the majority," Deggans said. Those privileges are social norms that white people rarely think about, but they're a fact of life for black Americans.
"It's the power of being generic," Deggans said. "If you see a guy on the street, you say 'I saw a guy on the street.' If it's a black guy, you say 'I saw a black guy on the street.'"
Deggans said although white is the "generic" in American society, white people also experience race, although much differently from how people of color experience race.
"Why this discussion is so hard is because the way we judge progress is different," Deggans said. "White people judge progress by comparing progress of where we are to where we were. People of color, especially black people, judge our progress by looking at where we are and where we should be."
Deggans said implicit racial divisions in the United States partly stem from the fact that racial issues are discussed only after eye-grabbing, highly emotional events.
"Often, we only talk about these issues when there's a crisis: Somebody's dead, somebody's disenfranchised, somebody's facing a huge jail term unfairly. We try to have an emotional, complicated discussion," Deggans said. "And guess what? Everyone is polarized and stuck in their positions, and it's hard to have that kind of empathy that could lead to racial progress."
He recalled that people pointed to Hurricane Katrina as a prompt to have a national discussion about poverty, but once the disaster ebbed from the news cycle, that conversation never happened.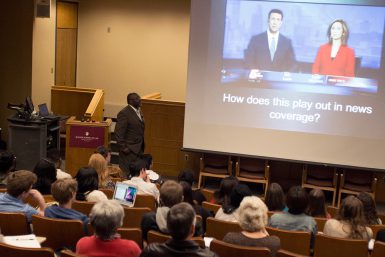 "What we really need to do is take these implicit messages and make them explicit," Deggans said. "Bring them out. Talk about them directly. Because the way you remove prejudice is by talking about it, because most times, prejudice doesn't stand up to actual scrutiny."
Using clips of news shows, Deggans and the audience practiced that scrutiny as they critiqued a news clip about a mayor and volunteer who were accused of using gang hand symbols. Audience members pointed out the many ways the story was rife with stereotypes that shaped the message.
Deggans also cited the ways Fox News and others use these tactics to satisfy their audiences. In fact, Deggans credited Fox News' Bill O'Reilly with helping title Deggans' book. On air in 2008, O'Reilly listed Deggans as a "race-baiter," a pejorative term for someone who uses race as a cause for societal issues.
Earlier in the day, several groups of students had conversations with Deggans. He met with members of the IU chapter of the National Association of Black Journalists for breakfast, another group for lunch, and he had dinner with students from Indianapolis Public Schools, NABJ and IU's National Association of Hispanic Journalists.
At the breakfast, he discussed conquering implicit racism in the newsroom as a way to change how media reports on race.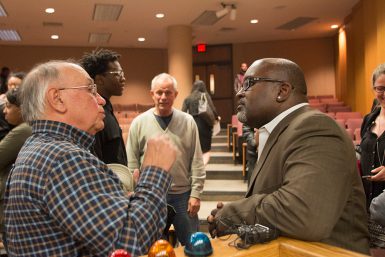 "The idea is to make those things about a normalized conversation, to interject those ideas into regular conversations about the media and TV," said Leah Johnson, a junior studying journalism and NABJ member. "We need to stop stigmatizing conversations about race because that's where we polarize people."
Johnson said she thinks tackling stereotypes in the media requires people of all color to be involved in the conversation.
"I think the Q&A was indicative of people trying to understand more, so that was really exciting," she said of the questions from the audience after the talk. "It's really important to continue to have this conversation, and its important especially to bring people who do this for a living, who do this every day, to talk about this."
More: