David Tolchinsky named dean of The Media School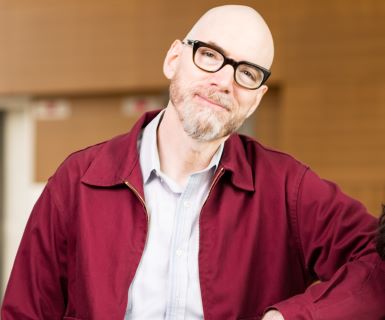 David Tolchinsky, professor of radio/TV/film and director of the Northwestern University Pritzker Pucker Studio Lab, has been named dean of The Media School at Indiana University Bloomington, effective Sept. 11, subject to approval by the IU Board of Trustees.
"David is an innovative leader and community builder," IU President Pamela Whitten said. "He is well positioned to help further elevate The Media School, building on its tradition of preparing students for careers across the media landscape."
Tolchinsky succeeds Walter Gantz, who has served as interim dean since July 2021, when the school's founding dean, James Shanahan, returned to the faculty.
"David is an ideal leader for The Media School, given its commitment to meeting the rapidly changing demands and opportunities of media production and research," IU Bloomington Provost and Executive Vice President Rahul Shrivastav said. "His leadership will empower our diverse mix of students, catalyze collaborations with other IU schools, and develop strong partnerships with institutions and creative industries."
Tolchinsky co-founded Northwestern's Pritzker Pucker Studio Lab for the Promotion and Creation of Mental Health via Cinematic Arts, which creates, supports and examines original narrative screenwriting, television writing and media making centered on mental health. He also co-founded Northwestern's MFA in Writing for Screen and Stage and Interdisciplinary Certificate Program in Sound Design.
As chair of Northwestern's Department of Radio/Television/Film from 2007 to 2018, Tolchinsky led the expansion from 14 faculty members to 36; created interdepartmental partnerships; made funding of extracurricular student film projects more equitable; and promoted substantial representation among faculty. He also directed the Creative Writing for the Media program for more than a decade.
His industry experience includes years of award-winning screenwriting for various Hollywood studios; composition and sound design for interactive computer environments and video installations; and curation of multimedia exhibitions with themes as varied as horror and mental health. More recently, Tolchinsky has written, directed and produced plays. His work often involves teenagers, dystopias, trauma, memory and complex illness.
"I am so impressed by The Media School's deep-thinking and innovative community of faculty, staff, students and alums tackling media from different angles," Tolchinsky said. "In September, I look forward to joining Indiana University as a faculty member and as dean, and — building on your tremendous successes and with the role media must play in a complex and ever-changing world in mind — working to see what we can accomplish together. I can't wait."
Tolchinsky's work has received wide acclaim. As writer and director, his film "Cassandra" has won over 11 awards internationally. He was the producer of Debra Tolchinsky's documentary, "Fast Talk," which won Iowa Film Festival Best Documentary and was a subject of a daylong conference at the Supreme Court Institute. He also scored Debra Tolchinsky's New York Times Op-Doc, "Contaminated Memories."
The exhibit he cocurated at Dorsky Gallery Curatorial Programs was a Village Voice Choice for Art, and he won the Amsterdam Film Festival first place Van Gogh Award for his play "Clear." Most recently, he produced the feature film "Night's End" with Kate Arrington and Michael Shannon.
He has been recognized with the Clarence Simon Award for Outstanding Teaching and Mentoring, appointment as a McCormick Professor of Teaching Excellence and the Karl Rosengren Faculty Mentoring Award.
Tolchinsky earned an MFA in film/video production from the University of Southern California School of Cinema-Television and a BA in composition/video/performance art from Yale University. He has received certificates in Digital Audio Processing and Computer Music Composition from the MIT Media Lab.
The Media School, formed in 2014 as an independent school within the College of Arts and Sciences, combines decades-long traditions of journalism, communication, and film studies and practice with a commitment to preparing students for media careers of the future.