Cuban Center interns answer COVID challenges with creativity
Normally, Ali Demas, BA'20, spends IU football's opening game day capturing live footage of touchdown celebrations, thinking of photo and video captions on the sidelines and cheering alongside fans inside Memorial Stadium.
Now, game day is an eight-hour Zoom call.
"It's different. I think part of what sports media people love so much is that experience of being on the sidelines," said Demas, an intern with the Mark Cuban Center for Sports Media and Technology who graduated from The Media School in May. "Being on Zoom, you don't get that in-person opinion. Sometimes we'll be like, 'Oh hey! You're on mute! What was that picture I sent you?'"
Demas is a post-grad digital and social media intern for the Cuban Center. Her role, especially on game days, is to monitor social media content and help run IU Athletics' Instagram account to exhibit a fan atmosphere. She and all the other interns work remotely this season because of coronavirus restrictions.
"As a team, we communicate what we want done on Instagram stories for football and our Instagram feed," Demas said. "We crop and edit pictures that the photography team sends to us. It's a lot of figuring out the best content we're given that we can share with fans."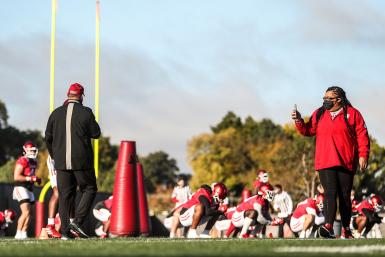 Her boss, Lynnea Phillips, assistant director of digital and social media for IU Athletics, works from Memorial Stadium on game days. To do so, she must undergo two COVID-19 tests: one the morning before the game and the other the morning of the game. Phillips makes appearances in the intern Zoom meetings when she's not on the field.
"The interns work together really closely still. Normally, social media interns, video interns and photo interns all sit in this big computer lab room off of the football field, but obviously, we can't do that this season," Phillips said. "So we decided to Zoom, and the social media interns were working together the whole time."
During the IU versus Penn State football game on Oct. 24, the Cuban Center was only allowed to have two photographers and one editor at Memorial Stadium. Normally, it's at least double that number.
Cuban Center digital and social media interns need to be in constant communication with the photographers on the field and their editors since they all work together to create a social media post.
Using a program called PhotoShelter, photographers live drop their photos to an editor, who is inside the stadium. The editor uploads them onto the IU Athletics website for social media interns to choose from and post onto the IU Athletics and IU football social media platforms.
Sometimes, the interns ask the photographers and editors for more coverage of a specific player or types of fan content to post.
"The videographers and photographers create it, and we serve it up," Demas said.
Demas' fellow Cuban Center digital and social media interns Karlee Bland and Thomas Vanderbrook — both seniors in The Media School — managed the IU football Instagram account during the season opener. Bland spearheaded content for the account's feed while Vanderbrook focused on Instagram stories.
"I was asking everyone for caption ideas, and Thomas was asking everyone for song ideas for the Instagram story," Bland said.
Other duties include making sure no photos on the Instagram feed looks too similar to the ones posted as Instagram stories. Following brand guidelines is key to avoiding anyone noticing different people posting on the accounts.
"With Instagram stories, we try to keep it very consistent," Vanderbrook said. "So if I'm posting on the Instagram story and Karlee takes the story over next week, we want to make sure it looks the exact same. Fans shouldn't know who posted the story."
Even though work on game day took place through a Zoom call, Vanderbrook still got permission to stand on the North End Zone balcony to capture video of the football team celebrating and singing the Indiana fight song post-win. The team had just upset No. 8 Penn State in an OT win of 36-35.
"Bloomington exploded," Bland said. "The win was amazing, and it could have been downplayed by COVID, but it wasn't."
For Cuban Center video intern and Media School senior Carolyn Kuhn, it felt even more amazing to capture the winning touchdown in the very first IU football game she filmed.
Working with another videographer, Kuhn was able to be inside the stadium, but could only film from the stands and not on the field, like videographers usually do.
"I had actually been on the other side of the stadium that whole game, and a photographer and I basically sprinted from that end to the other to get those last plays," Kuhn said. "I kind of got there just in time to turn the camera on and get that play. I was at a pretty good angle where there wasn't much in the way."
Supplying virtual content, especially for a huge win like the Penn State game, helps when fans make a social media video go viral.
We ❤️ you, coach! #LEO pic.twitter.com/nk3x7GUr6J

— Indiana Football (@IndianaFootball) October 25, 2020
A video showing a locker room full of IU football players shouting "We love you Coach!" to head coach Tom Allen racked up 1.3 million views on Twitter.
"This is my fourth football season here and this is the most viewed video that we've had in the last four years," Phillips said. "It set new heights for Indiana football."
Social media interns continue posting content even after the game ends. Phillips said the Penn State game ended at about 8 p.m., and the social media intern team had locker room celebrations posted to IU football's social media sites within an hour.
"I was expecting some kinks, but we had it rolling, and we made it work for this big win," Phillips said. "It was different than usual, but I'm glad we figured it out."
Let's see them, Hoosiers. 📱#IUFB | #GoIU pic.twitter.com/ngENv5PqZG

— Cuban Center (@CubanCenter) October 25, 2020

Other projects that gained attention on social media included a "Final Play Reactions" tweet from the Cuban Center that asked IU football fans to share videos of their reaction to quarterback Michael Penix's far reaching 2-point conversion that immediately went under review and was deemed the winning touchdown.
"The fans still want to be a part of game day, and participating virtually is how it's going to happen," Demas said. "The fact that we had fans send us their videos that our video team could put together was just amazing. I haven't seen us do that in the past because we've had fans in the stadium and fans tailgating that we can usually interact with."
Phillips said she expects most of the Cuban Center's social media strategy to remain the same for basketball season.
"We'll still be doing a lot to show the fans at home what it's like behind the scenes," she said.
In their new remote work setup, the interns find themselves taking charge more often than before.
"Last year, the interns would be sitting around the computers in the Cuban Center, working together. Our bosses were in the other room and if we needed something we could go ask," Kuhn said. "Now with everything being virtual, a lot of it has had to be self-sufficient. Thank goodness for technology because it is so easy to upload whatever I've made into Google Drive and my boss can look it over really quickly and tell me what needs to be adjusted. A lot of it has become independent in a way, and that's helped me grow a lot too."
On non-game days, Cuban Center interns are still trying to grow their audience and help IU student-athletes grow theirs on social media platforms. The Cuban Center works with Opendorse, a program that teaches student-athletes the ins and outs of branding themselves on social media so that when the NCAA's new name, image, and likeness rules go into effect next year, IU athletes will be in the best position to harness a brand for themselves.
"With Opendorse, we're regularly sharing the photos and videos that my co-workers are taking and making with the student-athletes so they can post them on their own accounts," Phillips said.
Every IU sport is connected with Opendorse, and most student-athletes at IU are on the site.
Behind every IU Athletics post, there's a team of photographers, videographers and social media interns who have had a hand in creating the one-of-a-kind content.
"We couldn't do any of our game day stuff without the rest of my social media team, without my boss and without the video and photography team," Demas said. "I work with some amazing people. I think we're some of the best in the business."