Creator of new Black Film Archive visits BFCA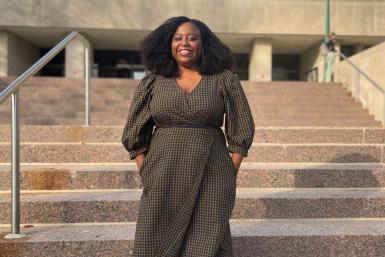 In the past week, Maya Cade has watched 30 Black films at The Media School's Black Film Center & Archive.
Self-described as ambitious and curious, Cade set out to finish 30 films by the end of her trip to Bloomington. As the founder of the Black Film Archive, Cade is on a mission to make Black film more accessible for all Black people and for it to have the same comforting effect on them that it has for her.
Cade, 27, is a graduate of Howard University and lover of all things Black film. Two months ago, Cade launched the Black Film Archive, a living archive of almost all Black films from 1917-79. The website features a short description of each film and a link to stream it online. Users can find films organized by genre and time period.
Cade started on her Black film journey by listing all of the Black films she was aware of for her own use.
During the beginning of the pandemic, Cade found herself watching as many Black films as possible. While she was stuck inside her small New York City apartment away from many of her friends and family, Black films brought her the most comfort.
"I just started asking myself what sustains me and what brings me joy during the pandemic, and Black film really is that thing for me," Cade said.
Cade first thought about creating the Black Film Archive after a Twitter thread she created in June 2020 attracted attention. Within the thread, Cade listed notable Black films and links to where they could be streamed. After the thread grew in popularity, Cade said that she wanted to develop her own platform where she owned the entire space.
"One of my friends and I were having a conversation, and I realized I could do more," Cade said. "Anyone can list films, but I think one of my unique gifts is explaining films in a way that makes people want to watch them."
After the idea was born, Cade spent a lot of time thinking about how to make her archive most accessible for Black people, she said. She specifically focused on how films should look on a webpage, how to make the site easy to navigate and how to make the archive a comfortable place for people who did not have a lot of Black film knowledge.
"Something that happens often is it feels like film knowledge isn't accessible to the everyday person, and my intention is really to just not have anything with pretention," Cade said.
Cade announced the creation of her Black Film Archive via a tweet on Aug. 26, 2021. The post has more than 11,000 retweets and nearly 26,000 likes. She said the outpouring of support since launching the site has been unbelievable. Cade recalled one email she received from an elderly person who said that they did not use the internet often, but wanted to start using it because of her archive.
"The confirmation that I'm on the right path has really been from the love I've received from the people it is supposed to reach," Cade said.
Although the archive has only been published for two months, Cade already has plans for the second iteration of the archive. Cade wants to further develop sections on Black filmmakers, directors and actors. Cade said BFCA director Terri Francis has been a fantastic resource to further her research on Black film.
"As my research continues and grows and evolves, this will be the first of many visits to the Black Film Center Archive," Cade said.