COVID-19 can't stop Media School students from producing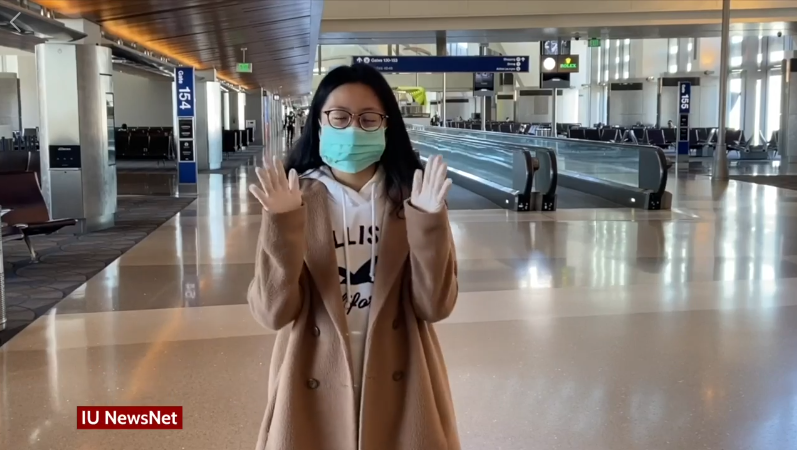 Senior lecturer Anne Ryder's TV News Reporting and Producing students can't access the Beckley Studio, with its news desk and high-definition cameras. Most aren't in Bloomington. One is 12 time zones away.
None of that has kept them from producing "IU NewsNet."
The abrupt shift to remote learning in response to the coronavirus outbreak has required all IU instructors to be flexible and creative in redesigning their courses mid-semester. Media School faculty and instructors are making sure their students are still getting the hands-on, project-based experiences they need.
Planning and producing a newscast on campus is hard enough; adapting to the same format remotely was a daunting task. But Ryder and her students were up for the challenge.
"We decided to make that work for us," Ryder said.
To adapt to the added challenges, the "IU NewsNet" team shifted to a "daily" format — a bite-sized package of news content students might be more apt to watch than the half-hour newscasts the crew traditionally produced. They still put in the same work they'd put into the content they produced on campus — scripting the bridges between stories, dressing their best, shooting and editing everything together — they just do it at home in front of the best background they can find and with the best equipment that's available to them.
The circumstances require flexibility in reporting, too. In compliance with the journalism unit's policy for reporting during the pandemic, Ryder discourages her students from reporting stories in-person and encourages them to get creative. For interviews, they rely on Zoom calls. For photos and b-roll, they use screenshots and ask subjects to provide any footage they have.
But perhaps the biggest change to "IU NewsNet" is its shift away from Bloomington.
"Our newscast isn't as Bloomington-centered as it used to be," she said. "We're trying to do a balance of coronavirus stories and stories that reflect campus the way it was and the way it will be again."
The focus is still largely on IU, students and issues that affect students, but Ryder is allowing her reporters to cover stories wherever they are, and in relevant cases to cover stories that involve themselves and their families. One student is reporting on a sibling who conducts virtual workout classes from a home gym. Another reported an entire story at the airport during spring break.
In the absence of sports

Associate professor Galen Clavio's Sports Media Laboratory class produces semester-long, in-depth coverage of the Little 500 every year.
With the event canceled for the first time in its history, the students are now hosting an online sports talk show called "The Zoom Room," streamed live on YouTube.
Losing Little 5 and having to shift online required big changes — and not easy ones — but Clavio saw this as a teaching moment. All throughout the industry, sports media professionals are being affected by the same change.
"What I'm trying to do is get them to understand that even though there's not live sports to cover, in this situation you still need to figure out things to talk about, ways to attract audiences, ways to do your job even if the conditions aren't ideal," he said.
And so, "The Zoom Room" was born. In its hour-and-fifteen-minute inaugural episode, the hosts chatted with reporters and athletes about the state of IU Athletics during the pandemic and memorable moments from past games.
For now, the show airs twice weekly during regular class time. But Clavio hopes that by the end of the semester, students will be putting on a show four or five days a week, as well as integrating spreadsheets, graphics and pre-recorded video segments into the show.
Film production without film
For students in instructor Sean Purcell's section of Motion Picture Production, an introductory cinema production course that teaches students to work with 16mm film, the shift to remote learning provided an opportunity to focus on the fine details of planning a film shoot.
Because of the time required to develop film footage, students in the class had already shot three of the four major projects for the class when IU president Michael McRobbie announced the shift to remote learning. Under current circumstances, the fourth project would be next to impossible.
"I can't assume that my students have access to internet or equipment or programs," Purcell said.
So he offered them three options for their final project: to shoot a film with only the equipment, people and space available to them in quarantine; to create a found-footage film with clips found online; or to plan a seven- to 15-minute short film and complete pre-production work.
The third option, Purcell said, teaches students a vital skill.
"Students can learn, on top of just writing a script, how do you plan for a shoot, how do you schedule it, how do you budget it," he said.
On a good day of an average film shoot, 12 hours of work yields five minutes of usable footage. But it takes careful planning to achieve that: choosing which five minutes of script are to be shot on a given day; scheduling; taking stock of props, costumes and set elements needed for each bit of film; and more.
For extra credit, students can also create a lookbook for their planned films, drawing on existing materials to give a sense of aesthetic. That can include information on period detail and costume styling, photography and cinematography inspiration from other films, and set details.
Teamwork from a distance
Many game design student projects are progressing as usual. Because the average game design course is not lecture-heavy, the shift to online learning hasn't been much of a headache, said professor of practice Mike Sellers.
"I think in a lot of respects, game design courses may have it easier than a lot of other courses, in that we do have group work, but it's group work that can largely be done at a distance," he said.
That leaves lots of room for students to work together in individual Zoom calls, reaching out to professors for help and guidance when needed. And because so much of the curriculum emphasizes learning good teamwork skills, students have been preparing to weather a transition like this all along.
Not that the circumstances haven't presented challenges. Game design requires an array of software that aren't all available to students working from their own laptops at home — both because of prohibitive costs and because of computing power. So professors have had to adjust what they're teaching students to work with, sometimes shifting in the middle of longer-term projects from one bit of software to another.
"Some of that is just ad hoc changes for what the students need," Sellers said. "We're just trying to do best for the students."
While completing the semester remotely has not been an insurmountable challenge, Sellers said, there will still be plenty of work to do in the fall to take stock of where students are and how their learning was affected by changes made this semester.
But thus far, there hasn't been a course faculty haven't been able to be flexible with, Sellers said. And they'll continue to weather what comes.