Cinematographer Raschke to discuss journey in film industry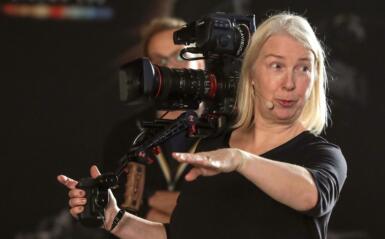 Claudia Raschke, a cinematographer who has worked on documentaries such as "RBG," "Fauci," "Julia" and more, will visit The Media School from 5-7 p.m. on Sept. 21 for "Bearing Witness: A Cinematographer's Journey" as part of an education initiative created by Canon. 
Raschke, who was born in Hamburg, Germany, was first introduced to film as a child because of the movie theaters her mother owned. Since then, she has gone on to work on both fiction and nonfiction films, filling her days with travel, location scouting, and working with cameras and people from all over the world. Her encounters with different cultures have taught her how to be a thoughtful cinematographer. 
"You can't just come in cold and start rolling," Raschke said. "There is a whole procedure that I go through to just make it a personal experience where they feel safe and comfortable to also draw a line." 
A day in Raschke's life differs depending on whether it's a prep day or a shoot day. On prep days, Raschke will scout out locations and coordinate with the director of the project about their vision. On a shoot day, however, the agenda is more straightforward: you get your call time and you're on the move. 
"It might mean wrapping out of one location and transporting all the gear to another location to do another setup until 12 hours have passed and then we all wrap and go back home," Raschke said.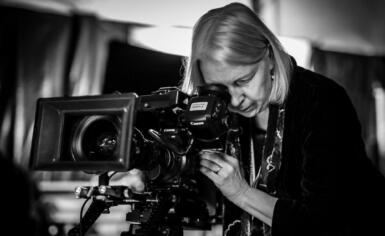 Raschke's experience in the film industry is extensive, and she has plenty of advice to offer to students — particularly women interested in cinematography — who are looking to make their way into the field. For Raschke, some of her biggest obstacles as a woman cinematographer have involved men thinking they know better than her and attempting to stereotype her. 
"I can't believe that — without knowing me at all — that they would already put a label on me," Raschke said. This dynamic could be particularly difficult when she was trying to get something exactly as she wanted for a film. 
"I couldn't just say, 'Hey, I want to have this light over there with this diffusion.' And 'Focus it over here.' [I] couldn't say that, because they were not respecting me yet," Raschke said. "Earning that respect meant that I had to show them respect." 
Even through adversity, Raschke found ways to not only cope, but to advance her career and build the trust of her colleagues. 
"For me, my passion for cinematography was so strong, that I felt if you use your sense of humor — and your light heartedness — then you can pretty much negotiate your way through all of these different opinions," Raschke said.  
Some of the best advice Raschke provided was regarding networking, noting that even if you're stationed behind the camera, you can find a way to advocate for yourself and your future. 
"If people don't know that you exist, then you don't have access," Raschke said. "Promote yourself by any means. Networking is really key, going to screenings, whatever you can come up with to just make it happen." 
Much of Raschke's inspiration for her work and life has come from the place she calls home: New York City. And even though she said New Yorkers are often criticized for being rude, she said it's actually the opposite. 
"Rather than saying, 'Oh, are you okay?' and then walking away, people stick around and really try to help," Raschke said. "I like that kind of reality." 
But, for Raschke, the city provides so much more than just helpful people. 
"It is also very inspirational when you're living in a city where there is such a contrast," Raschke said. "Contrast makes me feel really alive." 
So what's next for Raschke? It's actually another documentary — and this time it's focusing on a very powerful American duo: Eleanor and Franklin Roosevelt, with a major focus on Eleanor's contributions. 
"[Eleanor] was ultimately the woman connecting to the public on all different levels and reporting back to him and helping him with the decision process of what was needed to be done," Raschke said. 
"Eleanor and Franklin" will air on CNN and follows Franklin and Eleanor Roosevelt on their journey as a political couple. The six-part documentary will also cover Eleanor's work with the United Nations after Franklin's death. The series is currently set for a spring 2024 release. 
Raschke's visit to IU is part of an education initiative created by Canon. The brand is fortunate to collaborate with some of the hardest working and well-known creators in both still and motion and feels strongly about having these creatives share their experiences with students across the country. Students represent the next generation of content creators and Canon wants to provide interactive educational activities to augment what the universities are currently doing.