Chateaubriand Fellowship allows Smucker to research Melvin Van Peebles' life in France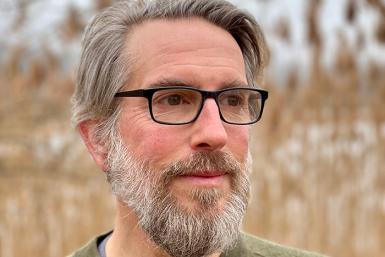 James Baldwin, Richard Wright and Melvin Van Peebles were among a group of American expatriates who lived and worked in France pursuing their creative careers. Doctoral student Sam Smucker will soon follow a similar path, though his interests are academic.
Smucker was selected as one of 17 American scholars receiving a Chateaubriand Fellowship. The fellowship, administered by the French embassy in the United States, supports outstanding doctoral students from U.S. institutions who wish to conduct part of their doctoral research in France.
Thanks to the fellowship, Smucker will spend four months conducting research for his dissertation in France.
"I am most looking forward to having time to research and write without having other responsibilities," Smucker said. "That's really a dream for every academic."
Smucker plans to study the life of director Melvin Van Peebles during the years he lived in France.
"The research I'm doing highlights his life and his work before he was well-known in the United States," Smucker said.
Van Peebles, who also accumulated titles including novelist, playwright and musician, is known for his filmmaking, particularly in the Blaxploitation genre. Smucker first saw a Van Peebles film in one of his classes, noticing its use of French New Wave elements despite its creation in Los Angeles.
"I made this connection between his American work and French filmmaking, and since then, I've sort of expanded that view," he said. "I wrote a master's paper about this film ("Sweet Sweetback's Baadasssss Song"), and now I'm sort of looking at that whole thing a little bit differently by looking at his time in France independently."
While Smucker is in France, he will use archives, interview people who knew Van Peebles, look for private documents mentioning Van Peebles and more.
"I'm really looking for anything that can give a view toward the kind of life that he was living, the kind of things he was producing, the way he was thinking about producing those works," Smucker said. "It's a variety of things. It's very much like investigative journalism — going out and trying to track down leads."
Smucker was able to spend some time in France last summer, an opportunity he credits to the Office of the Vice President for International Affairs, from which he received a research grant.
"I'm indebted to the OVPIA for allowing me to do a lot of initial research, to really figure out the archival system in France," he said.
Van Peebles is perhaps better-known in France than the U.S., Smucker said. He embraced France and returned to the country repeatedly throughout his life.
Smucker said he is looking forward to learning more about Van Peebles and his time in France in the 1960s through this opportunity.
"I'm really grateful," Smucker said. "I have an incredibly supportive dissertation committee that's coming together and has really given me great feedback. I'm lucky that I've got such a supportive group of faculty mentors."
Professor Delphine Letort of the University of Le Mans, who wrote in support of Smucker's application, will host Smucker and supervise his research. Professor Michael Martin is Smucker's dissertation advisor.