CEWiT affiliate serves female gamers, more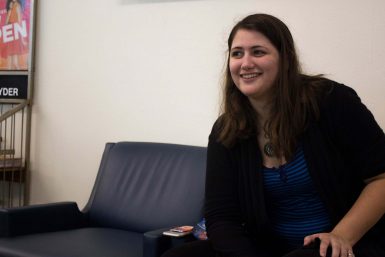 Arianna Eiler, a sophomore in The Media School, has been playing video games since before she could read.
"My dad used to play this multiplayer game called Everquest II, and he thought, 'My 5-year-old daughter could play just as well.' So I learned how to read playing video games, because to play, you had to read the screen," Eiler said.
Although the gaming industry is perceived to be male-centric, Eiler has found a home in the Women in Game Design Special Interest Group, where she serves as an intern.
"The organization has created a great community with staff and students who have a common interest: video games," Eiler said. "I learn so much from just having conversations with people in the group."
Game Design SIG is a Center of Excellence for Women in Technology affiliate whose goal, according to lead intern Jessica Tompkins, is to "serve the needs of students, particularly women, in the game design program."
This September, the organization is sponsoring luncheons every Friday in the Franklin Hall commons. Called "League of Lunch," the events facilitate conversations about school, games and anything else of interest to the gamers.
On a recent Friday, the students gathered in the commons and debated the merits of books versus movies, and Harry Potter versus The Lord of the Rings. The conversation bounced quickly among the students, jumping from Pokémon tattoos to new virtual reality technology that can diagnose concussions in real time on the playing field.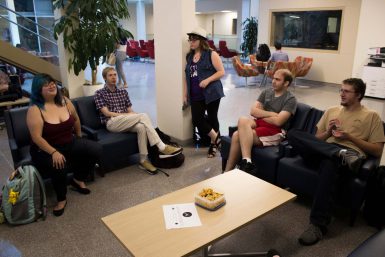 "The idea is to bring people at different levels in the program together to get to know one another," said Tompkins, a Ph.D. candidate in The Media School. "We're fortunate that faculty members will usually join us each session. We want to encourage connections between the faculty and students."
Media School lecturer Will Emigh serves as the faculty champion for the organization. According to Eiler, he provides physical resources like game consoles and less tangible ones like mentorship in the game design field. Emigh helps guide the group's overarching goals while still assisting in the day-to-day technical details, like bringing faculty members to League of Lunch.
Emigh thinks Game Design SIG will help address the gender gap in gaming.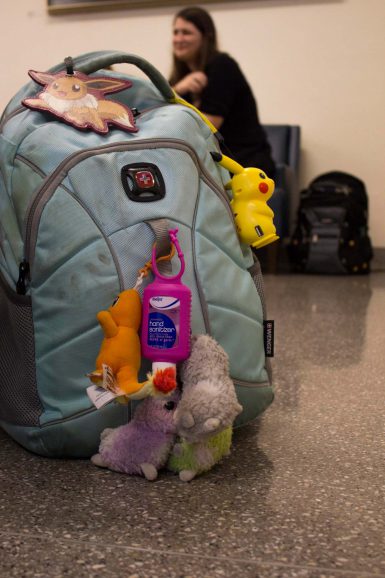 There's a wide range of experiences and issues that aren't going into making games – that hurts the industry as a whole," Emigh said. "Having an organization like this that supports women who are interested in games can help make that change."
League of Lunch is just one event planned by the group. Members also collaborated with another student group, Hoosier Games, to hold an IU Gaming Summit.
"It was great to see people who would normally stick to board games interact with video game groups, and vice versa," Eiler said. "We had a lot more people interested in all of the various gaming groups after the summit."
More than 60 students attended. In addition to League of Lunch and Hoosier Games, gaming groups INgame, Gamers' Guild, Gaming at IU and CeWiT participated.
Game Design SIG-planned programs for the semester include game nights and workshops covering various topics like coding, mental health and games. All students, regardless of major, are welcome to attend.
More: