CEO's visit lays groundwork for Media School relationship with French media company
Clément Delpirou, CEO of SFR Presse, Altice Media France's newspaper content division, visited The Media School last week to lay the groundwork for an ongoing relationship between the company and the school.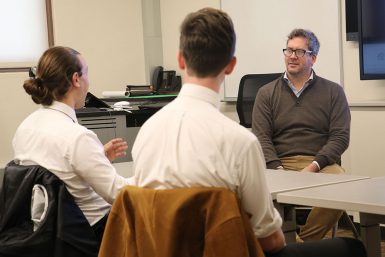 During his visit, he met with students, guest lectured in classes and gave a talk about trends in digital publishing.
Delpirou intends to hire a Media School student as a paid summer intern at Altice Media France in Paris.
"Our goal is to have a research project and an intern who brings us the U.S. perspective and the U.S. experience in terms of online subscriptions on our French team in Paris," he said.
In his position, Delpirou focuses on how to transform media from a print focus to a digital-first mindset and how to increase online subscriptions.
"This is a global problem," he said. "We have to change the way people work and think in and out of the newsroom."
Assistant professor Julien Mailland was the driving force in developing this partnership between Altice and The Media School.
Delpirou guest lectured in Mailland's ethics course last year. This class kickstarted Delpirou's interest in forming a relationship with the school.
"I appreciated the experience, and he told me about the performance of the media program at IU, which was recently ranked very high in the media programs in the world," he said. "I thought the fit was right."
Mailland said building this relationship with Altice will help undergraduate students gain professional experience.
"It's a great opportunity for our students to one, work with a great company that's innovative and two, have an international experience, which would give them an edge when applying for jobs," Mailland said.
Graduate students and faculty would also benefit from a partnership with a company like Altice, he said. He hopes the relationship will lead to cutting-edge research about media and the direction of media innovation.
Mailland said The Media School teaches students theory-based methods to think critically about media, as well as practical, hands-on skills necessary to produce media.
"I think this combination makes our undergrads very appealing to a company like Altice," he said.
More: