Campuswide initiative takes PR students to Orange County
On a Friday morning during the fall semester of her senior year, Payton Syberg is interviewing people in a grocery store 45 miles away from Bloomington in Paoli, Indiana.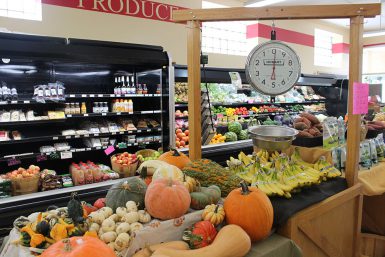 The media advertising student traveled to the Orange County town to meet with members and nonmembers of the Lost River Market and Deli Co-Op. Her goal: to create a public relations strategy for the community-owned shop.
Syberg is a student in assistant professor Minjeong Kang's MSCH-R429 Public Relations Campaigns class, one of four Media School courses involved in the Center for Rural Engagement's university-wide Sustaining Hoosier Communities project, which forms partnerships with local communities to address challenges and identify opportunities for community improvement. The class projects allow students to solve real-world problems for clients, which students, faculty and staff say fosters a personal connection to the work and a deeper understanding of course concepts.
A multi-faceted effort
Sustaining Hoosier Communities, which began last year in Lawrence County, partners with one county each academic year. This year's initiative is based in Orange County — home to Paoli, Orleans, French Lick and West Baden — and includes 17 projects directed by different professors and classes across campus.
More than 350 students are involved during fall semester. They're designing accessible playgrounds, providing information technology support for community health organizations, conducting home nursing visits for chronic illness management and more.
"Sustaining Hoosier Communities is a great way for students to get to know the center and get to know themselves," said Kyla Cox Deckard, director of communications at the Center for Rural Engagement. "It's really a wonderful way to get to know Indiana better."
In The Media School, students in Kang's MSCH-R348 Public Relations Planning and Research class are supporting the creation of a bike path to connect the three major towns of Orange County by developing and implementing a community stakeholder survey, in addition to her Public Relations Campaigns class working with the Lost River Market. Students in professor of practice Elaine Monaghan's MSCH-R349 Public Relations Writing class are working on the Solar Eclipse Tourism Readiness project. During spring semester, Monaghan's Public Relations Writing students will contribute to the "Orange County: A Rural History" timeline project.
The Lost River
If the Lost River Market wants to start making a profit, Syberg said, it starts with people who might not even know it exists.
"Realistically, we need more people to be aware of its existence," Syberg said.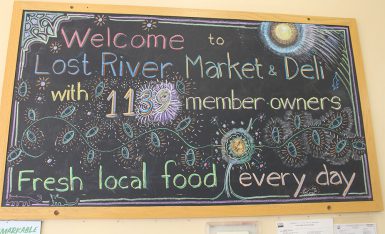 To research their plan, students traveled to Paoli to talk to owners, customers and non-customers of the shop. Students identified its strengths and brainstormed solutions to some of its problems, including competing with budget grocery stores like Walmart.
Kang's class is strategy-driven. The end goal is to produce a campaign book filled with the students' research and an implementation plan. The students spend every semester identifying objectives and solutions for a specific client.
Kang said she looks for ways to tie coursework to the real world, and the initiative seemed like the perfect way. Syberg said she looks forward to seeing a real-world difference from her work.
"I'm really excited," Syberg said. "Not many classes have been so personal."
Path of totality
The next total solar eclipse visible from North America will be April 8, 2024. Orange County is in the path of totality.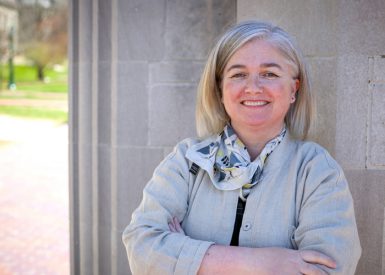 The event will likely draw a lot of tourists to the 20,000-person county. Students in Monaghan's Public Relations Writing class are helping the community prepare.
Projects include a short book that introduces people to Orange County, a drone video that shares the landscape and resorts, and a "Hoosiers of Orange County" series that highlights prominent people in the county.
"The idea is to tell stories about Orange County, some of which are specifically related to the solar eclipse," Monaghan said.
Students spent the beginning of the semester researching, reading and talking to people in Orange County. The class then broke into six groups to develop projects and an outreach campaign.
Campus to community
Whenever Monaghan teaches a class, she tries to find a way to connect it to the real world, she said. She looks for service learning opportunities.
She took a trip to Orange County and decided public relations students would find the community interesting.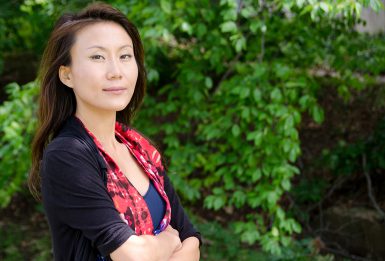 Multiple schools and departments across campus are involved in the Orange County initiative, even schools Cox said she might not have thought of right away. The School of Art, Architecture, and Design; the biology department; the sociology department; the School of Informatics, Computing, and Engineering; the School of Nursing, the Political and Civic Engagement program; the School of Public Health; and the School of Social Work are all offering classes this year that are part of the initiative.
Jacob Simpson, Hoosier communities liaison at the Center for Rural Engagement, said this is just the start to a relationship between the university and communities that surround it.
"For students, it provides a unique opportunity to apply and start to understand the particular context they're working in," Simpson said.
The center works with communities to identify projects. From there, stakeholders on campus discuss and finalize which classes will take part in which projects.
Cox said she brings in representatives from all departments in the beginning stages of the process so they can identify where they can be most useful.
"Bringing all of these minds together allows them to identify natural ways they can participate," Cox said. "They can see those connections and opportunities."
Empowerment and responsibility
Students in these courses immediately see the effects their work has in a community, Cox said. They start to engage locally and make connections in Indiana.
Monaghan said the experience is invaluable professionally and personally for students.
"I hope they'll feel empowered," Monaghan said. "I hope they'll realize that their voices are just as important as anyone else's."
Kang said she hopes her students leave the class being able to connect what they read and what they learn with real life. She also wants them to feel a sense of responsibility for their education.
"What we do here too often is talking and thinking and not actually doing," Kang said. "I want students to learn there is a responsibility to think about how to apply what they know."
More: