Burns draws on Pyle's experience to describe war correspondence
By Rosemary Pennington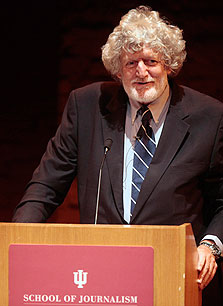 Before launching into his Roy W. Howard lecture on "The Importance of Journalism" at the Buskirk-Chumley Theater Monday evening, New York Times London Bureau Chief John F. Burns read from a piece written by Ernie Pyle, the man some consider the patron saint of war reporters.
"This described the Blitz in London," said Burns of the Pyle column, "A Dreadful Masterpiece," which Pyle wrote from his hotel balcony in 1940. "It seemed similar to me of my experience of March 19, 2003, in Baghdad during the 'shock and awe' campaign." Burns watched American bombard the Iraq capital from the roof of the Palestine Hotel more than 60 years after Pyle's experience.
The two-time Pulitzer Prize winner, in town to deliver the Howard lecture and as the second of the School of Journalism's Speaker Series' guests, drew often on his own experience as a war correspondent as he talked about the future of international reporting and media.
"The thing I shall always remember above all other things in my life," Burns read from Pyle's column, "is the monstrous loveliness of that one single view of London on a holiday night – London stabbed with great fires, shaken by explosions, its dark regions along the Thames sparkling with the pinpoints of white-hot bombs, all of it roofed over with a ceiling of pink that held bursting shells, balloons, flares and the grind of vicious engines. And in yourself the excitement and anticipation and wonder in your soul that this could be happening at all. These things all went together to make the most hateful, most beautiful single scene I have ever known."
Burns said Pyle's prose captured exactly what he witnessed in the Iraqi capital.
"After I read that," Burns said, "I felt utterly diminished. I wrote something similar about the 'guilty awe' you feel witnessing something like that, but no prose of mine is worthy of comparison to these words of Ernie Pyle."
Modest words from a man who's done a great deal of wordsmithing. Over the course of his 30-odd years with the Times, Burns has covered everything from the anti-apartheid movement in South Africa to the siege of Sarajevo to the conflicts in Iraq and Afghanistan. He covered Afghanistan and Iraq before the current wars, positioning him to lead coverage when forces invaded first Afghanistan and then Iraq, where he was appointed Baghdad bureau chief after the fall of Hussein.
Along the way, he's has won two Pulitzer Prizes and two Polk Awards for his foreign reporting. But he's modest when talking about his own work, and modesty, Burns says, is a virtue he thinks modern journalists should cling to more closely.
"I think celebrity and even faux celebrity, to my mind, is dangerous," Burns said. "It is inimical to good journalism. There are modern journalists who have become too great, too celebrated. He [Ernie Pyle] would have resisted that."
Burns used Pyle's experience as he compared past and present to help his audience understand the life of a foreign correspondent. At one point, Burns noted that Pyle had been embedded while covering World War II. The embedding of journalists with troops during the early days of the Iraq War was controversial, but, to Burns, it was in no way a new concept.
"Ernie Pyle was embedded, this was not a new invention," he said, remarking that he was intrigued when he saw Pyle's uniform among the memorabilia in the school's Ernie Pyle Hall. Modern-day critics say embedding erodes journalists' objectivity. "But how else do you do this and survive? How else do you get to the front and survive there unless you place journalists with combatants?"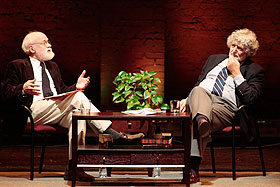 The juxtaposition of old and new was inevitable from a career newspaper man. Traditional media outlets are struggling to reconcile old ways of doing things with new ways of delivering content. Burns is seeing that firsthand. No longer is he writing solely for print; he also contributes to the Times' "At War" column.
Financial woes are forcing newspapers, even The New York Times, to look at charging for content. Even amid these struggles, Burns said he is optimistic about the future of journalism, even if people call him a "Pollyanna" for it.
"We face a difficult technical challenge," Burns responded to journalism associate professor Owen V. Johnson, who conducted the Q&A portion of the talk onstage. "I think we will find a way through it. And we might find ourselves in another golden age of journalism."
Burns compared the current media climate to the advent of radio and television, each of which started death knells for the newspaper industry. While media experienced ups and downs, he said the newspaper industry did not die and, in fact, had its most profitable runs in the 1980s and 1990s.
Burns also pointed this out when speaking to the Bloomington Press Club earlier in the day. He told the journalists and journalism students at the noon meeting that an America without a newspaper industry was unimaginable.
"There's no real alternative to the disappearance of the newspaper in this country," Burns said. "I truly believe we'll get through this."
That was welcome news to one press club member.
"We do a lot of hand-wringing," said Joann Alexander, who works in marketing and institutional research for IU's School of Continuing Studies. "But he wasn't saying that, that the industry is dying. The real bright spot, for me, was the idea that the media's going to survive this. That seemed, to me, to be the theme of his talk."
Journalism junior William Wood, who attended Burns's evening talk, picked up on that theme as well.
"I think it was good to hear so experienced a journalist say it's going to still be there when I have to go out and find a job," Wood said.
One thing that surprised sophomore Jennifer Basak about Burns's advice for journalism students was his pragmatism.
"When he first spoke, he told people to just go out there and do it," she said. "But then, toward the end, he told students that they should also have a 'Plan B,' that they should get more experience. I thought that was interesting and good advice."
For junior Dan Byrd, the excitement of covering war struck him most, an excitement Burns's said he was reluctant to talk about.
"Covering war can be very exciting," Burns said, noting that those who had loved ones in the military might not like that view of it. "There's something about getting to the edge of life and coming back again that's hard to replicate."
"'Getting to the edge of life,'" Byrd quoted Burns. "Who can say that? It was great to hear that was really possible."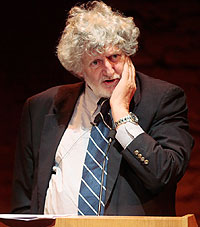 Byrd said listening to Burns speak about his deep experience with the New York Times left him feeling energized about his decision to major in journalism.
"It was just very important to hear that," Byrd said, referring to Burns's conviction the news industry will survive its current troubles. "It just left me feeling really good about my decision now. I never doubted it, but I certainly feel better."
"It's a wonderful life," Burns said of being a journalist. "There is not a dull day. If there is, you're not doing it right."
Based in London since 2007, Burns continues to report on U.S. wars as well as other issues in Afghanistan and Iraq. In addition to his print work, Burns contributes regular writing and analysis to the "At War" blog and appears on news programs such as the PBS NewsHour, Charlie Rose and C-SPAN.
The School of Journalism's spring Speaker Series wraps up April 19 with The New Yorker's Ken Auletta. That talk is at 7 p.m. in Whittenberger Auditorium at the Indiana Memorial Union.