Browning article: Effects of political TV satire transcend party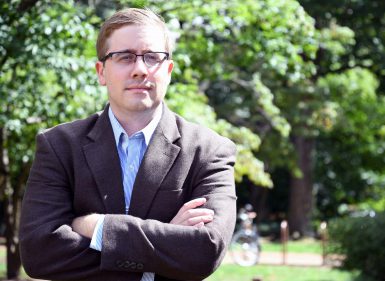 While cable news shows increasingly reach a partisan audience, a less traditional form of programming may provide opportunities for political communicators to shape voters' views: satirical comedic TV programs, according to a study published by assistant professor Nicholas Browning.
"How media diet, partisan frames, candidate traits, and political organization-public relationship communication drive party reputation," by Browning and Kaye D. Sweetser of San Diego State University, appears in Public Relations Review.
The researchers conducted a national online survey during the 2016 presidential election, asking respondents about their opinions on the Democratic and Republican parties and the presidential candidates, as well as their media diet. They found that respondents who consumed Fox News and talk radio were more likely to view Donald Trump and the Republican party favorably, while those who consumed CNN were more likely to have favorable opinions of Hillary Clinton and the Democratic party.
But perception of party and candidate diverged somewhat when it came to infotainment. In particular, most viewers of "The Late Show" with Stephen Colbert perceived Trump as "lacking character," with conservative viewers experiencing deeper declines in their opinions than liberal viewers.
Newspaper readership and viewership of local and nightly broadcast news had no effects on respondents' opinions of candidates, the researchers found.