Bringing Hollywood to Bloomington: Media School team produces film featuring actor Eric Roberts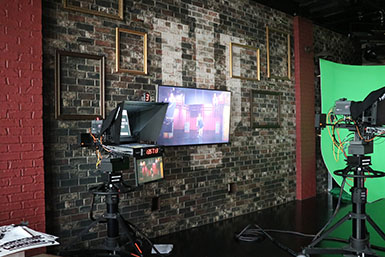 The Media School's first B.F.A. alum Tristan Reed is directing a new film produced in collaboration with students, staff, and faculty at the school, as well as Indianapolis production company Rockscar Films.
Reed is joined in this process by the director of the B.F.A program in cinematic arts and senior lecturer Craig Erpelding, associate professor in the Department of Theatre, Drama, and Contemporary Dance Ansley Valentine, Game Lab Director and Instructor Andrew Behringer, Technical Specialist Allen Major, and many undergraduate students pursuing film. Recent alum Owen Bagwell is also the assistant director, working alongside Reed.
"Owen was in our very first Digital Cinema Academy, which is our high school camp," Erpelding said, "so to be able to see him come into one of our summer camps and then graduate and then now go on to be able to AD a project like this, I think, shows the transformation and capabilities of our school."
Reed approached Erpelding last February hoping to shoot another project after the completion of his thesis film, "The Black Sphere," which was selected to be presented in the Indy Shorts International Film Festival. Eager to show the public what The Media School could do, Erpelding helped him come up with ideas that they then pitched to Peter Matsoukas, the owner of Rockscar Films.
"Since Tristan is our first B.F.A. alum, we thought this was a great idea to get our faculty, our staff, our facilities, and really try to announce to the world, like 'hey this is what The Media School can do as far as content creation,'" Erpelding said.
They wrote the film in a month, launching into production with great speed. Erpelding knew the potential this film would have for The Media School. Not only would it provide an opportunity for the school to support its B.F.A. students, but it would also show off its facilities, as well as tell the world what The Media School is capable of.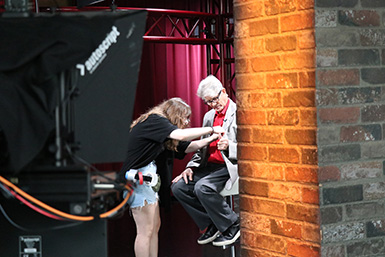 "The idea of the whole thing, you know, is to support the B.F.A., to support The Media School. To show the world what we're capable of," Erpelding said. "And the way that we put this project together, it highlights the students of The Media School, the recent alumni of The Media School, the faculty of The Media School, the staff is helping to shoot this to show off our facilities."
The idea of the film features the concept of found footage—a cinematic technique in which a narrative film's shots are presented as though they were recordings of real events that have been discovered by an outside party and then played to the audience with little to no commentary. The film will follow the recordings of an intro to documentary class where a student is bullied. It will be an expression film following the path of an angry student filmmaker.
Erpelding believes in the importance of having faculty and student-produced projects to show to current and prospective students. When it comes to film, it can be hard for a school like The Media School to compete with those located along the west coast, closer to Hollywood. Having successful and completed projects could grant credibility to the film experience offered by IU.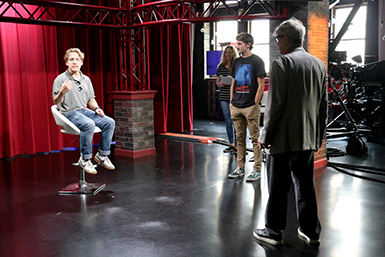 "Bringing Hollywood to Bloomington has been one of my charges as the B.F.A. director because we have to compete against all these big-time programs that are on the coast, and we don't have the ability to utilize LA and Hollywood, so we have to bring that here. That's where Ainsley and having a professional production company like Rockscar Films support this is incredible. We wouldn't have what we got otherwise," Erpelding said.
While developing the idea for this film, Erpelding knew that an effective way to give credibility to it would be to find a bigger name among the acting scene to star in it. Valentine, a fellow producer on the project, had just the connection: Academy Award and three-time Golden Globe nominee Eric Roberts. Roberts is known for his roles in "Runaway Train," "The Dark Knight (2008)," and "Star 80."
Valentine had explained that Roberts was looking to support more independent short films and filmmakers, and so when he applied to be in this film, it was an exciting prospect for Reed, Bagwell, Erpelding, and the others on the team.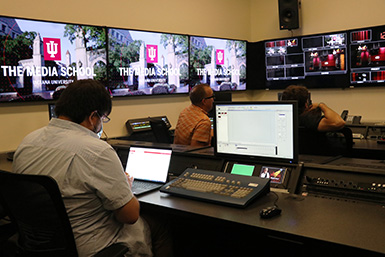 "He's so generous with his time and talents," Erpelding said. "Obviously, having an Oscar-nominated actor, somebody who has been on the level of projects that he's been on, I mean we're just so excited to have him here."
The film is an opportunity to create a space for students and faculty to collaborate and learn, Erpelding thinks. Students interested in sound design, lighting, and experiencing an on-set environment who are outside the B.F.A. program have been assisting with the project.
He hopes that this film will set a precedent for making The Media School a connection point for filmmakers, allowing them to network and get involved with new and experienced figures in film.
"The most important part about a filmmaking program or a media program that does something like this is that you're building a community and network of people. These people are going to go get a job someplace else and say, 'yeah, I'm going to bring my friends along with,' and I think that this really shows that community of people who trust each other that are excited to help each other out and to fulfill the vision," Erpelding said.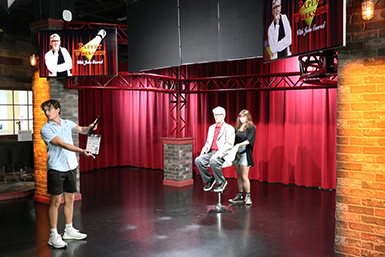 For him, this film is proof of concept and encourages the idea of doing projects that will provide students with real, credible experiences. His goal is to have every film student have IMDB credits during their time at The Media School. He would also like to involve faculty and alumni more and help support the people who have graduated from the program.
"When I introduced some of the programs that I created, it was about making The Media School the connection point. I think that a lot of the time people think of a school as the place you are for four years, and that's what it serves, as a place where you get a degree. In our field, it's about networking," Erpelding said.
Erpelding looks forward to seeing this new film travel the festival circuit next summer, and he hopes that this will be just one of many opportunities The Media School will provide to aspiring filmmakers in years to come.
"I wanted The Media School to be a connection point before they (students) got here—so through our precollege programs like our Cinema Academies—all the way through our alumni," he said.