'Breaking Bad' actor Jonathan Banks speaks about career, IU ties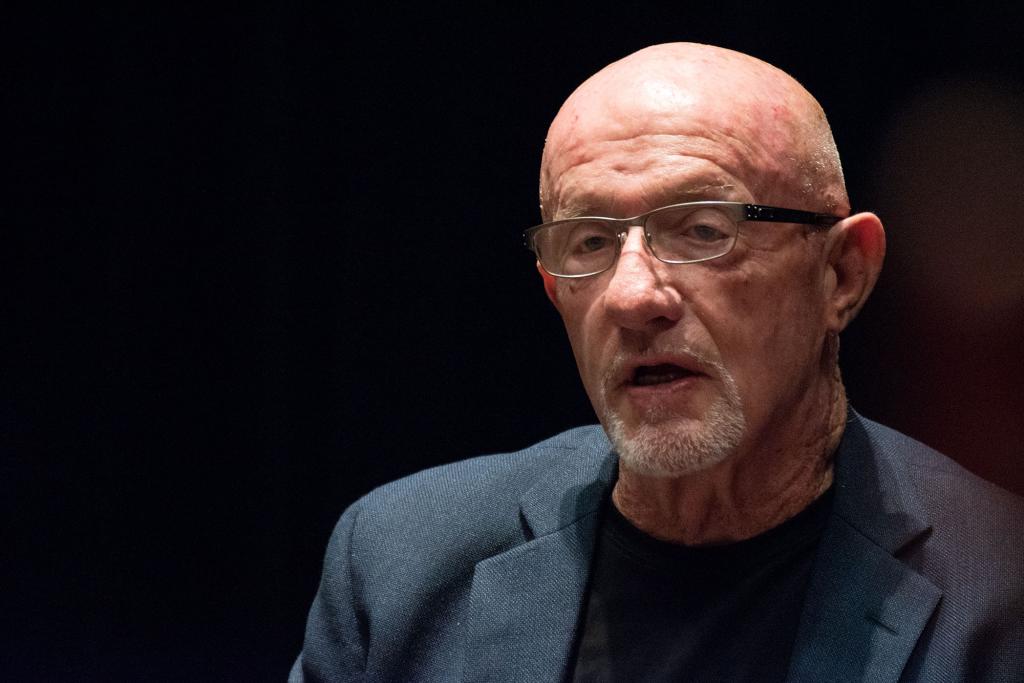 Jonathan Banks never completed his IU degree, but he credits all of his career success to the time he spent here.
Banks, LHD'16, an actor best known for his role as Mike Ehrmantraut in "Breaking Bad" and its prequel series "Better Call Saul," spoke Monday to a packed audience in the Lee Norvelle Studio Theatre. The talk was part of a weeklong visit to IU as a Bicentennial visiting lecturer that included guest lectures in Media School and theatre classes, as well as participation in the weekend's Bicentennial Ceremony and 200 Festival.
At the talk, IU Bicentennial director Kelly Kish and IU Cinema director Jon Vickers reciprocated Banks' feelings of gratitude by awarding Banks with the IU Bicentennial Medal, which recognizes distinguished and distinctive service in support of IU.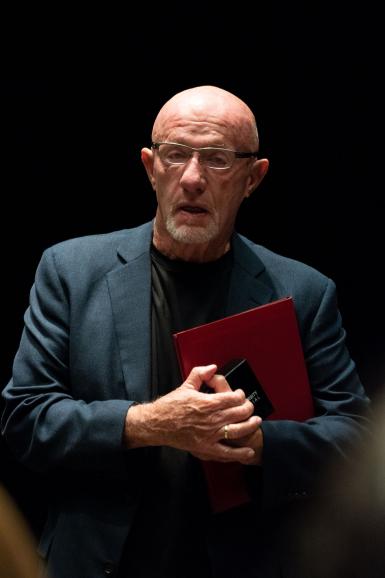 Banks broke from the gangster persona "Breaking Bad" fans associate him with, accepting the award with tears.
"I don't like to cry at these things, but sometimes it's just hard," he said, letting out a sob, followed by a forced gruff. "I'm a tough ass."
IU has a long history with the Banks family. His grandfather helped cut and lay the stones for Franklin Hall — home of The Media School — and his mother and two of his daughters are alumnae.
Banks attended IU in the mid-1960s. He was a contemporary of fellow student and Academy Award winner Kevin Kline, BA'70, and the two appeared together in a production of "Threepenny Opera." Banks eventually had to drop out, shortly after making the Dean's List, when his ex-girlfriend approached him with news that she was pregnant. The two married for about six months, and Banks began his theater career.
To break into the industry, Banks said he lied on his resume about his level of stage technician knowledge. He landed a job on the set of a touring production of the stage musical "Hair."
Banks said he turned out to be a decent backstage worker, but he knew he would be even better on stage. He said it's important for students to recognize what they're good at and to never neglect that skill.
"You might start to think 'I'm good,'" he said. "And you must, you must hold on to that."
Today, Banks has held nearly 200 acting roles, including the upcoming "Breaking Bad" sequel film "El Camino," which will release on Netflix next week. He's been nominated for six Emmys – four for "Better Call Saul," one for "Breaking Bad" and one for late 1980s crime series "Wiseguy."
Right now, Banks is in pre-production on an upcoming film, "The Damaged," as co-writer and co-star with Conrad Goode. Ellie Kanner is signed on to be the director.
Banks encouraged students to start creating material as soon as they can. With Southern Indiana's trove of stories – Banks cited the opioid crisis as a specific example – he believes they have no reason not to be making art.
"Endure and be relentless and be yourself, and don't stop," he said.