Boot camps connect students, industry professionals for 1-weekend classes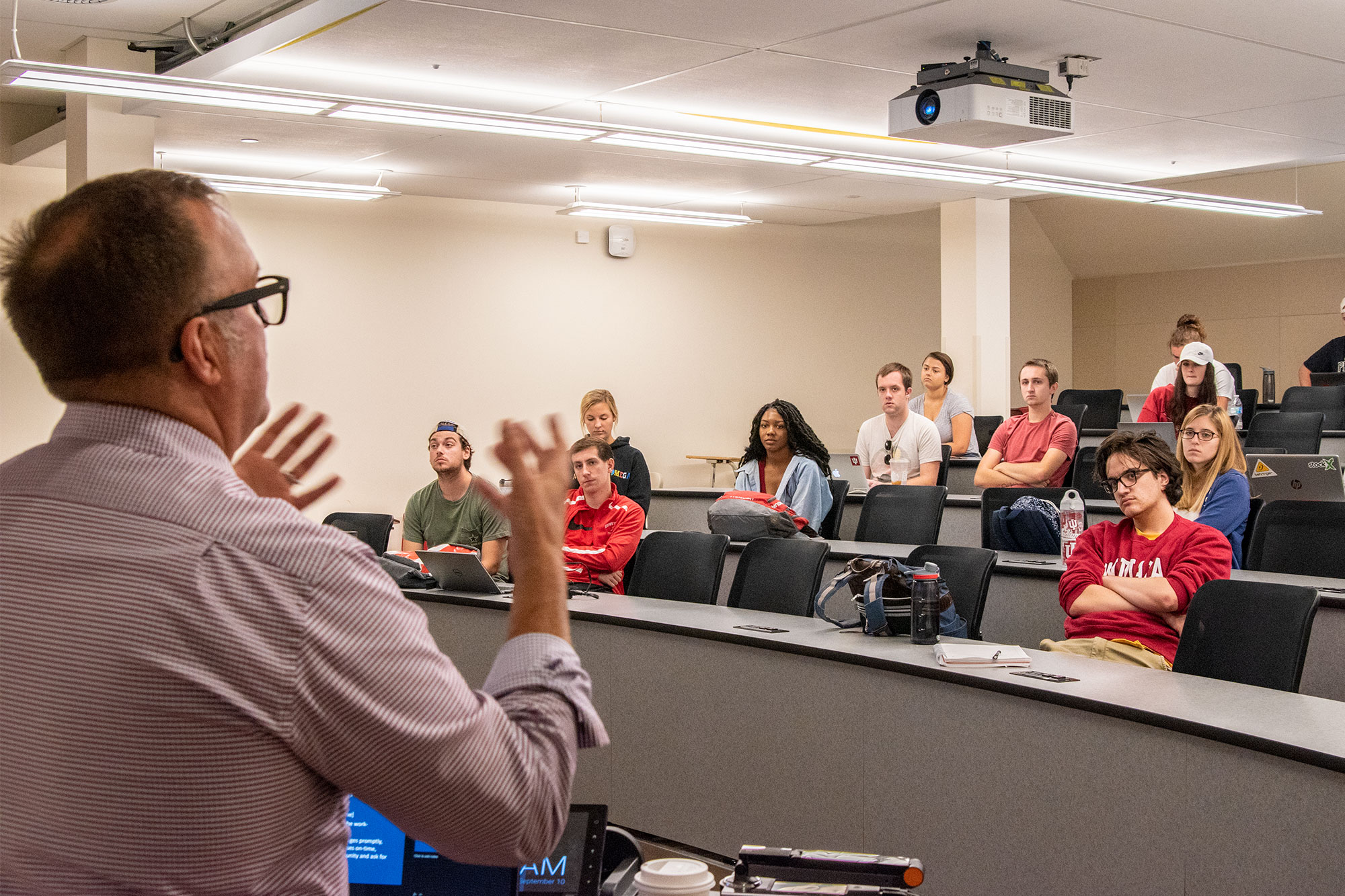 A new slate of Media School courses connects students with alumni in the media industry to acquire professional skills in just one intensive weekend.
MSCH-J360 boot camp classes, offered for the first time this semester, are worth one credit hour each. Students learn for four hours a day on a Friday, Saturday and Sunday.
Emily Metzgar, director of undergraduate studies, said the courses fill gaps in the curriculum, expose students to industry professionals and facilitate student-alumni relationships.
"It's a win for everyone, from where I'm standing," she said.
This semester's options are:
Advertising Platforms, taught by Scott Neslund, BA'88, advertising industry consultant
Media Entrepreneurship 101, taught by Rafat Ali, MA'01, CEO/founder of Skift
Social Media Management, taught by Meg Ely, BAJ'12, head of social/audience development at Bloomberg
Reporting for Visuals, taught by Larry Buchanan, graphics/multimedia editor at The New York Times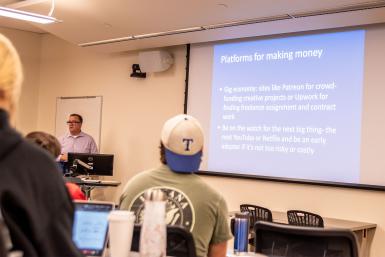 Jay Kincaid, BA'82, director of facilities and technology at The Media School and freelance director, is also teaching a section called The Business of a Freelancer, though it follows a traditional eight-week schedule.
Metzgar created the nontraditional boot camp classes based on feedback from a survey of Media School undergraduates, which identified gaps in the curriculum.
In her weekend course, Ely said students will leave with an understanding of social platforms, what success looks like in each platform and what a career in social media looks like.
"Social touches every industry now," Ely said.
This isn't the first time The Media School has broken the mold of the traditional academic semester. Industry experts such as professor of practice Michael Uslan, BA'73, MS'75, JD'76, producer of the modern Batman movies; Gerould Kern, BA'71, former editor of the Chicago Tribune; and Paul J. Caine, BA'86, a media and advertising executive, have taught three-credit classes over the course of three consecutive weekends since 2015.
Bryce Reif, BA'19, took Uslan's three-weekend course The Business of Producing Motion Pictures during the spring 2019 semester. He said it introduced him to the business aspect of the film industry to complement the production skills he already had.
Reif is now an editor at MacGillivray Freeman Films in California.
"He put us in situations that were as close to reality as possible, and really prepared us for what may come in the future," Reif said.
For one assignment, Reif and his production group had to pitch a film and defend it to a board of studio executives.
"Michael threw us every sort of curveball and showed every shade of 'Hollywood producer' under the sun," Reif said. "He says the variety in each presentation is representative of how the real pitching process might go, and I think the whole class can agree that this mode of teaching is among the most effective ways to learn in this highly experiential field."
Seats in some boot camp classes are still available. Spring boot camp classes are also in the works, Metzgar said.