Bloomington sixth-grader wins 2023 IU Bee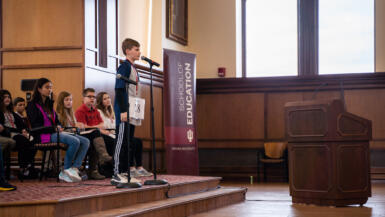 Reid Shaw, a sixth-grader at University Elementary School, won the 2023 IU Bee by correctly spelling "wilco."
The Scripps Regional Spelling Bee took place Feb. 25 in Franklin Hall's Presidents Hall. The contest involves a written vocabulary test and a spelling bee.
As the winner of the IU Bee, Shaw will compete in the Scripps National Spelling Bee, which will take place the week of Memorial Day in the Washington, D.C., area. Shaw will also receive the Samuel Louis Sugarman Award, a U.S. Mint Proof Set, and a one-year subscription to Merriam Webster Unabridged Online. 
The runner-up in this year's competition was Rowan Hogue, a seventh-grader at Seven Oaks Classical School. The winner of the written vocabulary test was Jiin Hur from Jackson Creek Middle School.
This is the 13th year IU has hosted the IU Bee, which is run by High School Journalism Institute director and senior lecturer Teresa White.