Bloomington Ad Club visits Chicago agencies
The Bloomington Advertising Club took its annual trip to Chicago trip to visit three advertising agencies from Nov. 30-Dec. 1. President Joe Glauber and events coordinator Danielle Boufford worked hard to coordinate and plan visits that would be worthwhile for the group. Twenty-five students, accompanied by senior lecturer Craig Wood, packed their bags and printed their resumes in preparation.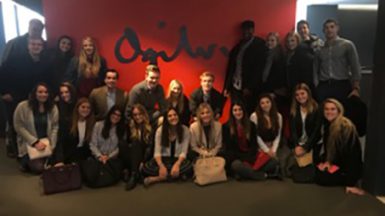 The first stop was Social Deviant, a creative agency for modern brands. This agency lives by the philosophy of doing more with less money and works hard to create innovative content that will drive growth. Clients include Blue Moon Brewing Company, Disney XD and Procter & Gamble. The employees had the students split into groups of four to come up with an imaginary pitch for a client who wanted to target its lemonade to millennials. Each group had 10 minutes to come up with an idea and two minutes to present the plan to four employees. The students came up with innovative ideas, and the winning team walked away with Social Deviant merchandise.
The second day began with a trip to Ogilvy. This agency has a huge list of impressive clients, including Dove, Kiwi and Glade. The staff presented the company's work and  gave an office tour, giving students a chance to see what daily life looks like in each department. Following the tour, a panel of employees gave their best advice and answered many questions regarding the different aspects of life at Ogilvy.
The third and final agency visit was at Starcom, a company that works with brands such as REI, Twitter and Snapchat. The employees showed an impressive presentation displaying some of their most innovative work. Starcom employs a large number of IU alumni, so they were more than excited to show the students around!
This trip allowed students to gain insight into a creative boutique, a mid-sized agency and a full-service large agency. Making connections with people from account planning, recruiting and creative will provide opportunities for forming relationships and potentially getting ahead when it comes to applying for internships and jobs.
More: