Black film pioneer Michael Schultz tells his story, shares advice for young filmmakers
Filmmaker Michael Schultz has been a director and producer for the past 50 years. He'll retire when directing becomes a job, he said.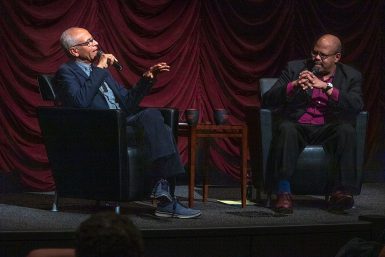 "It energizes me," he said. "It recharges me every time I step into a film."
Schultz spoke Friday at IU Cinema as the second speaker in The Media School's Speaker Series. His talk was also part of IU Cinema's Jorgensen Guest Filmmaker Series and the Black Film Center/Archive's fall speaker series, and it coincided with a five-part series of Schultz's films by IU Cinema and the BFC/A, "Young, Gifted, and Black: Michael Schultz Celebrates 50 Years in Stage and Screen."
In an on-stage interview, he spoke about his career, what inspired his passion for storytelling and how he transitioned from theater to film to television.
"I feel the need to tell stories and to give people a chance to step into other people's shoes and to see something that will enrich their lives," he said.
Schultz's career began in theater. Opportunities on Broadway eventually evolved to opportunities in Hollywood. His first feature film — To Be Young, Gifted, and Black — told the story of Lorraine Hansberry, an African-American playwright.
"It was a perfect transition from theater to film," he said.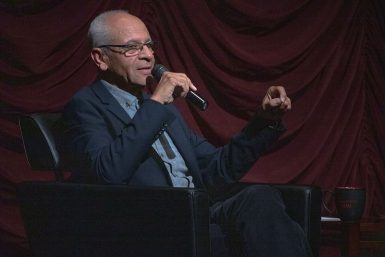 This film is in the process of being restored by the IU Libraries Moving Image Archive.
Schultz, a pioneer in black film, was inducted into the Black Filmmakers Hall of Fame in 1991. As director of Sgt. Pepper's Lonely Hearts Club Band, Schultz managed the largest budget ever allocated to a black director at the time. He's directed more than a dozen other films, including The Last Dragon, Cooley High, Krush Groove and Car Wash.
He cast several star actors in their first major roles, including Richard Pryor and Denzel Washington. Al Pacino made his Broadway debut in the Schultz-directed Does a Tiger Wear a Necktie?
During his talk, Schultz advised young filmmakers to talk about social and political issues and to challenge norms. He pointed to newer technologies, such as Netflix and Hulu, as potential platforms.
"We tell these stories to enlighten and uplift and shake up our lives," he said.
He praised stories like the documentary 13th and the show Black-ish.
"If it wasn't for really adventurous new blood like Netflix, films like that would not get made," he said. "My whole theory is you can bring serious subject matter in and lay it under the entertainment. I think that reverberates with audiences."
More: