Black Film Center/Archive receives Ella Fitzgerald collection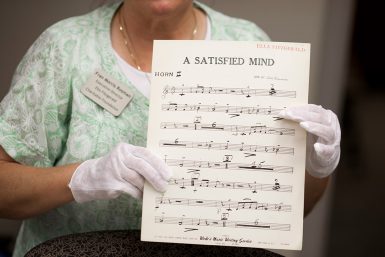 By Taylor Haggerty
The Black Film Center/Archive received an addition to its collection this week that focuses on one of jazz's trailblazing icons.
Fran Morris-Rosman and Richard Rosman of the Ella Fitzgerald Charitable Foundation visited campus Thursday to formally donate a collection of memorabilia representing the career of one of the most popular female jazz singers of the last century. Included in the boxes of materials are sheet music, records, Fitzgerald's awards and honors, programs, videos and some personal mementoes.
In a career spanning from 1937, when she performed at the Apollo Theater's Amateur Night, to her death in 1996, Fitzgerald won 13 Grammy awards and sold more than 40 million albums. For more than half a century, she performed all over the world, often with Duke Ellington, Count Basie, Nat King Cole, Frank Sinatra, Dizzy Gillespie and Benny Goodman, among others.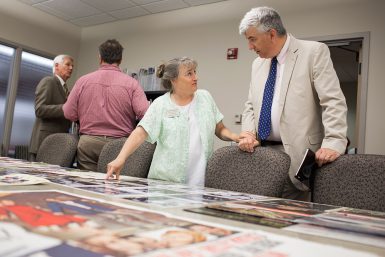 In a brief ceremony at the center in Wells Library, Morris-Rosman, Rosman and Media School Dean James Shanahan talked about the donation. Morris-Rosman said she and her husband had deep connections with Indiana University and saw it as the perfect place to house the collection.
"It makes me so happy to know that it will be treasured, loved and preserved here," she said.
The two learned of the Black Film Center/Archive through their friend Annie Willis of the Students Advocates Office. When they were told the archive didn't have anything from Fitzgerald, they decided it would be the perfect place to care for the memorabilia.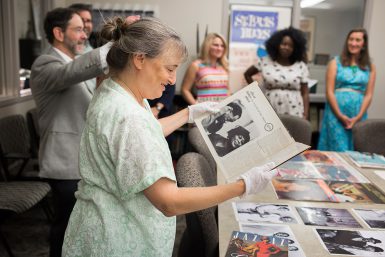 The center preserves and archives dozens of collections and other materials focusing on African American media, from film and documentaries to individuals. The center's goal is to make materials available to researchers and to preserve for historical purposes.
Rosman said the films and videos, in particular, are critical to preserving Fitzgerald's work.
"To really get a sense of anyone in the music business, you have to hear them perform live," he said.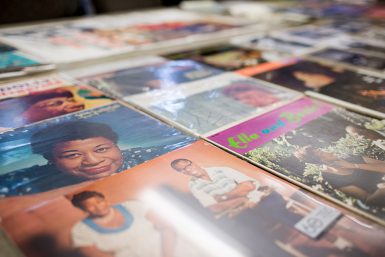 A jazz aficionado himself, Dean Shanahan agreed. He said including Ella Fitzgerald in the collection is important for preserving music history.
"We think, 'Oh, well, it's Ella Fitzgerald, everybody knows who that is,' but we'll get to a point in time where people won't know that," he said. "It'll be great to have this collection, because to understand the evolution of American music, you would need to listen to Ella Fitzgerald."
More: