Beyond media, game design and journalism: Enterprising students create their own majors
There are three undergraduate majors in The Media School: game design, journalism and media.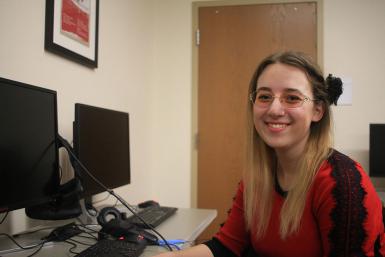 But junior Beth Lula is majoring in animation. Junior Autumn Almeida is majoring in concept art. Senior JP Pritchard is majoring in human health and media studies.
IU's Individualized Major Program allows students to design their own major to fit their needs. From history of rock and roll to marine biology, students can major in almost anything they want. Lula, Almeida and Pritchard are using The Media School's resources and classes to complete their individualized majors.
For Lula, animation was unexpected. Before coming to IU, she didn't have any experience with animation. When she first applied to college, she planned to be an art teacher.
"Some things have been difficult to learn," Lula said. "But they're more exciting rather than frustrating."
Almeida has drawn since she was a kid. When she got to IU, she wasn't exactly sure what she wanted to do. She found herself at the Global Game Jam, a worldwide 48-hour challenge to make a game. It was what she calls "a total lightbulb moment."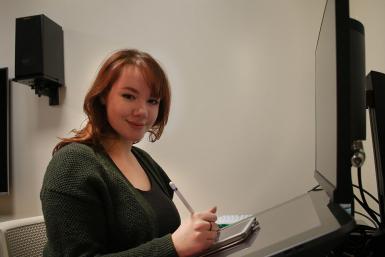 She realized she could make her own major based on what she really wanted to do: concept art. She learns skills in fine arts classes and learns how to apply those skills in Media School classes.
Concept art is the visual development stage for movies, TV shows, games or marketing, Almeida said. A concept artist helps those who have an idea illustrate it on paper, using sketches or drawings of characters or scenes. She compared it to storyboarding, only it's not what the story will be, but how the story will look.
"Anything you see on screen has had hundreds of versions before the final," Almeida said.
She loves being able to take on several different projects and not having to stay on one task for too long.
Almeida has worked on numerous game designs, short films and other projects through The Media School. She also spends time on commission projects and personal projects.
"I know what I want to do and spend all of my time on it," Almeida said.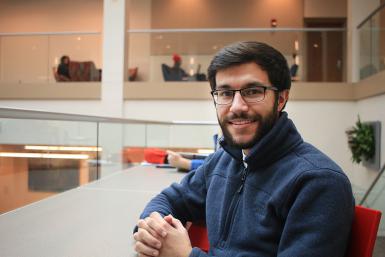 Pritchard had been on a pre-med track since high school. But when he got into college, he started taking more classes, and he realized he didn't want to become a doctor. He tried to figure out what he could do to keep the progress he already made in his science courses. He started looking into media courses.
He decided to combine his interests in media and health sciences to create his own major: human health and media studies.
"I'm trying to use media as a way to promote health progress," Pritchard said.
His goal is to work with doctors, nonprofits, hospitals or other health organizations and create videos or social media campaigns. If an organization's goal, for example, is to stop people from smoking, he can create a media campaign to fit those needs.
Having an individualized major allowed Pritchard to learn on his own and teach himself in a way that's most useful to him.
"Having an individualized major makes me feel like an individual," he said. "It makes me feel like I can stand out more."
Pritchard's dream is to work for a university or health corporation, trying to reach new audiences with his campaigns.
Almeida's long game is to be able to work from home, juggling multiple projects for multiple clients at once. When she graduates, however, she'll probably start by working for one specific company or project first.
Lula's dream is to work for Disney or Pixar. More than anything, though, she just dreams of being in the credits of a movie.
"I want people to look at the credits and say, 'I know her,'" Lula said. "Hopefully I can inspire someone in some way."
Being able to focus her time at IU on animation has helped her get closer to that dream, she said. She encourages people to major in whatever they really want, especially with the option to create a major.
"You only have one life, and you don't get a second chance," Lula said. "Enjoy the adventure."